This article first appeared in City & Country, The Edge Malaysia Weekly, on December 21, 2020 - December 27, 2020.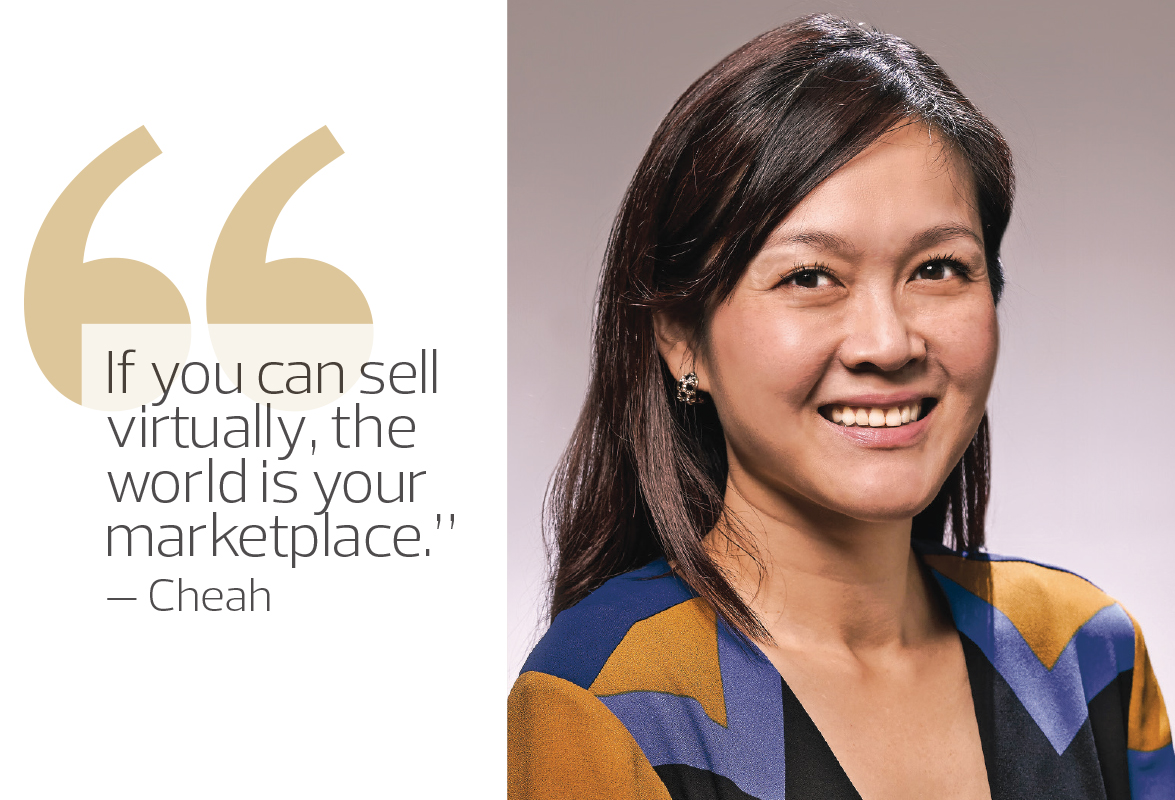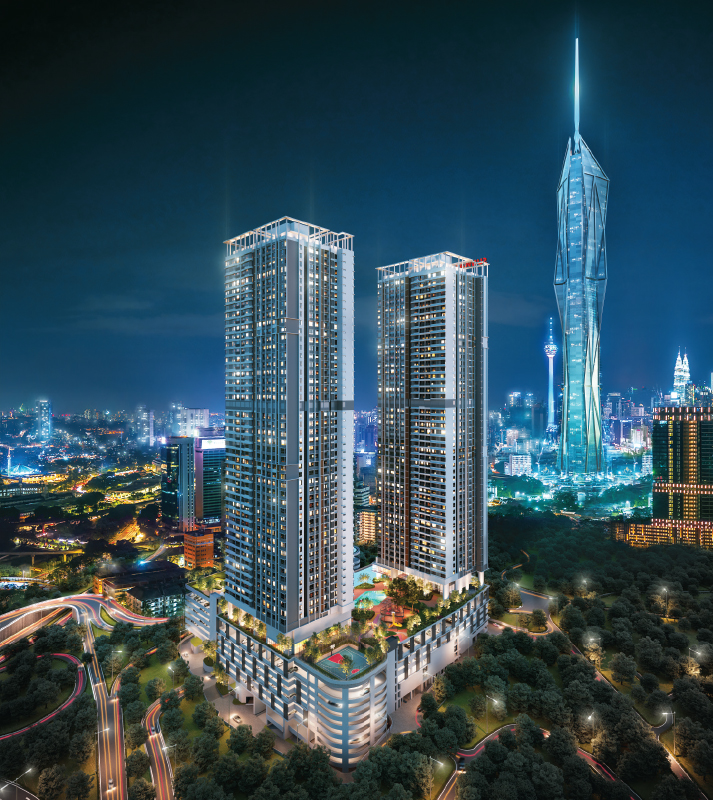 An artist's impression of Sunway Belfield in Kuala Lumpur, which will be launched next year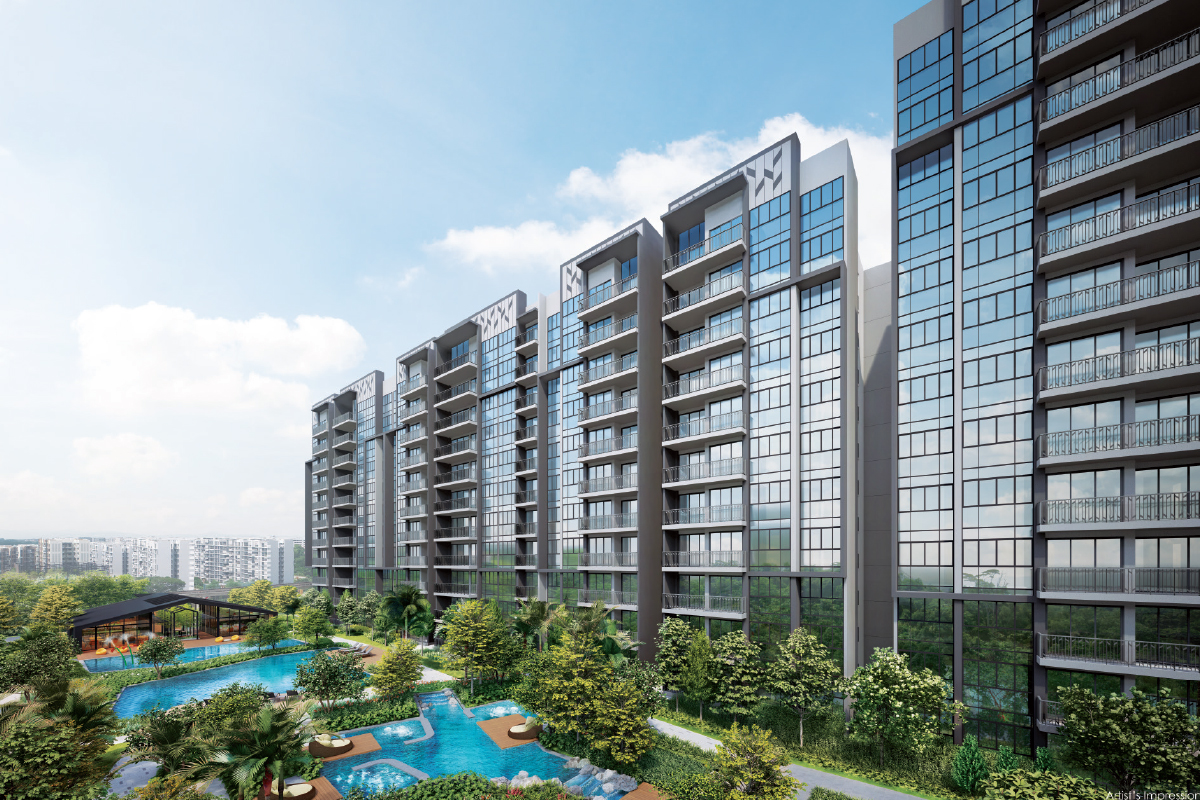 An artist's impression of Parc Canberra, Sunway's ongoing project in Singapore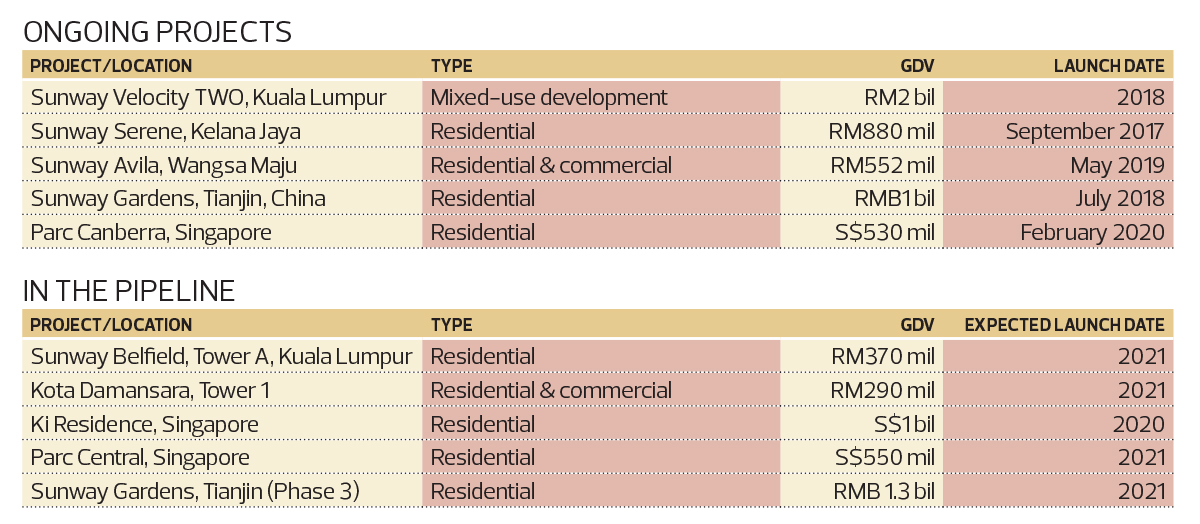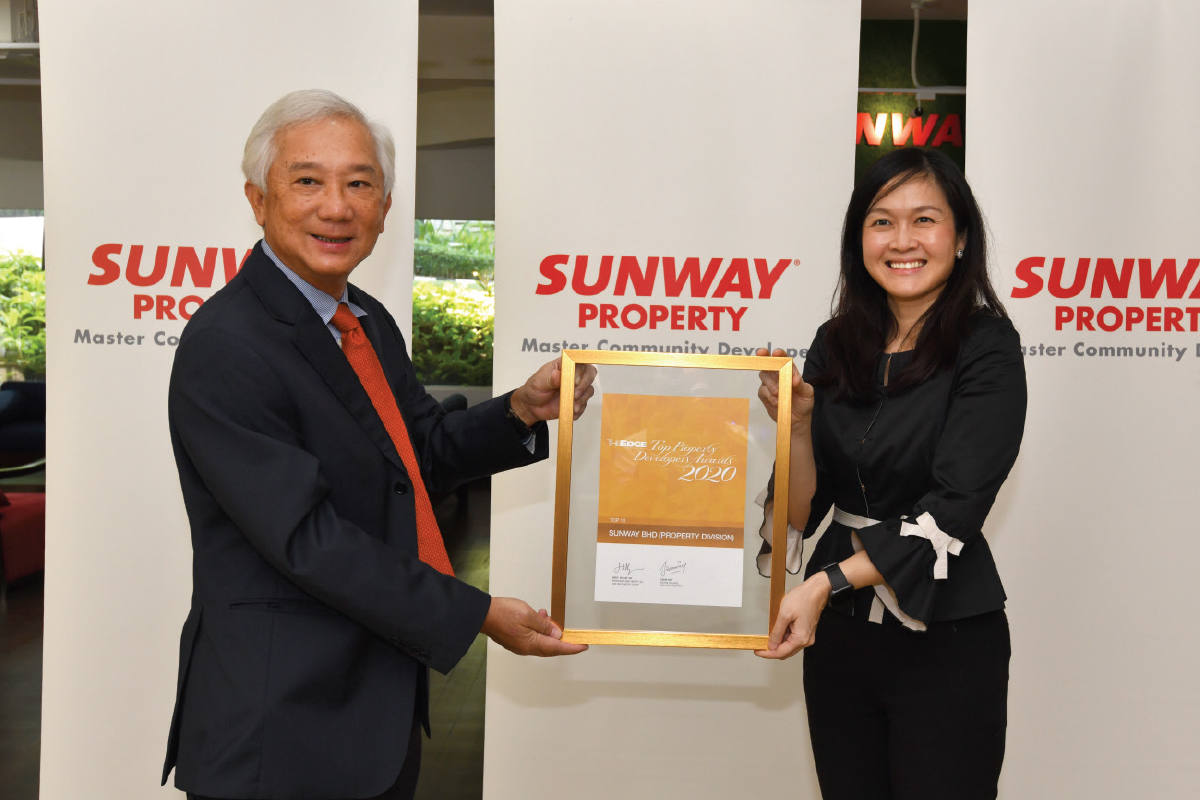 Cheah receiving the award from The Edge Media Group publisher and group CEO Datuk Ho Kay Tat
No. 3 | Sunway Bhd­ – Property Division + Best in Qualitative Attributes
 
2020
2019
Overall
3
2
Quantitative
6
6
Qualitative
1
2
People talk about survivability now but we hope to balance survivability and profitability," says Sunway Bhd's Sarena Cheah on how the group is handling the impact of the Covid-19 pandemic.
From the initial plan to launch RM3.5 billion worth of projects with a sales target of about RM2 billion, the group has revised the figures to RM2.2 billion worth of projects and a sales target of RM1.1 billion, notes Cheah, who is managing director of the property development division.
"There is no point rushing it because it is more important to launch projects at the right time and give customers what they want and need. While we are quite close to our new target, we just need to work harder and try to exceed it.
"The group sits on a strong foundation, and we just need to take the right steps to ride out this period. No one has a crystal ball but if we do it right, that should sustain us," she adds.
During this period, Sunway also started renovations at Sunway Resort Hotel & Spa at Sunway City, its flagship township in Kuala Lumpur. To be reopened in the second half of next year, the refurbished hotel will incorporate post-pandemic travel preferences.
Below is an excerpt of our interview with Cheah:
City & Country: How have the past 12 months been for Sunway amid the spread of Covid-19?
Sarena Cheah: The Covid-19 pandemic has resulted in economic uncertainties and challenges. What we can do is to be proactive, and there are three things Sunway is doing. First, we take care of our people because it is a health issue. We want to ensure that our customers and frontliners — hospital staff, security guards, property managers and communication people — are safe, secure and well-protected.
The second thing is that we are working towards ensuring the stability and sustainability of our business. As a big group, building on our financial stability is key. This time, we are in a better position than the last financial crisis in terms of gearing, organisation and digital infrastructure, and we are glad that we invested earlier. Cash conservation and managing gearing is key, and we also need to ensure that there are revenue streams coming in. As a group, we also do fundraising. Sunway REIT has successfully raised over RM700 million and Sunway Bhd will raise over RM1 billion by year-end. These measures are important. It is not that we are in difficulties, but it is to make sure that we are prepared for any worst-case scenario, or in case the pandemic situation continues. We still need to have our staff to go ahead in business. Of course, we hope for the best.
Finally, as a corporate leader, we feel that corporate social responsibility is something we need to continue whenever we can. We are all in a difficult time but there are some others who are worse off out there. Therefore, throughout the year, we continue to donate in terms of money and items. We also have an internal employee fundraising drive by senior management to raise funds for protective equipment to give to our frontliners.
Our sales galleries have gone virtual and we will continue with that. We also launched the Sunway Property app to engage with customers and we will customise the app further. Nevertheless, we will continue to have physical sales galleries and show units because we think for big-ticket items, people still want to touch, feel and see. Of course, if you can sell virtually, the world is your marketplace, and not just focus on one market because, most importantly, it is about a strong brand and track record, as well as doing it right. The fundamentals of business are still the same, but it is about how we build, engage and add value on different platforms.
Can you share with us the changes Sunway has implemented due to the pandemic?
We have implemented some internal changes, including setting up a permanent crisis management task force that will track how things are, as well as our staff working from home. Other changes are how we interact with customers, such as through the Sunway Property app. At the group level, we hope to come up with a SuperApp later as we see many overlaps among our customers. For example, our property buyers also go to Sunway Hospital or have children in Sunway University. The better adoption of technology due to this pandemic also means we can take the data and see how we can use it to serve our customers better. These are the main changes, and digitalisation presents more opportunities. We did a quick survey with our staff to see if they think they are productive working from home, and there was a mix of responses — the challenges could be space and distractions from family members. All this data can be turned into insights on how we can design our properties in the future.
Sunway City Kuala Lumpur is undergoing an overhaul worth RM249 million. Can you elaborate?
We have been continually renovating Sunway City. We had previously planned the renovation of Sunway Resort Hotel & Spa, Kuala Lumpur, and as the spread of Covid-19 has resulted in a low occupancy rate, we think it is a good time to do the renovation. Due to the pandemic, we are able to take into account how people want to travel post-crisis, such as fewer touchpoints and quick check-in. The renovation will turn the hotel into a prime corporate, yet family-based, destination, and it will open in the second half of next year. Life will go back to normal when the vaccine is available, as evident from the many people travelling during the Recovery Movement Control Order period. We are also expanding our medical division, where we will have an additional two towers that offer assisted living. Also, we still have demand for offices in Sunway City so we are looking to develop new office towers as well. There are still 50 acres left in Sunway City, and future developments will mostly be kept for investment properties for the group.
The "Build, Own, Operate" business model has been core for Sunway. How has this helped in navigating the impact of the pandemic?
The "Build, Own, Operate" business model means we are diversified and this strategy helps in income diversification. With this business model, we have people working in different industries and we have many business units where we can learn from each other. For example, a doctor in the crisis management task force will tell us what to do next and the remaining business units will follow suit. It has come out as a strength for us as we tap the expertise of different people.
Also, as we own and operate everything, we can review our infrastructure. For example, a few years ago, the group invested in a water treatment plant so the many water disruption issues recently have not affected the commercial buildings in Sunway City. If we develop and sell the properties, it is unlikely we will invest in the water treatment plant or new infrastructure. For our upcoming assisted living offering, we have staff from the medical, hospitality and development divisions to develop the product. With the university, the students also look at the traffic issue in Sunway City. All these give value to Sunway City. As much as Sunway provides the infrastructure, at the same time it is about the software — the people — in creating a smart and sustainable city.
What trends do you expect to impact the property market post-pandemic?
I think more people will look into property affordability so we need to look at how developers and the authorities can work together to manage cost. From there, there could be more demand in the rental market, as some people don't think they need to buy a property. Then, we need to see what kind of products we can provide for them.
For homes, there should be designs that cater for better ventilation, space usage, hygiene and flexibility in spaces that allow people to work from home. The keyword moving forward is flexibility, whether it is for rental, purchase, unit design or facilities. We also think integrated developments will continue to come out strong because people want amenities and facilities to be around them, so we will continue to build on our integrated developments, besides townships and standalone projects.
Technology and big data will continue to be important. As much as the hardware is important, the software is about using the data to create value, and this is where I believe the next growth is, the next value chain that we can tap.
How have Sunway's overseas projects been so far?
Our overseas projects have held up well, and this could be attributed to our geographical diversification strategy. The timing of Singapore's lockdown period was different from ours ... we launched an executive condo there early this year and it is now 86% sold. We will continue to launch in overseas markets, and there will be a private condo launch in Singapore by year-end that we expect to do well. China is also doing very well but we didn't do any launch this year due to the timing issue. That would be Phase 3 of Tianjin Eco-city project with a gross development value of RMB1.3 billion. China is the only country that is seeing good growth as it has handled Covid-19 well and the businesses there are picking up. These launches will help in case the Malaysian market is a bit slower. We also invested in student accommodation in the UK and so far, it has been alright. Different markets go through different cycles so the overseas projects have been helping in revenue contribution. This year, we will recognise full income from Singapore and China and so the contribution from overseas projects is higher.
Sunway is scaling up efforts in technology. Can you tell us what is in store?
What we have done in the last 10 years is that we have been investing in technology infrastructure and it has worked well for us. We will continue to build on that with the focus being on cybersecurity. For me, technology is a means to an end. Technology in itself is not useful: It is about how we use it. Therefore, for customers, technology is a tool for us to interact with them. It is about how we can better serve them and how we get feedback from them so that we can improve. After we serve them, we can get to know them in certain ways so we know we can give them a better product and service next time.
While Sunway Property has an app, Sunway Medical has also started telemedicine, where patients and doctors can meet online. Hopefully, one day, we can use drones to send medicine to patients. These are the opportunities from using technology.
Technology also helps Sunway City to stand on a strong platform to become a smart city. We are not only providing the infrastructure, but there is also the software. This is what differentiates us from others.
What needs to be done to spur economic recovery and the property market?
Until the vaccine for Covid-19 reaches us, which is anticipated to be early next year, all of us must be responsible in continuing to contain the pandemic. In addition to the government's efforts, the private sector and the public must support collective action and remain united to ensure a safe and successful recovery.
A key focus for us in the private sector would be a continued acceleration of the digital transformation as well as upskilling and retraining our workforce for a more resilient digital economy, which will create better jobs and a more competitive economy, and attract higher-quality investments in the long run.
For the real estate sector, we will require all parties to chip in to reinvigorate the market.
Financing and affordability will remain as key concerns. We hope financial institutions can ease lending requirements to spur home ownership, especially for first-time homebuyers. Developers will be leveraging on the home ownership campaign to promote sales and we anticipate more products in the under RM500,000 category to be launched in 2021 as developers focus on affordability. We hope the government can also further help the sector by resolving current uncertain policies on the threshold selling price to foreigners and Malaysia My Second Home programme so that we are able to target foreigners more confidently once the borders reopen.