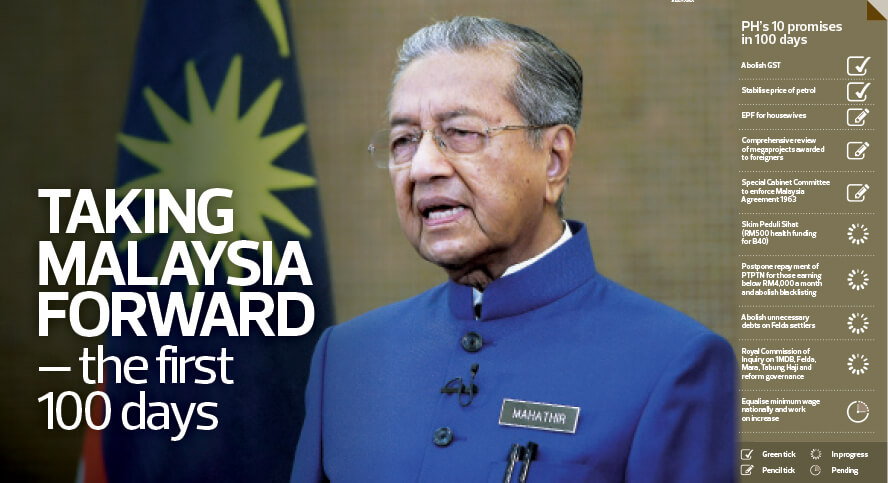 KUALA LUMPUR (Aug 18): Malaysia surprised the world on May 9 when the people overwhelmingly voted for change and put in power the current Pakatan Harapan government led by Prime Minister Tun Dr Mahathir Mohamad. 
The debt owed to the people who elected the Pakatan Harapan coalition into power on May 9 goes beyond delivering on its 10 promises in 100 days or the string of promises made in its 14thgeneral election (GE14) manifesto. 
In a special 20-minute speech, televised in Bahasa Malaysia at 8.30pm on Aug 17, to mark the first 100 days of a Pakatan Harapan government, Mahathir said the government had realised 21 promises or 35% of 60 promises in the Pakatan Harapan manifesto to liberate the country from corruption woes by putting in place good governance practices.
"In future, regardless of which party rules or whoever becomes prime minister and ministers, the strengthening of the nation's institutions will ensure that there is no corruption, abuse of power and theft of money and public property and, should it happen, [the perpetrators] will not escape legal action. This is what the government of the day holds to, respecting and appreciating the will of the people that the Rule of Law is upheld," Mahathir said.  
We recount developments in the first 100 days and ask ?what needs to be done in the near-term to take Malaysia forward.
For more details, pick up the latest issue of The Edge. 
Save by subscribing to us for your print and/or digital copy.
P/S: The Edge is also available on Apple's AppStore and Androids' Google Play.