This article first appeared in City & Country, The Edge Malaysia Weekly, on November 25, 2019 - December 01, 2019.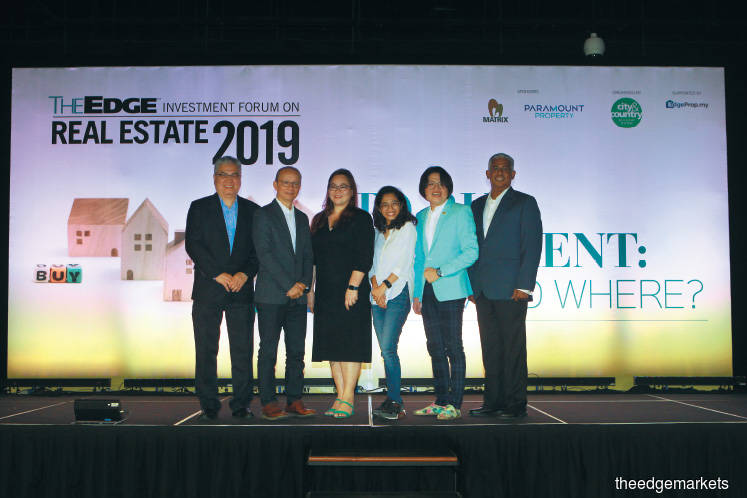 From left: Loh, Foo, Poh, Natasha, Tan and Siva

The Edge Investment Forum on Real Estate 2019 was held at the Malaysia International Trade and Exhibition Centre (MITEC) in Kuala Lumpur on the morning of Nov 16.
The 13th edition of the annual forum, with the theme "To Buy Or To Rent: What and Where?", was organised by City & Country, the property pullout of The Edge. Matrix Concepts Holdings Bhd and Paramount Property Development Sdn Bhd were the event partners, and the forum was supported by EdgeProp.my.
City & Country editor Rosalynn Poh remarked in her opening address that coming up with this year's theme was quite a challenge.
"As we all know, the property market has been rather slow or some say challenging in the past years … During the good old days, we could basically just focus on buy, buy, buy. However, today, things are a bit different.
"We hope by the end of this forum, we will head home with a clearer picture and information on how to make better investment decisions," she said.
Speakers at this year's forum were CBRE|WTW managing director Foo Gee Jen, Rahim & Co International CEO of real estate agency Siva Shanker, Property Auction House executive director Danny Loh, Zerin Properties real estate negotiator Natasha Gideon and Chur Associates founder and managing partner Chris Tan.
Foo, in his talk titled "Market Outlook for 2020 & How Has 2019 Performed So Far?", said the property market has remained flattish this year.
"In the first half of 2019 — despite the Home Ownership Campaign, which resulted in quite a significant amount of sales — the market improved only marginally. The [sales] volume increased only by a mere 6% to 7% and in terms of value, it was less than 1%," he said, adding that a more organic demand is needed in the absence of the HOC from next year onwards.
He noted that while the high-rise residential and purpose-built office sectors are facing an oversupply situation, opportunities can still be found in the hotel and industrial sectors, and that the secondary market is still active with good properties to be found.
Foo expects infrastructure developments, including upcoming highways such as the Damansara-Shah Alam Elevated Expressway, South Klang Valley Expressway, West Coast Expressway and Sungai Besi-Ulu Kelang Elevated Expressway, as well as the East Coast Rail Link, MRT2 and LRT3, to drive the property market.
Speaking on the topic of "Buy, Rent or Buy-To-Rent?", Siva said he expects to see a growing number of renters in the market as salaries cannot keep up with the increasing property prices, on the back of a shortage of houses in the country.
"So more people cannot buy a house. This is coupled with the millennials, the younger people, who have the mindset that they don't need to buy a house," he remarked.
Apart from explaining the pros and cons of buying and renting, Siva reminded the audience to adopt a long-term approach to investing in a property. "Don't buy on a whim. Do your research. Don't be greedy. There are no quick riches. Property is a long-term [investment]."
As this was the first time an auction talk was being given in the history of the forum, Loh started it off by providing the basics of property auctions in Malaysia in his session titled "Auction 101", including the auction process and procedures, benefits and risks of buying an auction property as well as things to look for.
When it comes to issues of vacant possession, whereby there are still people living in a property bought at an auction, Low advised purchasers to use the soft approach to getting the tenants to move out. "Talk to them nicely. If you can't evict them, then apply for a court order."
To mitigate or prevent unwanted surprises when buying an auction property, Loh stressed the importance of conducting due diligence, research and inspection as well as understanding the terms and conditions of sale.
"As you can't view the inside of the property, you need to visit the premises and talk to the neighbours or even the existing tenants," he said, adding that bidders should check their financial standing with banks to ascertain whether the latter can provide the necessary financing for an auction property.
Natasha, the millennial speaker of the day, talked about the wants of millennials in the property market and how they differ from what the market has to offer.
"Affordable homes are further away from the city and quite a distance from public transport [while] properties in central locations start with too high a price … Ask yourself whether you would rather pay more to live closer to where you work or give that up to live in a landed property," she advised.
Millennials prefer low to medium-density developments, said Natasha. "What you see in the market now are properties priced probably below RM400,000 in good locations but then you have 2,500 units in five acres. That's high density.
"You can imagine if everyone buys there for investment and everyone staying there is a renter … There is a difference between people who rent and those who buy [when it comes to] how they maintain the house and how they take care of the surroundings. You want your own home to be cared for. That's the logic behind not wanting high-density properties," she said, adding that owning a landed property in a good location is a dream for many millennials.
Natasha also revealed that many millennials are not equipped with the necessary know-how when it comes to buying or investing in a property and that many feel pressured by society to own a home.
"I personally think that it is a buyer's market [now] because it is soft … Before you decide to buy and live in a property with a 35-year loan commitment, it is best you rent in that area first and decide whether you would like to stay there or not," she said.
Speaking on "The Evolution and Legal Aspects of Home Ownership", Tan discussed the implications of the seemingly unregulated world of technology disruptors that is changing the concept and redefining the boundaries of home ownership.
"The evolution of a home has changed form. With connectivity and globalisation, mobility and freedom of movement, home has a different concept and space is redefined … Home ownership is a journey that changes through time under new circumstances and requirements," he said, adding that the agility to commit and decommission quickly is at a premium.
Some of the new concepts to look forward to, as Tan pointed out, are rent-to-own schemes under Budget 2020 and those offered by private developers as well as transit housing offered by Dewan Bandaraya Kuala Lumpur, property crowdfunding, co-living concepts, collective ownership and segregated home usage with specifications.
"The next 10 years will be the last chance for individual property ownership and as there are increasingly more tenants in the market, more property management skill is required," he said.
Attending the forum for the first time was 25-year-old Mohd Izzuddin, who told City & Country that he is looking to buy a property for investment. "I'm also here to gain more knowledge and get new info about the property market."
Jai, who is in his fifties, said the forum covers interesting topics, which can help him gain further insight into the current situation in the property market. This was his fourth time attending the forum.
First-time participants, DC, 35, and Michelle Lee, 23, were at the forum to understand and learn more about real estate investments as real estate negotiators.
Members of the audience also took part in a live poll during the forum, the results of which are published on Page 6.
The investment forum concluded with five lucky winners taking home Smeg and KitchenAid kitchen appliances.