This article first appeared in The Edge Malaysia Weekly, on October 1, 2018 - October 07, 2018.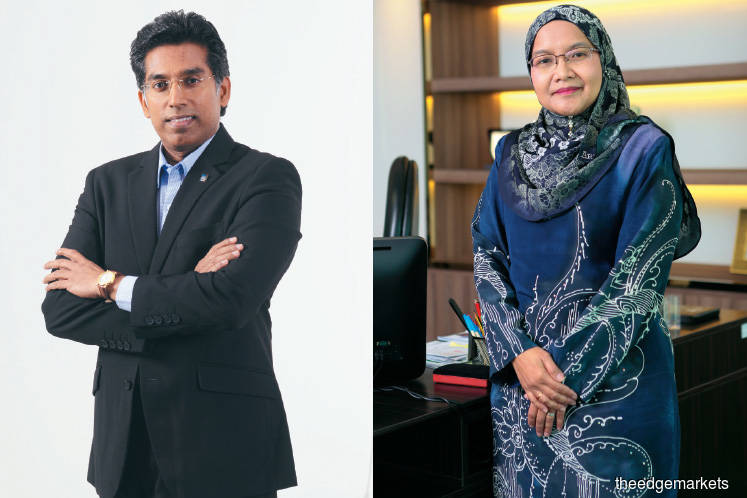 MALAYSIAN Institute of Accountants' (MIA) annual flagship event MIA International Accountants Conference 2018 aims to provide participants with an avenue to delve into digital transformation in the accounting industry.
MIA executive director for strategy and development G Shanmugam says the digital disruption wave presents many opportunities for the accounting industry, be it from an organisational point of view or from a public practice perspective.
However, in riding this wave, he says, the accountancy industry needs to be proactive and quick in exploring and adopting emerging technologies, and to continuously acquire new skills to stay relevant.
With the arrival of the fourth industrial revolution, or Industry 4.0, he says, the challenges the accountancy industry may face include keeping up with the speed of technology innovations, understanding transforming industries and business models, ability to reskill and upskill, and dealing with continued globalisation of reporting and regulation.
"MIA's engagement with its members and the profession has shown that many accountants have little understanding as to where to start when it comes to technology adoption," Shanmugam notes.
"We first began addressing the issue of digital disruption and technology last year at the MIA International Accountants Conference 2017, and we will continue to advocate that accountants embrace technology at this year's conference."
With the theme "Riding the Digital Wave, Leading Transformation", the MIA International Accountants Conference 2018 will focus on providing a deeper understanding on technology adoption for business transformation, he says. Tech-heavy topics will revolve around Industry 4.0 and regulatory impacts, the disruption posed by artificial intelligence, blockchain and data analytics.
The first plenary session will focus on the theme itself, predicting how the profession will transform.
Shanmugam says the session on audit evidence in the digital environment is geared towards public practitioners. "For instance, all segments will benefit from topics such as eXtensible Business Reporting Language compliance, corporate reporting in the digital economy, impact of the new leasing standard and leveraging technologies to achieve the United Nations Sustainable Development Goals.
"Further, MIA is supporting technology adoption by accountants through the advocacy and execution of the MIA Digital Technology Blueprint."
He says the blueprint sets out five principles for accountants to follow and these can be scaled to the needs of their organisations for technology transformation.
He also says MIA has organised several outreaches and events to help build the business case and convince members of the need for technology adoption to future-proof themselves.
"As strong believers in the power of collaboration, we are also working with leading tech companies to get them to evangelise on the benefits, opportunities, risks and challenges of technology adoption," he adds.
MIA CEO Dr Nurmazilah Mahzan says technology adoption such as big data and data analytics is enabling the finance function to crunch huge amounts of data to produce insights that support decision-making by management and the boards.
She says in the public sector, MIA advocates and supports the enhancement of public-sector financial management. "We have contributed to the adoption of accrual accounting by the government, which is a key tool in managing resource allocation, eliminating wastage and enhancing public-sector financial management."
She says accrual accounting leads to better-quality financial reporting, which in turn informs the decisions taken by the government, and this in turn improves the delivery of public services and protects the public interest. "At the same time, we also provided a platform for discussion on improving integrity in the public sector during the recent MIA Public Sector Internal Audit Conference."
Nurmazilah says MIA is supporting the government with the adoption and compliance with the Malaysian Public Sector Accounting Standards, which are based on the International Public Sector Accounting Standards. "MIA's stance is that compliance supports better-quality financial reporting and transparency, which then supports good governance, anti-corruption measures and risk management in the public interest."
She says among the key technologies affecting accountants will be artificial intelligence and robotic process automation, which will replace accountants' mundane and repetitive tasks and free them up for higher-value roles such as data analytics, business advisory and strategy — roles that require critical thinking and problem-solving skills.
Another key technology affecting accountants, according to her, is big data and data analytics. "Accountants will need data analytic skills to extract the relevant data and build the right models to interpret the data correctly.
"Communication skills will become increasingly important because accountants must be able to communicate their findings from this data and convince and influence senior management and the boards to act on their findings."
She says even as machines become more prominent, accountants must be mindful to balance automation with emotion. "Despite their advances, machines are not yet able to exercise ethics and act for the greater good and in the interest of humans. Accountants have an advantage because they are obliged to exercise their inherent, internalised code of ethics and values — their social and emotional intelligence — to protect society and the public."
For Nurmazilah, as the business landscape and accountancy profession are disrupted by technology, globalisation and new business models — which leads to unprecedented and complex new situations — the profession's fundamental values and code of conduct become even more important as these serve as the moral compass by which an accountant navigates complex situations. "At the same time, human behaviour and motivations remain the same regardless of these new situations. Greed and corruption will always exist despite increasing efforts to regulate and enforce good behaviour and governance.
"Chains are only as strong as their weakest link and systems also have their weak points, which are usually human frailty and human error. Hence, ethics must be internalised to ensure that systems are strong. Likewise, accountants must still be guided by their values and codes to guard against corruption and financial mismanagement and negligence, and uphold good governance as we are custodians of the public interest."
She adds that the accountants' code of conduct and values are even more relevant today, under a new government that is dedicated to fighting corruption and bringing back the values of competency, accountability and trust for the public sector.
The Edge is the official media partner of the MIA International Accountants Conference 2018
Save by subscribing to us for your print and/or digital copy.
P/S: The Edge is also available on Apple's AppStore and Androids' Google Play.