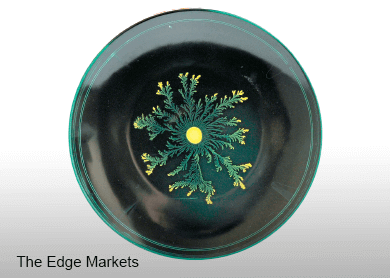 Represented by humans since the dawn of time, the natural world continues to inspire artists of all kinds, including interior designers. Here are some of the most striking and eccentric examples recently released by design labels.
A decorative herbarium
Like butterflies and beetles, pressed flowers are as at home in the living room as they are in the naturalist's study. &K Amsterdam has placed real botanicals in glass tiles, to be placed around the home.
Better to look at than to eat
Though they won't count towards your five recommended daily servings, the ceramic vegetables by Segno Italiano may at least remind you of your goal. The pineapple pitcher by &K Amsterdam might serve a similar purpose.
A natural shelf
For those with an appreciation for greenery but no green thumb, Dutch designer Thomas Eyck has come up with a vine-shaped porcelain wall shelf. No watering necessary.
Cabbage and artichoke prints
Another way to remind the whole family to eat their veggies, the Végétal plates by Non Sans Raison bring a touch of contemporary design to Limoges porcelain. Italian artist Chiara Andreatti used cabbage leaves and halved artichokes as stamps to create the design.
Lovely bacteria
Seeing beauty where others may only see the threat of food poisoning, Portuguese contemporary artist Vik Muniz created a series of plates inspired by Petri dishes for Bernardaud. His designs replicate the patterns made by salmonella and other nasties in real Petri dishes. — AFP/Relaxnews
This article first appeared in The Edge Financial Daily, on June 2, 2015.