This article first appeared in The Edge Malaysia Weekly, on May 11, 2020 - May 17, 2020.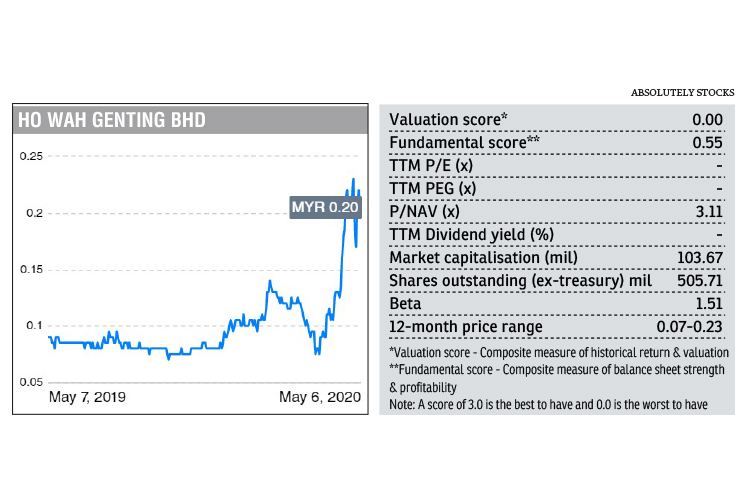 INVESTORS who recently bought Ho Wah Genting Bhd (HWGB) shares are likely to be perplexed by the voluntary takeover offer by Ho Wah Genting Holding Sdn Bhd and the ultimate offerers — Datuk Lim Ooi Hong, Lim Wee Kiat and Datuk Teo Tiew.
The offerers are proposing to buy over the remaining shares and warrants of HWGB that they do not own at 12.5 sen per share and one sen per warrant. The offer prices represent a massive 43% discount to Ho Wah Genting's share price of 22 sen on April 24, which was the last trading day before the notice was served, and a 87% discount to the warrant price of eight sen.
Ooi Hong is managing director of HWGB while Wee Kiat is an executive director and Teo is group executive chairman.
Collectively, the offeror and the ultimate offerers, together with parties in concert, own 29.78% of the company.
The offer is conditional upon the offeror receiving valid acceptances by the closing date of the offer, that would result in the offerer holding an aggregate of — together with the HWGB shares that are already acquired, held or entitled to be held or acquired by the offeror — more than 50% of the voting shares in HWGB.
It will not be surprising if many minority shareholders choose to dismiss the offer, given the substantial discount to the share price on the open market.
HWGB saw a sudden spike in trading activity after March 19, with the average trading volume surging to 11.44 million. Before that, the average trading volume was only around  720, 000. Its share price rose more than two times between March 19 and April 27 — from 7.5 sen to 23 sen.
Filings with Bursa Malaysia show that Ho Wah Genting Holding Sdn Bhd's stake rose from 21.2% as at Feb 6 to 29.37% by April 14.
It is worth noting that HWGB's most recent private placement was completed on April 8, when 45.97 million shares were listed. The placement shares were issued at 9.2 sen and raised RM4.23 million for HWGB.
Given that the offer price represents a substantial discount to the market price, some market observers believe that the offerors are unlikely to take over the company.
The Minority Shareholders Watch Group (MSWG) described the offer as "puzzling" and in its May 1 newsletter, questioned the "ultimate intention" of the offerors since they intend to maintain the listing status of HWGB.
It pondered whether the takeover offer would actually serve as an exit offer for certain parties who had got, or earlier subscribed for, HWGB shares at a lower price, while allowing the offeror to substantially raise its stake in the company at a price that is half the current market value.
MSWG also pointed out the conditional voluntary general offer, which HWGB's board deemed worth considering, comes during a challenging economic environment and would add to costs as the board has to appoint an independent adviser to advise non-interested directors and shareholders on the fairness and reasonableness of the offer.
Cash calls — which the MSWG alluded to — appear to be a preferred modus operandi for HWGB.
In its two most recent private placements, shares were placed out at 9.2 sen (April 2020) and nine sen (March 2019) apiece.
In the last three years (2018 to 2020), the company has embarked on three fundraising exercises that raised a total of RM20.58 million. Between 2012 and 2016, it had raised a total of RM61 million through private placements and rights issues.
The manufacturer of wires and cables also embarked on a creditors capitalisation scheme by issuing 102.666 million shares to its creditors at 8.04 sen per share in November 2019. This was to offset the outstanding amount owed of RM8.25 million. But since January, the creditors — Financial Frontiers Pte Ltd, Vitalex Hotels Group Sdn Bhd and Grande Legacy Inc — have all ceased to be shareholders of the company.
HWGB has been attempting to diversify to give its businesses a new lease of life, it has been observed. However, there has been little or no success to date.
In 2012, it ventured into solid state lighting (SSL) and LED by acquiring Myled Opto Tech Sdn Bhd for RM1 million, but a reversal of the acquisition took place within the same year.
In 2013, HWGB made a foray into the auto sector through Rex Oriental Sdn Bhd, which owns a 70% stake in Orient Sun Motors Sdn Bhd, a dealer of commercial vehicles.
The following year, it upped its investment in the tourism sector by buying a 59.5% stake in Ho Wah Genting Holiday Sdn Bhd from one Adanan Baharum for RM1.45 million. Adanan was then an employee of HWG, according to a filing with Bursa Malaysia.
HWGB disposed of its auto business in 2015 at a loss of RM4.42 million. It then ventured into a co-operation agreement with Singapore Metals & Minerals Pte Ltd for the supply of ferrous, non-ferrous and base metal minerals.
At every attempt to diversify, HWGB had turned to its shareholders for financing.
It would not surprise minorities to hear that the company is mulling over another diversification. On March 25, HWGB announced that it was looking to venture into the healthcare-related industry, including the dietary supplement, biotechnology and healthcare technology sub-segments.
Currently, its core business is the manufacturing of wires and cables, moulded power supply cord sets and cable assemblies for electrical and electronic devices and equipment, as well as travel agent and tour-related services.
In the financial year ended December 2019, HWGB reported a narrower net loss of RM6.99 million compared with RM32.99 million a year earlier. It had net assets per share of seven sen.