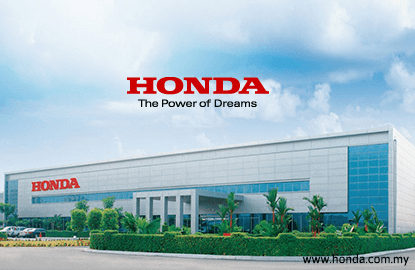 KUALA LUMPUR (July 28): Honda Malaysia Sdn Bhd will pay RM50 per day in compensation to customers who could not use their car while waiting for their Takata airbag inflator to be replaced.
In a statement today, Honda Malaysia said the compensation period begins today and ends on Aug 31.
"Honda Malaysia understood the inconvenience caused by the Takata airbag recalls and that some customers will experience loss of use of their Honda cars during the parts waiting period for the replacement parts for Takata driver front airbag inflators.
"Such customers are now advised to register themselves with Honda Malaysia at www.productrecall.honda.com.my for compensation of RM50 per day for 'loss of use of car'," it said.
Upon arrival of the replacement parts for Takata driver front airbag inflators, the registered customers will be advised to replace the airbag inflators within two days, it added.
Honda Malaysia said the delay in the replacement of the parts for the affected vehicles was due to the low stock availability of the replacement parts.
To further increase capacity for the airbag inflator replacement, Honda Malaysia will open three temporary service central hubs in the northern, central and southern parts of Peninsular Malaysia from Aug 1 to Sept 30. These hubs will operate seven days a week except public holidays, from 8am to 7pm.
These hubs are aimed at providing additional service capacity for the airbag inflator replacement activity, helping to ease service capacity limitation at Honda dealers, and also providing storage for the required parts for the replacements, said the company.
Honda Malaysia will also set up 24 mobile hubs at 21 selected Petron service stations and three Honda Family Road Trip locations to make it more convenient for customers to reach servicing venues and ensure faster and easier airbag inflator replacement process.
These mobile hubs will open from Aug 5 until Sept 25 and will be operational every Friday, Saturday and Sunday at three different locations from 8am to 7pm.
Honda has been recalling the defective Takata airbags globally. In the United States, there has been more than 4.5 million recalls since June.