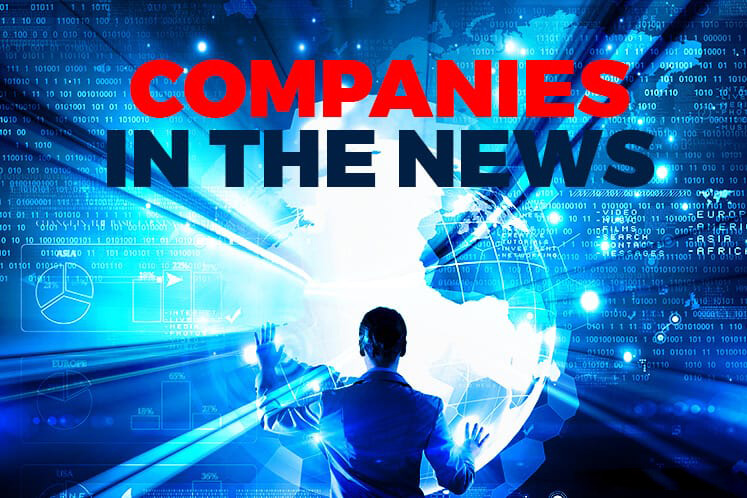 KUALA LUMPUR (May 9): Based on corporate announcements and news flow today, stocks in focus for Friday (May 10) may include the following: Syarikat Takaful Malaysia Keluarga Bhd, S P Setia Bhd, MMC Corp Bhd, Teo Seng Capital Bhd, Handal Resources Bhd, MRCB-Quill REIT, Willowglen MSC Bhd, Sin Heng Chan (Malaya) Bhd and Metronic Global Bhd.
Syarikat Takaful Malaysia Keluarga Bhd aims to maintain or exceed the 38% on-year growth in its first quarter net profit, helped by expansion in the insurer's credit-related product segment besides fire and motor insurance businesses.
Separately, its independent and non-executive chairman Tan Sri Ahmad Fuzi Abdul Razak, 70, retired, effective today.
S P Setia Bhd has secured RM718 million in sales for the first quarter ended March 31, 2019, with local projects contributing RM678 million, or 94% of total sales, and international projects the remaining 6%.
Total unbilled sales stood at RM10.95 billion as at March 31, 2019.
Net profit fell 14% to RM52.83 million during the quarter due to higher expenses and taxes, while revenue rose 32% to RM864.91 million.
MMC Corp Bhd submitted a proposal to revise the Mass Rapid Transit 3 (MRT3), or Circle Line, to the Government at the end of last year which provides an alternative for reducing the original project cost of RM45 billion.
Teo Seng Capital Bhd's net profit more than tripled to RM22.09 million in its first quarter ended March 31, 2019 from RM6.61 million a year earlier, as poultry farming revenue rose primarily on stable selling prices of eggs and improved production efficiency. Group revenue rose to RM150.52 million, from RM115.08 million.
Handal Resources Bhd has clinched a contract for the provision of maintenance, repair and manpower services for 19 cranes located offshore peninsular Malaysia from Repsol Oil & Gas Malaysia Ltd.
The contract does not have a specified value, as it is on a "call-out" basis, whereby the work orders will be awarded at the discretion of Repsol, based on its activity schedule and maintenance and repair schedule throughout the duration of the contract.
MRCB-Quill REIT's (MQREIT) net property income in the first quarter ended March 31, 2019 slipped 6.2% to RM32.38 million from RM34.54 million a year ago, on the back of a near 6% dip in revenue.
Willowglen MSC Bhd has secured a contract worth RM9.21 million from Singapore's SP PowerAssets Ltd for a 6.6kV Remote Terminal Unit Maintenance. The five-year contract was awarded to its wholly-owned subsidiary Willowglen Services Pte Ltd and commences from today until May 8, 2024.
Sin Heng Chan (Malaya) Bhd is selling a 2.4ha leasehold tract of land in Melaka for RM14.39 million to Sumber Setiamas Sdn Bhd, and make a gain of RM4.6 million.
Sale proceeds would be utilised to finance its day-to-day operations, as well as to pare down its borrowings.
Metronic Global Bhd has launched legal action against its shareholders who collectively hold a 39% stake in the company on the grounds they had allegedly conspired to injure and blackmail the company for RM20 million, as well as to withdraw a police report against Tan Ew Chew.
It claimed these shareholders had also failed to undertake a mandatory general offer, after they had gained control over the company. The 11 shareholder defendants are Ew Chew, Tan Kian Hong, Tan Hong Hong, Tan Lian Hong, Ooi Chieng Sim, Lagenda Perdana Sdn Bhd, Progerex Sdn Bhd, Skylitech Resources Sdn Bhd, Hock Lok Siew Realty Sdn Bhd, A1 Capital Sdn Bhd and Ng Wai Yuan.