This article first appeared in The Edge Financial Daily, on August 8, 2019.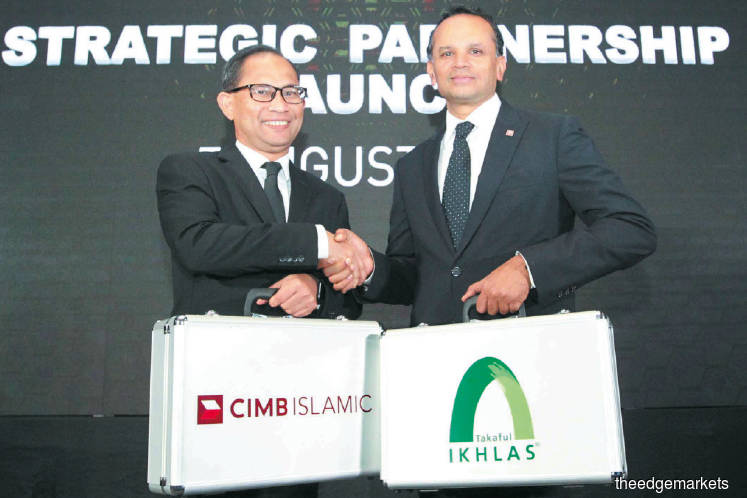 Eddy Azly (left) and Rafe at the launch of the tie-up yesterday. Photo by Kenny Yap
KUALA LUMPUR: Takaful Ikhlas General Bhd and CIMB Islamic Bank Bhd are targeting to achieve RM168 million in gross contribution from their newly forged strategic bancatakaful partnership over the next five years.
The two groups, which launched the tie-up yesterday, expect the partnership to grow by 11% every year for the next five years. The share split agreement of the contribution, however, was not disclosed.
When asked about the ambitious target, CIMB Islamic chief executive officer (CEO) Rafe Haneef said he is confident the collaboration will achieve its goal, banking on CIMB Islamic's strong existing customer base.
"We are not going to look at new bank customers, we already have our existing customer base. So we will grow the takaful business within the existing customer base.
"The existing businesses have already created the demand for the [new] products. So, in addition to the existing businesses, we will also grow the bank customers," he told a media conference after the launch.
Rafe noted that CIMB Islamic currently has over a million existing policyholders for its bancatakaful products.
The partnership between Takaful Ikhlas, a wholly-owned unit of MNRB Holdings Bhd, and CIMB Islamic, the Islamic banking arm of CIMB Group Holdings Bhd, is aimed at providing general takaful products and solutions to the bank's customers across retail, small and medium enterprises, as well as commercial segments.
Takaful Ikhlas will be the preferred general takaful provider to all CIMB Islamic customers. CIMB Islamic will leverage on Takaful Ikhlas' offerings, including motor and home protection, as well as coverage for commercial subscribers such as fire, construction, workmen, equipment, marine and liability, to cater to customers' demand for syariah-compliant takaful products.
Takaful Ikhlas will, in turn, leverage on CIMB Islamic's distribution channels comprising the bank's 250 branches nationwide, online platforms and call centres. In his speech at the launch, Takaful Ikhlas president and CEO Eddy Azly Abidin said the takaful provider is targeting a double-digit year-on-year growth in gross contribution for the current financial year ending March 31, 2020, as he observed a rising demand for takaful products in Malaysia.
"I can certainly attest that the demand for takaful products is growing and both organisations should work closer together to capitalise on this market's potential. We want to be part of the growth and widen our reach.
"This partnership will be built on both organisations' shared commitment and ambition to drive greater takaful penetration rate," he added.