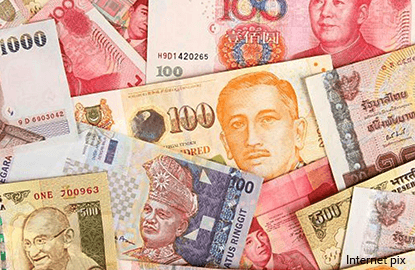 SINGAPORE (Feb 3): The Taiwan dollar set a 19-month high on Friday and most Asian currencies were on track for weekly gains as worries about US President Donald Trump's policy priorities helped weigh on the greenback.    
The Taiwan dollar breached the key 31.00 per US dollar level and reached a high of 30.950 at one point, its strongest level since July 2015.
Gains in the Taiwan dollar have been driven by recent US dollar weakness and net buying by foreign investors in domestic stocks, analysts say.
"It's just general (US) dollar weakness," said Sean Yokota, head of Asia strategy for Scandinavian bank SEB in Singapore.
"I think that we're still going to get (US) dollar strength, especially heading into second quarter. I prefer still to be long dollars versus Taiwan," Yokota added.
Selling the Taiwan dollar can be a way to hedge against the risk of increasing trade tensions between the United States and Asia, he said.
China's yuan firmed in the first day of onshore trade after a week-long break for the Lunar New Year as the central bank surprisingly raised short-term interest rates - piling pressure on the bond market.
The People's Bank of China raised the interest rate on open market operation reverse repurchase agreements (repos) by 10 basis points.
The move reinforced views that Chinese authorities are intent on both containing capital outflows and reining in risks to the financial system created by years of debt-fueled stimulus.  
Most emerging Asian currencies were on track for weekly gains, after the greenback retreated amid worries that US President Donald Trump may be focusing more on trade protectionism than reflationary fiscal policies.
The US dollar has also come under pressure after Trump and trade adviser Peter Navarro recently criticised Germany, Japan and China, saying the three key US trading partners were engaged in devaluing their currencies to US disadvantage.
While the US dollar could get a boost if US jobs data due later on Friday comes in stronger than expected, such a bounce may prove short-lived, said a trader for a Malaysian bank in Kuala Lumpur.
"US dollar is on a downtrend because Trump wants a lower US dollar," the trader said.
Some analysts, however, say the US dollar will probably regain strength against Asian currencies once Trump unveils details of fiscal stimulus, with the greenback also seen likely to benefit from expected rises in US interest rates this year.
CURRENCIES VS US DOLLAR
Change on the day at   0544 GMT
| | | | |
| --- | --- | --- | --- |
| Currency                | Latest bid   | Previous day  | % move |
| Japan yen                   | 113.04     | 112.81     | -0.20 |
| Sing dlr                    | 1.4123     | 1.4114     | -0.06 |
| Taiwan dlr                  | 31.040     | 31.101     | +0.20 |
| Korean won                 | 1146.80    | 1146.80     | +0.00 |
| Baht                         | 35.09      | 35.06     | -0.07 |
| Peso                        | 49.795     | 49.755     | -0.08 |
| Rupiah                       | 13345      | 13350     | +0.04 |
| Rupee                        | 67.39      | 67.37     | -0.03 |
| Ringgit                     | 4.4230     | 4.4220     | -0.02 |
| Yuan                        | 6.8692     | 6.8807     | +0.17 |
Change so far in 2017
| | | | |
| --- | --- | --- | --- |
| Currency                | Latest bid   | End prev year  | % move |
| Japan yen                   | 113.04     | 117.07     | +3.57 |
| Sing dlr                    | 1.4123     | 1.4490     | +2.60 |
| Taiwan dlr                  | 31.040     | 32.279     | +3.99 |
| Korean won                 | 1146.80    | 1207.70     | +5.31 |
| Baht                         | 35.09      | 35.80     | +2.05 |
| Peso                         | 49.80      | 49.72     | -0.15 |
| Rupiah                       | 13345      | 13470     | +0.94 |
| Rupee                        | 67.39      | 67.92     | +0.79 |
| Ringgit                     | 4.4230     | 4.4845     | +1.39 |
| Yuan                        | 6.8692     | 6.9467     | +1.13 |