This article first appeared in The Edge Financial Daily, on December 5, 2018.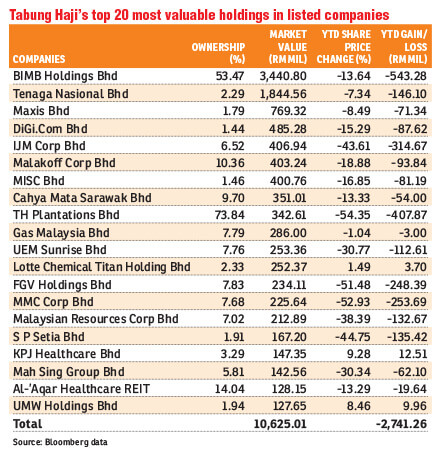 KUALA LUMPUR: The crash on TH Heavy Engineering Bhd's share price, which has plunged from the peak of RM1.72 in 2008 to four sen yesterday, has contributed to the bulk of the RM227.81 million asset impairment that Lembaga Tabung Haji incurred for the financial year ended Dec 31, 2017 (FY17). For 2018, stocks in the pilgrim fund's portfolio are not faring better given the cautious market sentiment caused by domestic and external factors. Tabung Haji's top 20 (T20) most valuable holdings on Bursa Malaysia have returned a paper loss of RM2.74 billion year-to-date (YTD). (see table). The T20 companies' market value, which have an aggregate value of RM10.63 billion, has declined 20.5% YTD.
TH Heavy, which has a market capitalisation of barely RM44.85 million, is not among the T20 companies, which include BIMB Holdings Bhd, Tenaga Nasional Bhd, Malakoff Bhd and MISC Bhd. It is worth noting that Tabung Haji has invested in 101 locally listed companies, according to Bloomberg. Among the biggest drags on Tabung Haji's portfolio was the 13.64% decline in shares of BIMB Holdings, leading to a loss of RM543.28 million in terms of market value YTD. The fund holds a majority 53.47% stake in BIMB, which owns Bank Islam Malaysia Bhd.
TH Plantations Bhd, in which Tabung Haji owns a 73.84% stake, was another significant letdown as its shares have plunged 54.35% YTD to 52 sen. This resulted in RM407.87 million being wiped off its market capitalisation. Losses were also recorded in the group's other portfolio stocks, a handful of which are components of the FBM KLCI. Like any institutional funds that have invested in equities, Tabung Haji has been a victim of the general downturn in the equity market, which has seen the KLCI declining 4.92%, while the Bursa Malaysia Top 100 Index has fallen 8.84% and the Bursa Malaysia Small Cap Index has tumbled 29% YTD.
Beside the T20 companies, companies in which Tabung Haji controls more than 10% include Theta Edge Bhd (68.7%), Pelikan International Corp Bhd (28.66%), Brahim's Holdings Bhd (19.28%), Southern Acids (M) Bhd (13.05%) and Alam Maritim Resources Bhd (10.13%). The mentioned companies' share prices are all down by more than 40% with Southern Acids and Brahim's leading the pack, sliding 66.4% and 65% respectively YTD.
Tabung Haji's investments have hogged the limelight after it lodged a police report against several former top executives' misuse of its monies and for misrepresentation in a corporate deal, which had an inconsistent impairment rate applied. The top executives include former chief executive officer (CEO) Tan Sri Ismee Ismail and chairman Datuk Seri Abdul Azeez Abdul Rahim last Friday. Soon after that, the Auditor-General (AG) released the second series of the 2017 report on Monday highlighting that the fund's asset impairment policy has been inconsistent as changes have been made every year, especially in FY17 as there were two modifications that year.
"Based on Paragraph 8, MFRS 136: Impairment of Assets, impairment provisions must be made if the carrying amount of the investment exceeds the recoverable amount," the report said. It pointed out that Tabung Haji had failed to record up to RM227.81 million of impairments on its investments in several subsidiaries and associates.
On TH Heavy, the stock drifted lower. It has lost some 64.62% YTD to close at four sen yesterday, near its record low of three sen. This resulted in some RM24.56 million of market capitalisation being erased since the start of the year to RM44.85 million yesterday. Specifically, it had failed to report an impairment of RM164.58 million in its FY17 for TH Heavy, according to the AG's Report released on Monday. The fabrication unit has been a drag on Tabung Haji since 2008, when the fund first bought into what was then Ramunia Holdings Bhd. This was in anticipation of MISC Bhd injecting its oil and gas unit Malaysia Marine and Heavy Engineering Sdn Bhd into Ramunia in a reverse takeover.