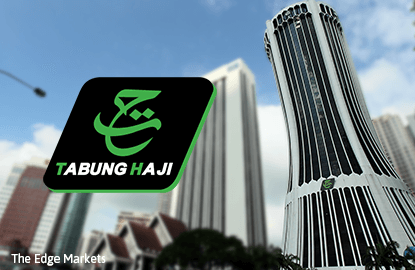 KUALA LUMPUR (Nov 18): Lembaga Tabung Haji has trimmed its stake in BIMB Holdings Bhd by 2.2% for around RM150 million.
In a filing with Bursa Malaysia today, BIMB said Tabung Haji divested 35.65 million shares on Nov 14 at an undisclosed price.
To date, the pilgrimage fund board still owns 812 million shares or a 51.1% direct stake in BIMB, whose main subsidiaries include Bank Islam Malaysia Bhd, Syarikat Takaful Malaysia Bhd and BIMB Securities Sdn Bhd.
A quick check on Bloomberg showed that the transactions crossed in four blocks of shares, for a price of between RM4.20 and RM4.207 apiece.
A block of 7.1 million shares were traded at RM29.86 million, while another block of 9.55 million shares were transacted at RM40.17 million.
Meanwhile, a block of 9.5 million shares were done at RM39.9 million, and another block of 9.5 million shares changed hands for RM39.96 million.
Year to date, BIMB shares have risen by 10.7% to close at RM4.24 today, giving it a market capitalisation of RM6.73 billion.