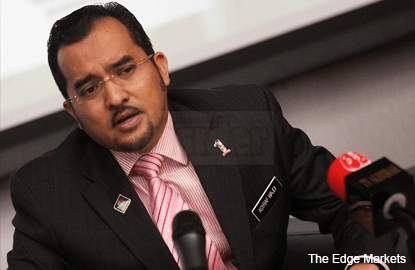 KUALA LUMPUR (Jan 26): Bank Negara Malaysia's (BNM) letters warning about Lembaga Tabung Haji's negative reserves do not provide the full picture of the fund's financial status, said Datuk Asyraf Wajdi Dusuki today.
The deputy minister in charge of Islamic affairs wrote on his Facebook that the letters had been understood "outside of their context".
"My advice to 'instant financial experts' on Facebook and other social media websites is that they should take into account several points and guidelines before making reviews or commentaries bordering on defamation based on Bank Negara Malaysia's letter, which was understood out of its context and spread carelessly," said Asyraf.
He said Malaysians should understand what reserves meant and how its functions differed between a financial institution and an investment institution such as Tabung Haji.
He said Tabung Haji's business model and balance sheet structure were different from that of banks.
Malaysians should also read Tabung Haji's balance sheet and profit-loss statement instead of drawing conclusions from its liability and reserves, said Asyraf.
He said they must also understand the International Financial Reporting Standard, especially in terms of evaluating reserves, assets and liabilities.
"You should also know that Tabung Haji is not monitored by Bank Negara. However, Bank Negara's concern has its basis if Tabung Haji has suffered losses to the extent that it is forced to use the national coffers to cover its loses.
"However, is it true Tabung Haji is suffering from losses?" said Asyraf.
He said the letters were being used to trigger accusations that Tabung Haji was suffering from losses and would be unable to pay out dividends to its nearly 9 million contributors.
The Malaysian Insider reported today that Bank Negara warned in a Dec 23 letter to Tabung Haji that it has only 98 sen in assets for each ringgit in liability.
Section 22 of the Tabung Haji Act states that it cannot announce dividends and bonuses to its contributors if its assets are worth less than its obligations.