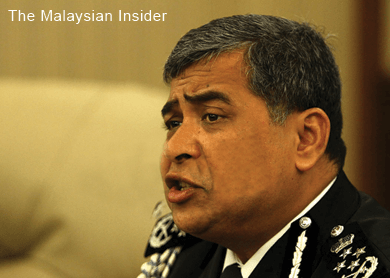 (MAY 8): Police are looking into using the Official Secrets Act (OSA) against the perpetrators behind the leaking of Tabung Haji's land deal documents with state development fund 1Malaysia Development Berhad (1MDB).
Inspector-General of Police Tan Sri Khalid Abu Bakar today said after studying the report lodged by Tabung Haji chief executive officer Datuk Johan Abdullah, the case has been classified under the Official Secrets Act 1972.
He said police would call up those identified in the case, including Tabung Haji top officials, for questioning soon.
On the police report lodged by ABIM (Angkatan Belia Islam Malaysia) against Tabung Haji yesterday, Khalid said that police were looking into classifying it under the same section as the report lodged by the pilgrims' fund.
"If needed, we will investigate both cases together," said Khalid.
Yesterday, ABIM lodged a police report in Gombak urging police to investigate the land deal between Tabung Haji and 1Malaysia Developement Bhd (1MDB).
The movement's secretary-general, Muhammad Faisal Abdul Aziz, reportedly said that it was worrying if the allegation proved to be true following the "suspicious" transactions and could jeopardise the savings of Muslims to perform the haj.
The Tabung Haji CEO has lodged a police report yesterday over what he said was inaccurate data published in the blog "The Benchmark", which alleged that the company had purchased two plots of land at 1MDB's Tun Razak Exchange (TRX) project for a total of RM772 million in cash, when in fact the pilgrim fund only bought one at a "discounted" price of RM188.5 million.
In the police report, Johan said the 67,954 sq ft of land was to build serviced apartments and denied that Tabung Haji was in a process of procuring a Signature Tower as alleged in the anonymous blog.
He said the investment was done in accordance with the relevant guidelines and had received proper approval.
The development of the service apartments will be undertaken by Tabung Haji Properties Sdn Bhd.
The anonymous blog had alleged that Tabung Haji purchased two plots of land using depositors' funds and bought the land at a far higher value than what 1MDB paid, which was denied by Tabung Haji.
According to the blog, 1MDB Real Estate Bhd obtained the land for the construction of TRX at RM64 per sq ft from the federal government.
Johan also stated in the report that the leak of the confidential documents did not prove that the proposal was approved, and was against the Tabung Haji Act 1995 and its policy.
1MDB has attracted controversy as it sits on a sizeable debt of about RM42 billion, and the government has admitted that the state-owned investment arm is facing cash-flow problems. – The Malaysian Insider