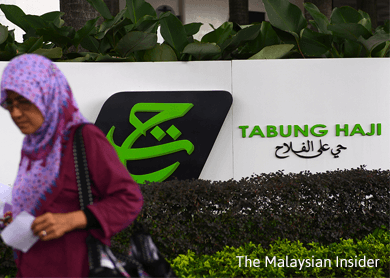 (May 11): Reactions by some Lembaga Tabung Haji depositors or those with relatives who have savings with the pilgrims' fund were a mixture of relief that the controversial land deal with 1Malaysia Development Bhd (1MDB) was now "settled", as well as worry over the lack of transparency in the way the investment was made.
In a street poll in Ipoh, those interviewed told The Malaysian Insider that they had earlier doubted the news of the transaction, due to the source being an anonymous blog, but were shocked when it turned out to be true with regards to one plot of land purchased for RM188.5 million.
Pensioner, Zahari Yaakob, 56, from Negri Sembilan, said had the news of the purchase been announced by Tabung Haji representatives, it would not have created such panic among depositors.
"If they had announced it earlier, people would not have become this worried of losing their savings.
"Malaysians are all educated now, there should be nothing for Tabung Haji to hide," he said.
Zahari added that since he and his wife have both performed the haj, they were not too worried about the need to withdraw their savings.
"It's good though that they have acted fast by selling off the land," he said.
Radiologist from Penang, Mohd Amirul Azri Rosli, 28, said like Zahari, he too had initially doubted the blog's revelation.
"We get all kinds of news surfacing from blogs that at first I did not trust it.
"When I learnt it was verified by Tabung Haji officials, I became more worried because I started to wonder why they didn't just announce it earlier.
"I have not yet performed my pilgrimage to Mecca and I'm worried about the savings I have been accumulating for over 10 years," he said, adding that he was still debating whether to withdraw his money.
Mohd Amirul's friend, who only wanted to be known as Fatehah, 38, said as long as there were no recorded losses, he was not worried about his savings in Tabung Haji.
"The deal was questionable due to it being bought at such a high price involving millions.
"Since they are selling it now and will be making money from it, I am not so worried," he said.
Businessman, Nazri Che Yah, 29, said he was not a depositor himself but was worried for his mother's savings when the news came out.
"She is now 54-years-old and has yet to perform the pilgrimage.
"I will have to sit down with my siblings to discuss with them how we will proceed about this.
"If everyone starts withdrawing their deposits, I will have to do the same," he said.
Meanwhile, shopkeeper Sofian Samsudin, 38, said he was not worried at first because he has no account in Tabung Haji but started to panic when more people started to discuss the news.
"I am not a depositor but my mother-in-law is. This piece of news has been much talked about in our family. We are still deciding whether to withdraw the savings," he said.
Tabung Haji confirmed this week that it paid RM188.5 million to 1MDB for a plot of land in the Tun Razak Exchange (TRX).
The blog "The Benchmark" has, however, alleged that Tabung Haji purchased two plots of land at 1MDB's Tun Razak Exchange (TRX) project for a total of RM772 million in cash, when in fact the pilgrims fund only bought a plot of land at a "discounted" price of RM188.5 million.
The purchase caused an uproar among its depositors, some of whom withdrew their savings at its branch in Shah Alam on Thursday.
Opposition politicians were quick to note that Tabung Haji was paying far more per square feet (psf) than what 1MDB paid at RM64 psf, when it first bought the land from the government, leading some to call the deal a "bailout" given 1MDB's massive debts.
Umno leaders, the highest being Deputy Prime Minister Tan Sri Muhyiddin Yassin, have also criticised the deal as 1MDB's RM42 billion debt was a well-known fact.
Reports also said that Tabung Haji's risk management committee had also stated that the purchase was a high-risk one.
Yesterday, the fund announced it was selling the land it purchased from 1MDB, following public outcry over the transaction.
Tabung Haji chairman Datuk Seri Abdul Azeez Abdul Rahim said Najib had advised him to dispose of the land so that the fund's reputation is not "tarnished" due to its business transaction with 1MDB, and in order to respect the "sensitivity" of Tabung Haji depositors.
The land will be sold to a buyer at a profit of at least RM5 million and will be concluded within the next few weeks, Azeez said. – The Malaysian Insider