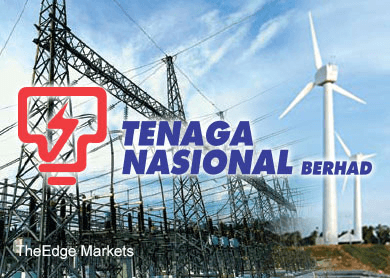 KUALA LUMPUR (Apr 9): TA Securities Research is maintaining its buy call on Tenaga Nasional Bhd (TNB) at RM14.56, with a revised target price of RM16.29 from RM16.25 previously.
This follows news that TNB has received more than 90% in acceptances on its conditional takeover offer of Integrax Bhd, whose shares will be suspended from trading April 21.
However, although there was a tussle to take control of Integrax, TA Securities said the win would do little to add to TNB's earnings.
"It is a strategic win to TNB, given that the takeover will ensure Integrax will focus on its coal handling services to the Janamanjung power plant complex. This is critical given that Janamanjung's eventual total capacity of 4,000 MW (including the 1,000 MW Manjung Unit 5) will account for 16% of Peninsular Malaysia's electricity generation capacity," said TA analyst James Ratnam in a note this morning.
The group is expected to release its 2QFY15 results later this month, and the research house expects a bumper profit on the back of higher utilisation of coal and hydropower plants.
It has also been confirmed by RAM Ratings that TNB's Manjung 4 power plant will miss its March 31, 2015 deadline to begin commercial operations by two to four weeks.
"[The] potential financial impact, if any at all, will accrue to bondholders.
"The delay will have neutral impact on shareholders given that Manjung 4 is owned by TNB. We do not expect any operational impact too given that the reserve margin is about 30% presently and the expected delay in the commissioning is likely to be less than a month," said Ratnam.
At 12.07pm, Tenaga fell 0.27% or four sen to RM14.52 with 1.52 million shares done.