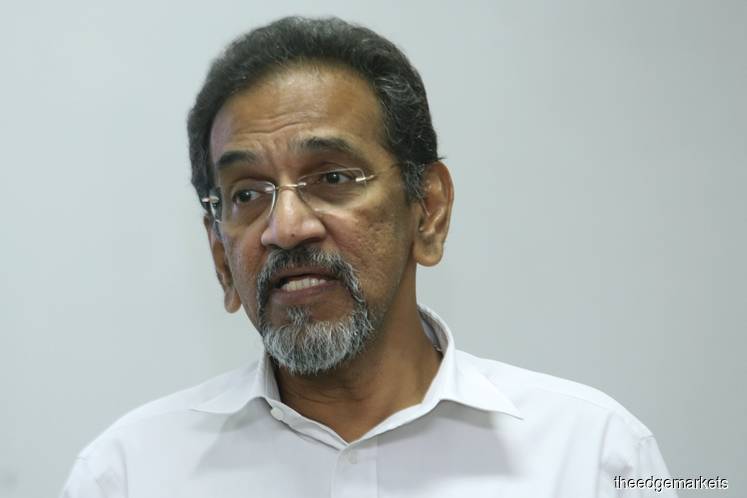 KUALA LUMPUR (Feb 27): The Minority Shareholder Watchdog Group (MSWG) has identified some concerns among the minority shareholders of TA Global Bhd with regard to the company's corporates exercises.
Speaking to reporters today, MSWG chief executive officer Devanesan Evanson said minority shareholders who attended a discussion forum today pointed out that their main concern was that the offer price of 28 sen for TA Global shareholders was lower than TA Global's estimated revised net asset value (RNAV) of RM1.10. 
The offer price represents a 74.5% or 82 sen discount to the RNAV. 
On top of this, Devanesan also said the corporate exercise is not straightforward and has caused confusion for the shareholders as this deal involved the cash and share swap options. 
"If shareholders opt for cash, they will get 28 sen. Otherwise, if they take share swap, indirectly [they] get to enjoy both TA Global growth through TA Enterprises as TA Enterprises will have both stockbroking and property businesses (assuming the corporate exercise is approved by TA Enterprises' shareholders at its extraordinary general meeting)," he added. 
Meanwhile, he pointed out that the proposal could trigger a mandatory general offer (MGO) in TA Enterprises as TA Global chairman Tony Tiah would fund the cash settlement for TA Global's shareholders who opt for cash. 
Nonetheless, he said MSWG has suggested that the minority shareholders of both companies take a view from any independent advisory circular when it is available later. 
"We think the independent advisor's report will contain more information as [it is] prepared by licensed professionals, and able to give more guidance to minority shareholders, he said. 
On Feb 12, TA Enterprise said in a statement to Bursa Malaysia it proposed to acquire up to 2.12 billion shares or 39.83% equity interest in TA Global under the conditional voluntary takeover offer at 28 sen each.
TA Enterprise said the voluntary takeover offer shall be satisfied by a cash consideration of 28 sen for one TA Global share or a share exchange based on a ratio of 0.4211 for new shares in TA Enterprise to be issued at a price of 66.5 sen each for one TA Global share.
Today, MSWG hosted an investors' forum titled "TA Global's 'privatisation': Implication to minority shareholders". 
The forum was attended by some 30 participants, including minority shareholders of TA Global and TA Enterprises, remisiers and MSWG's subscribers. It was intended to discuss the proposed privatisation of TA Global.
Devanesan said this forum was initiated after receiving numerous requests from minority shareholders of TA Global and TA Enterprises.