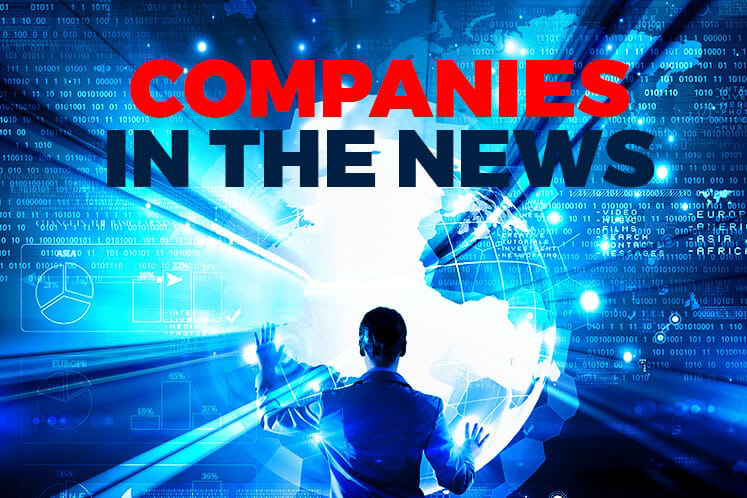 KUALA LUMPUR (Feb 12): Based on corporate announcements and news flow today, stocks in focus on Thursday (Feb 13) may include: TA Enterprise Bhd, TA Global Bhd, Genting Plantations Bhd, Tiger Synergy Bhd, Kelington Group Bhd, Kumpulan Powernet Bhd, Malaysia Marine and Heavy Engineering Bhd and CJ Century Logistics Holdings Bhd.
Stockbroking baron Datuk Tony Tiah is pumping fresh capital into TA Enterprise Bhd to finance the privatisation of his flagship company's listed property arm TA Global Bhd, which is said to be the biggest landlord around the KLCC Twin Towers.
TA Enterprise is making a conditional voluntary offer to buy out 2.12 billion shares, which is equivalent to a 39.83% stake in TA Global it does not already own. TA Enterprise currently owns a 60.17% stake.
The stockbroking group is offering two options, namely cash offer or a share swap, for TA Global's minority shareholders. TA Global shareholders may choose from either a cash offer of 28 sen per existing share held, or a share swap based on an exchange ratio of 0.4211 new ordinary share in TAE to be issued at 66.5 sen each for every TA Global share surrendered.
Genting Plantations Bhd (GENP) and Elevance Renewable Sciences Singapore Pte Ltd (ERS Singapore) have mutually agreed to terminate a share sale and purchase agreement (SPA) signed in July 2014.
The termination will see ERS Singapore transferring to GENP its entire 25% stake in Genting Integrated Biorefinery Sdn Bhd (GIB) for RM72 million cash.
GENP will pay ERS Singapore a net amount of RM64 million after setting off RM8 million owing by ERS Singapore for the initial share sale under the share SPA against the said consideration of RM72 million.
Concurrently, other existing agreements between GENP and its subsidiaries and ERS Singapore and its parent US-based Elevance Renewable Sciences Inc will also be unwound, amended or terminated.
Tiger Synergy Bhd plans to raise up to RM29.54 million via a rights issue with free warrants for working capital and to repay bank borrowings.
At the same time, Tiger Synergy is proposing to raise up to RM50.51 million in a private placement to finance its on-going property development projects and for working capital.
The rights issue exercise entails the issuance of up to 738.44 million rights shares together with up to 738.44 million free warrants (Warrants-D). The cash call will be on the basis of one rights share for every two existing shares as well as one Warrant-D for every one rights share subscribed, at an entitlement date to be determined later.
The proposals are expected to be completed by the second half of this year.
Kelington Group Bhd's subsidiary in China has bagged RM64 million worth of contracts from the country's largest semiconductor foundry company.
Wholly-owned Kelington Engineering (Shanghai) Co Ltd will perform base build and gas hook up works at a few locations in Beijing and Tianjin, the engineering services group said.
The two-year contracts commenced on Jan 6 and are expected to contribute positively to the earnings and net assets of Kelington for the financial years ending Dec 31, 2020 and Dec 31, 2021.
Buying interest in the afternoon trading session lifted Kumpulan Powernet Bhd's share price to a fresh record high of RM2.42, a gain of 11.5% or 25 sen from the previous day.
The news on the company having secured a hydropower project worth US$15.88 million in Laos added fuel to its share price rally that started this year from RM1.40-level. The counter has gained 65% since the start of the year.
It has rallied 500% over the past 12 months.
Malaysia Marine and Heavy Engineering Bhd (MHB) swung back to profit in the fourth quarter ended Dec 31, 2019 (4QFY19) as its marine segment also turned positive on the back of improved revenue from higher dry docking services on liquefied petroleum gas vessels and conversion work.
Also helping the group was tax refunds of RM6.45 million in the current quarter, which resulted in MHB reporting a net profit of RM9.28 million compared with a net loss of RM25.22 million in 4QFY18, marking its first profitable quarter since end-2017.
Quarterly revenue rose by a marginal 0.88% to RM275.64 million in 4QFY19 from RM273.24 million a year ago, dragged down by a 33.7% decline in heavy engineering revenue, mainly due to most ongoing projects being at their tail-end while newly-secured ones were still at infancy stage.
The better quarterly performance helped MHB narrow its net loss for the full FY19 to RM34.22 million from RM122.69 million a year ago, while revenue rose 3.6% to RM1.01 billion from RM974.35 million.
CJ Century Logistics Holdings Bhd is acquiring CJ Korea Express Malaysia Sdn Bhd from CJ Century's Singapore-based substantial shareholder, CJ Logistics Asia Pte Ltd, for RM100 million to expand its logistics business.
CJ Century said the RM100 million price tag for the related party transaction will be satisfied via the issuance of 200 million new CJ Century shares to CJ Asia at 50 sen per share.
The group said the acquisition will allow it to further strengthen its total logistics offerings as well as expand key logistics hub and networks.