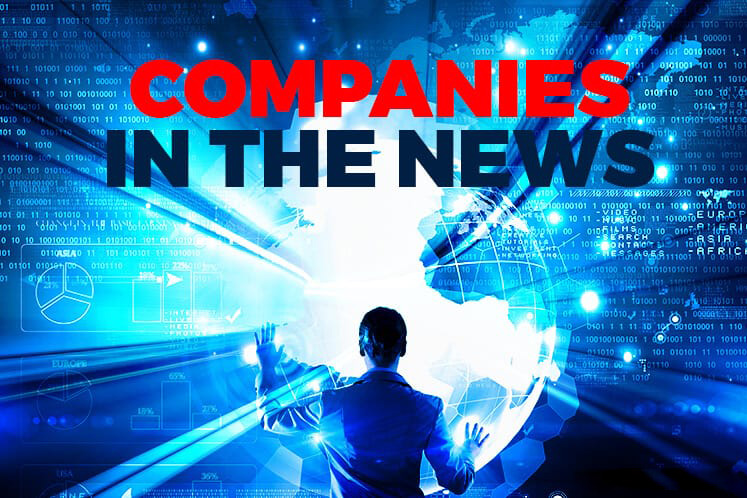 KUALA LUMPUR (April 6): Based on corporate announcements and newsflow today, stocks that will be in focus on Monday (April 9) may include: TA Enterprise Bhd, Ni Hsin Resources Bhd, Caely Holdings Bhd, Lion Diversified Holdings Bhd, Comfort Gloves Bhd, Suria Capital Holdings Bhd, Tafi Industries Bhd, Sanichi Technology Bhd, G Neptune Bhd and Press Metal Aluminium Holdings Bhd.
TA Enterprise Bhd's subsidiary Winner Star Group Ltd has signed a provisional agreement with Champion Castle Ltd and Zeppelin Property Development Consultants Ltd to sell two office units at Tower One Lippo Centre in Hong Kong for HK$137 million (RM67.48 million).
It said RM62.77 million of the proceeds raised will be used to repay bank borrowings, while the balance will be used to cover the estimated expenses for the exercise.
Stainless steel multi-ply cookware manufacturer Ni Hsin Resources Bhd has emerged as a substantial shareholder in Caely Holdings Bhd, a lingerie manufacturer-cum-property developer, after acquiring 5.81 million shares in Caely for RM4.62 million, a 7.26% stake, over the past 12 months.
There is synergy for both Caely and itself whereby they can leverage on each other's customer base in the overseas market segment, it said.
"Ni Hsin can also benefit from Caely's direct selling licence to market our PENTOLI products. Ni Hsin intends to seek board representation in Caely," the group said.
Lion Diversified Holdings Bhd said part of its land in Kuala Langat district in Selangor has been compulsorily acquired by the Land Office, with a compensation sum of RM11.74 million.
The group said the land was required for the routing of the 500kV power transmission by Tenaga Nasional Bhd. "The company had on April 4, 2018 received the compensation sum. The compensation sum was accepted under protest," it said.
Comfort Gloves Bhd said today the move by the US Food and Drug Administration (FDA) to put its wholly-owned subsidiary Comfort Rubber Gloves Industries Sdn Bhd (CRGISB) under the regulator's import alert list has not disrupted its glove-making operations, as the listing does not prevent the group from exporting to the US.
However, it has resulted in CRGISB examination glove shipments to the US requiring inspections upon arrival in the country and released after passing an inspection. "The operations of the group have not been disrupted by this incident and is continuing in normal operation," Comfort Gloves added.
Meanwhile, it is working towards removing its unit from the import alert list through its US agents and is confident of securing the removal from it.
Suria Capital Holdings Bhd, a company controlled by the Sabah state government, has dropped its plan to sell a stake in wholly-owned subsidiary Sabah Ports Sdn Bhd (SPSB) to MMC Corp Bhd. It did not give a reason for its decision.
On Aug 10, 2017, Suria confirmed a report by The Edge Malaysia weekly that it was in talks with MMC for the stake sale. SPSB holds a 30-year concession to operate eight ports in Sabah, commencing 2004.
Tafi Industries Bhd's executive chairman Datuk Saw Eng Guan has been redesignated as the group's managing director.
Saw, 61, was appointed to the board in 2004 and had been executive chairman since 2007. Saw has an 8% direct interest in the group, and is the son of the late Saw Han Lim, whose estate is a substantial shareholder.
Sanichi Technology Bhd is buying a 50.0001% equity interest in a financial technology (fintech) company, which is anticipated to partner with an Indonesian one, for the proposed provision of money remittance services that it believes will be profitable.
The target company is Bina Bicara Sdn Bhd, which it will pay RM500,000 to acquire the controlling stake. Bina Bicara will execute a Memorandum of Understanding and subsequently a joint venture agreement with PT Finnet Indonesia for the above business, said Sanichi.
The venture will include, but not be limited to, money remittance services from Malaysia to Indonesia, as well as other resultant ancillary business.
G Neptune Bhd's external auditor has highlighted a material uncertainty in the group's financial statements that may cast significant doubt on its ability to continue as a going concern.
Its independent auditor Siew Boon Yeong & Associates referred to G Neptune's accounts for the period from Jan 1, 2016 to June 30, 2017 (FY17) when the group and the company incurred net losses of RM8.59 million and RM7.15 million respectively.
On top of that, the group's current and total liabilities exceeded its current and total assets by RM2.46 million while the company's current and total liabilities exceeded its current and total assets by RM396,344 and RM396,343 respectively.
"These indicate the existence of material uncertainties which may cast significant doubt on the ability of the group and of the company to continue as going concerns and therefore they may be unable to realise their assets and discharge their liabilities in the normal course of business," Siew Boon Yeong & Associates said in its report on G Neptune filed with Bursa Malaysia.
Press Metal Aluminium Holdings Bhd chief executive officer Tan Sri Koon Poh Keong has been accumulating shares in the group, and has acquired a total of 2.89 million shares or a 0.17% equity stake since the start of the week.
Upon the purchase of the shares via three separate transactions between April 2 and April 4, his direct interest has increased to 593.63 million shares or 15.351%, while his indirect interest stood at 930.71 million or 24.067%.
Press Metal has been on a downtrend since late-March, as aluminium prices declined to US$1,978 on April 3, the lowest since August 2017, amid rising stocks and disappointment over China's winter output curbs.