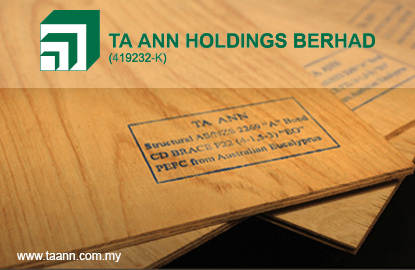 This article first appeared in The Edge Financial Daily, on March 14, 2016.
Ta Ann Holdings Bhd
(March 11, RM4.85)
Maintain hold with an unchanged fair value of RM5.28: Sarawak Oil Palms Bhd (SOPB) and Ta Ann Holdings Bhd (Tan Ann) have taken the initiative to assist in developing the oil palm industry in Sarawak, via a tie-up with the Malaysian Palm Oil Board (MPOB).
It is reported that the MPOB has agreed in principle to take the lead in research to improve oil palm yields in Sarawak. SOPB reportedly said in a statement that the oil extraction rate  in Sarawak dropped from 20.4% in 2014 to 20.1% last year.
SOPB said although weather patterns, pests and disease had severely affected fresh fruit bunch (FFB) production, the industry believed that reduced weevil activities could be the main cause of poor pollination and thus, poor quality FFB.
Expressing concerns and urging in-depth studies as well as effective control measures, SOPB said the outbreak of tirathaba and rat 
infestations in some parts of Sarawak had also affected FFB production in coastal areas.
Towards that end, SOPB and Ta Ann met with MPOB late last year on forming the research collaboration. 
This is a positive development, and we expect other players in the state to be roped into undertaking the industry-wide measures. While we maintain our "hold" on Ta Ann in view of the strengthening ringgit and declining weak timber product prices, we believe the stock has been oversold in the last few days.
Some investors may have been spooked by comments from the opposition front urging the state government to review and terminate a substantial portion of the timber licences granted to the "Big Six" in the state.
It wants the licences to be broken up into smaller areas and concessions to be gradually awarded through open tender. We believe the probability of breaking up the licences of the long-established players is slim. The state has also said there will be no more new issue of timber licences.
Ta Ann's prospects in plantations look bright, with our projected FFB production growing at 15% annually over the next three years, in tandem with a rising maturity of its estates. While we maintain "hold" and our fair value, we advocate accumulating on any further price weaknesses. — AmInvestment Bank Bhd, March 11