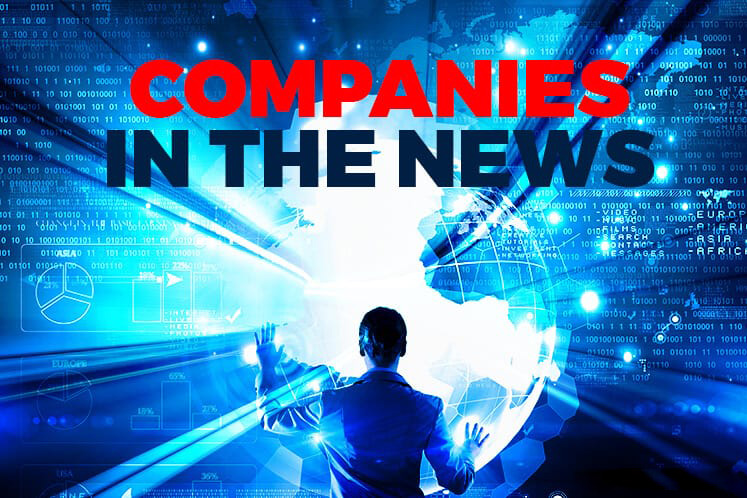 KUALA LUMPUR (Nov 28): Based on corporate announcements and news flow today, stocks in focus on Wednesday (Nov 29) may include: Ta Ann Holdings Bhd, Compugates Holdings Bhd, UEM Edgenta Bhd, Taliworks Corp Bhd, UMW Holdings Bhd, IJM Corporation Bhd, IJM Plantations Bhd, Dutch Lady Milk Industries Bhd, Advancecon Holdings Bhd, Malaysian Resources Corp Bhd, Gamuda Bhd, AMMB Holdings Bhd and CIMB Group Holdings Bhd.
Ta Ann Holdings Bhd's net profit for the third quarter ended Sept 30, 2017 (3QFY17) declined by 56% year-on-year to RM23.09 million from RM52.06 million on lower exports of plywood products and logs. Quarterly revenue dipped 12% y-o-y to RM308.17 million from RM349.88 million.
"Plywood product and export logs sales volume dropped by 37% and 55% respectively, [which] accounted mainly for the decrease in revenue and profit," said Ta Ann.
Nonetheless, net profit in the first nine months of FY17 (9MFY17) grew 11% y-o-y to RM95.81 million from RM93.62 million as revenue climbed 5% to RM880.1 million from RM837.5 million.
Compugates Holdings Bhd's wholly-owned unit Compugates Development and Mining Sdn Bhd (CDMSB) will jointly develop a piece of 25.09ha agriculture land in Dengkil, Selangor, with Jade Classic Sdn Bhd.
Compugates said CDMSB has entered into a conditional joint venture agreement with Jade Classic to undertake a potential mixed development on the land.
The plan, said the group, is for the land to be developed into a mixed development, subject to the approval of the authorities, comprising 500 houses, 1,100 Rumah Selangorku homes and four blocks of 600 units of high rise mixed residential and commercial units, Compugates said.
The estimated gross development value (GDV) of the project is RM775 million.
The group targets to launch the project in 2020, while the development is expected to take at least 10 years to complete with an extension of four years.
UEM Edgenta Bhd saw its net profit for its third quarter ended Sept 30, 2017 (3QFY17) declining 24% year-on-year to RM38.72 million from RM51.11 million, as it incurred higher expenses and finance costs.
Expenses increased 34% y-o-y to RM57.55 million from RM42.96 million, while finance costs rose close to five times y-o-y to RM13.41 million from RM2.74 million.
In addition, earnings were also affected by a lower share of results of associates, which was down 22% y-o-y to RM3.28 million from RM4.22 million.
Quarterly revenue, meanwhile, improved 40% year-on-year to RM523.11 million from RM373.44 million, though this was mostly mitigated by a 50% rise in cost of sales to RM437.83 million from RM291.24 million.
For the first nine months of FY17 (9MFY17), net profit rose 47% y-o-y to RM93.38 million from RM63.57 million as revenue climbed 36% to RM1.45 billion from RM1.07 billion.
UEM Edgenta said its stronger 9MFY17 performance was mainly due to stronger contribution from its healthcare services division — boosted by a newly acquired commercial business UEMS Pte Ltd — as well as its real estate services and infrastructure services divisions.
Taliworks Corp Bhd's net profit came in lower at RM9.95 million in the third quarter ended Sept 30, 2017 (3QFY17) compared with RM19.51 million a year ago.
The company declared a third interim single-tier dividend of two sen per share in respect of the financial year ending Dec 31, 2017, to be paid on Jan 10, 2018.
The lower quarterly profit, said the group, was because the company had booked in toll hike compensation of RM9.54 million on the Cheras-Kajang Highway in the previous corresponding quarter.
Furthermore, it reported an unrealised forex loss of RM600,000 in 3QFY17, compared to an unrealised forex gain of RM4.4 million in 3QFY16, arising from the disposal of its foreign operations.
For the cumulative nine months of FY17 (9MFY17), the group reported a net profit of RM22.63 million, which was a decline of 76.3% from RM95.48 million in 9MFY16, while revenue marginally improved by 0.5% to RM236.94 million from RM235.84 million.
Thanks to lower operating expenses, UMW Holdings Bhd managed to narrow its net loss in the third quarter ended Sept 30, 2017 (3QFY17) to RM29.37 million from RM128.83 million a year ago.
The company recorded quarterly operating expenses of RM2.7 billion, against RM2.87 billion last year.
UMW reported a profit before tax (PBT) for 3QFY17 of RM19.93 million, which was 74.6% higher than the RM11.42 million recorded last year.
Meanwhile, quarterly revenue dipped 4.85% to RM2.67 billion from RM2.81 billion a year ago, no thanks to lower revenue contribution from the automotive segment as a result of the decrease in units sold whilst the unlisted Oil & Gas segment was affected by the cessation of business of its Oman operations.
The company saw its net loss widen to RM218.51 million in the cumulative nine-month period of FY17 (9MFY17), from RM124.38 million, despite posting higher revenue. Its revenue grew 7.2% to RM8.19 billion from RM7.64 billion.
IJM Corporation Bhd's second quarter net profit declined 32.4% to RM110.9 million or 3.06 sen per share, from RM163.9 million or 4.55 sen a share a year ago, on lower contribution from the manufacturing and quarrying, and plantation divisions.
The decline was also due to the non-recurrence of a one-off gain of RM27.9 million that was contributed by an associate previously, IJM Corp said.
Earnings for the quarter ended Sept 30, 2017 were further compounded by a net unrealised foreign exchange loss of RM400,000 versus a gain of RM16.7 million previously.
Revenue for the quarter climbed 7.2% to RM1.59 billion from RM1.49 billion previously.
IJM Corp declared a single tier first interim dividend of 3 sen per share, with the ex-date on Dec 13 and payment on Dec 28.
The group's cumulative six-month net profit was 15.1% lower at RM237.3 million from RM279.4 million in the corresponding period a year ago. Revenue, however, inched 9.4% higher to RM3.06 billion from RM2.8 billion.
IJM Plantations Bhd's net profit in the second quarter ended Sept 30, 2017 (2QFY18) declined 79% year-on-year to RM9.71 million, from RM44.21 million, as it booked higher expenses, foreign exchange loss on borrowings, and lower revenue.
Revenue was down 2% to RM196.44 million from RM201.38 million in 2QFY17, as it registered lower sales volume in Malaysia, as group fresh fruit bunch production declined marginally.
Net profit for its first half of FY18 (1HFY18) shrank 62% y-o-y to RM26.27 million from RM69.41 million, despite a 12% gain in revenue to RM381.03 million from RM340.76 million, on stronger sales volume from its Indonesian operations.
Dutch Lady Milk Industries Bhd expects the domestic market to remain challenging against the backdrop of weak consumer sentiment, higher material prices and soft ringgit.
In the third quarter ended Sept 30, 2017 (3QFY17), higher raw material costs and the weak ringgit ate into the dairy product manufacturer's profitability.
Dutch Lady's net profit slipped close to 20% to RM32.58 million for the third quarter ended Sept 30, 2017 (3QFY17) from RM40.66 million in the previous corresponding quarter.
Its quarterly revenue, however, increased slightly to RM281.84 million from RM279.59 million a year ago.
For the cumulative nine months of FY17, its net profit dipped 13.05% to RM96.74 million from RM111.25 million last year. Its revenue climbed about 2.5% to RM795.48 million against RM776.06 million.
Dutch Lady declared a special dividend of 60 sen per share and an interim dividend of 50 sen per share, for the financial year ending Dec 31, 2017, payable on Dec 27.
Advancecon Holdings Bhd has bagged a RM75.5 million contract to carry out earthworks and infrastructure works on the South Klang Valley Expressway (SKVE). The contract was awarded by SKVE Holdings Sdn Bhd to its subsidiary Advancecon Infra Sdn Bhd.
As the main contractor, Advancecon Infra would undertake site clearance, soil treatment works, drainage works, and general infrastructure works for SKVE.
Malaysian Resources Corp Bhd (MRCB) and Gamuda Bhd have collaborated to bid for the role of project delivery partner (PDP) for the Kuala Lumpur to Singapore High Speed Rail (KL-Singapore HSR) project.
Both parties entered into an agreement today to set up an unincorporated consortium on a 50:50 basis to participate in the tender.
"Upon securing the tender, the parties shall enter into a definitive agreement to further set out the rights and obligations of each party in relation to the project," MRCB said.
The PDP tender was called by MyHSR Corp on Nov 22.
AMMB Holdings Bhd's (AmBank Group) — the country's sixth-largest lender by assets — said second-quarter net profit dropped 6% year-on-year on higher interest expense and other operating expenses.
It also recognised an impairment loss on doubtful sundry receivables of RM10.17 million in the current quarter under review.
Net profit weakened to RM331.47 million in the three months ended Sept 30, 2017 (2QFY18) from RM352.63 million a year ago. Quarterly operating income, however, improved by a marginal 1.2% to RM2.13 billion from RM2.1 billion.
The group declared an interim dividend of 5 sen for the financial year ending March 31, 2018 (FY18), payable on Dec 28.
The weak second-quarter earnings dragged its net profit for the cumulative six months (1HFY18) down by 2.4% to RM659.74 million from RM675.63 million a year ago, while operating income recorded a slight growth of 1% to RM4.21 billion in 1HFY18 against RM4.16 billion in 1HFY17.
CIMB Group Holdings Bhd said its third quarter net profit climbed 11% to RM1.13 billion from RM1.02 billion a year earlier on higher interest and non-interest income. Higher Islamic banking income also contributed to profit growth.
CIMB said group revenue came in at RM4.42 billion in the third quarter ended Sept 30, 2017 (3QFY17) versus RM4.12 billion last year.
For 9MFY17, CIMB said net profit rose to RM3.41 billion from RM2.71 billion a year earlier, while topline was higher at RM13.11 billion versus RM11.75 billion.