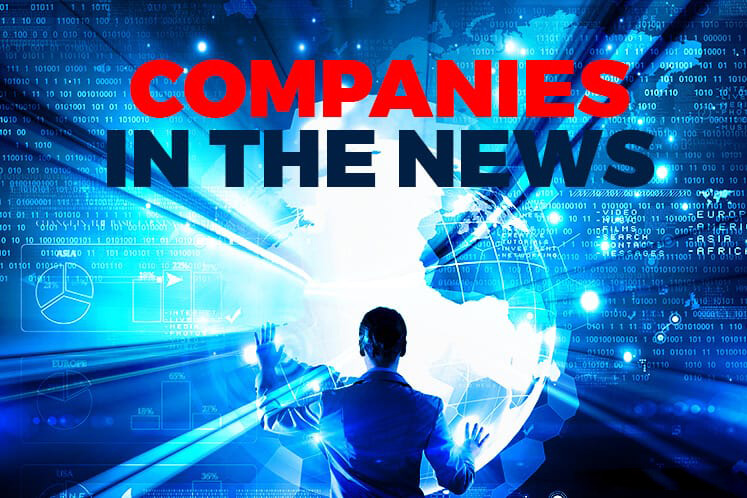 KUALA LUMPUR (June 26): Based on corporate announcements and news flow today, stocks in focus for Wednesday (June 27) may include the following:  T7 Global Bhd, MSM Malaysia Holdings Bhd, Selangor Properties Bhd, APFT Bhd, Poh Huat, Alam Maritim Resources Bhd, Berjaya Media Bhd and Sunway Bhd.
T7 Global Bhd is keen on continuing to participate in the controversial East Coast Railway Line (ECRL) project even if it is to be implemented at a substantially lower cost, as long as the group "can make a decent profit" from it, its executive deputy chairman Tan Sri Tan Kean Soon said today.
Last night, Prime Minister Tun Dr Mahathir Mohamad said the Pakatan Harapan-led government will proceed with the ECRL if it can obtain more favourable terms through renegotiation and if the project's cost is brought down from the current RM55 billion.
T7 chairman Datuk Seri Dr Nik Norzrul Thani said the group will just have to wait for the government's decision on the project, as it is being reviewed, although the group is positive pricing will be more effective, going forward.
MSM Malaysia Holdings Bhd (MSM), the country's leading refined sugar producer, is now looking to penetrate the African and Chinese markets to make full use of the new production capacity that will come on stream once its new sugar refinery in Tanjung Langsat, Johor, commences operations next month.
MSM, which currently commands about two-thirds of the domestic refined sugar market, is now studying options on how to enter the two markets so that it does not "financially burden MSM" unnecessarily, according to its group's chairman Datuk Wira Azhar Abdul Hamid.
Azhar said this was a key concern as the group "is not financially strong". The options on the table now include a partnership or a direct export, he added.
Selangor Properties Bhd's net profit for the second quarter ended April 30, 2018 (2QFY18) contracted by 22.9% to RM6.63 million from RM8.6 million in the same period a year ago, dragged by fair value loss of its investments overseas  but the amount was mitigated by a narrower unrealised foreign exchange loss.
Quarterly revenue, however, grew 18.68% to RM38.72 million, from RM32.63 million, thanks to stronger operations in Australia amid a stronger ringgit, which had strengthened against the Australian dollar.
For the cumulative six months ended April 30, 2018 (6MFY18), Selangor Properties dipped into the red with a net loss of RM34.31 million compared to net profit of RM52.65 million in the previous corresponding period, despite a 6.87% increase in revenue to RM67.41 million from RM63.08 million in 6MFY17.
Messrs Adam & Co, the external auditors of loss-making APFT Bhd, has issued a statement expressing the material uncertainty related to the going concern of the group.
The auditors highlighted that APFT, which has been categorised as a Practice Note 17 (PN17) company, had incurred a net loss of RM67.57 million during the financial period between August 1, 2016 and Jan 31, 2018 , as well as a negative operating cash flow of RM8.39 million as at Jan 31, 2018 (FY18).
It said the group's total current liabilities exceeds its total current assets by RM31.92 million. In addition, one of the group's subsidiaries was unable to meet its borrowings obligations during the financial period.
Certain creditors had also issued letters of demand to the subsidiary due to long overdue debts, it pointed out.
Furniture-maker Poh Huat Resources Holdings Bhd's net profit grew 2% to RM10.84 million in the second quarter ended April 30, 2018 (2QFY18), from RM10.6 million a year ago, despite a slight drop in revenue, thanks to higher other income, lower income tax expenses, and lower foreign currency translation loss.
Quarterly revenue was down 2% year-on-year to RM125.53 million from RM127.65 million after being dragged by lower turnover in its Vietnamese operations due to lower average Vietnamese dong to ringgit exchange rate.
The group declared a first interim dividend of 2 sen in respect of FY18, payable on Aug 27.
In the first six months of FY18, Poh Huat's net profit fell 40% to RM17.08 million from RM28.28 million a year ago, as cost of sales grew 7% to RM243.33 million from RM228.3 million, while revenue dipped 1% to RM287.42 million from RM291.11 million. A foreign currency translation loss of RM9.08 million also ate into earnings.
Alam Maritim Resources Bhd has bagged several contracts related to providing offshore support vessels services in Malaysia and Middle East, worth a total of RM226.08 million.
Without providing detailed information, Alam Maritim said the contracts were awarded to Alam Maritim's two subsidiaries: Alam Maritim (M) Sdn Bhd and Alam Maritim (L) Inc, which is valid for the next six months to three years.
It noted that some of the contracts have an extension option of one to two years exercisable by the awarders.
Berjaya Media Bhd (BMedia), which publishes the Sun newspaper, narrowed its net loss to RM6.03 million in the fourth financial quarter ended April 30, 2018 (4QFY18) from RM14.01 million a year ago, as it no longer has to incur impairment loss on publishing rights. In 4QFY17, the group incurred RM12 million in impairment loss.
Quarterly revenue fell 28.4% to RM6.5 million from RM9.07 million a year ago, mainly due to lower advertising income reported by Sun Media Corp Sdn Bhd.
For the full FY18, however, BMedia saw its net loss narrow to RM12.5 million from RM21.13 million, though revenue fell 22.2% to RM33.27 million from RM42.75 million in FY17.
Sunway Bhd is disposing of its 30% stake in a joint venture (JV) Hoi Hup Sunway Novena Pte Ltd (HHSN) to Hoi Hup Realty Pte Ltd for S$39.88 million (RM118.2 million) cash.
HHSN was set-up in December 2012 to undertake the Royal Square at Novena development in Singapore, which comprises a hotel, medical units and retail units. Royal Square at Novena was successfully completed on July 12, 2017, with HHSN recording accumulated profits of S$132.5 million from the project.
Sunway said the proposed disposal marks the completion of the project and will enable Sunway to exit and monetise its investment in HHSN, proceeds of which it will use for new projects, as well as new land bank acquisitions, to strengthen its presence in Singapore.
Sunway said the estimated loss on disposal arising from the proposed disposal is S$100,000, after taking into consideration the net book value of Sunway's investment in HHSN as at March 31, 2018 of S$40 million.