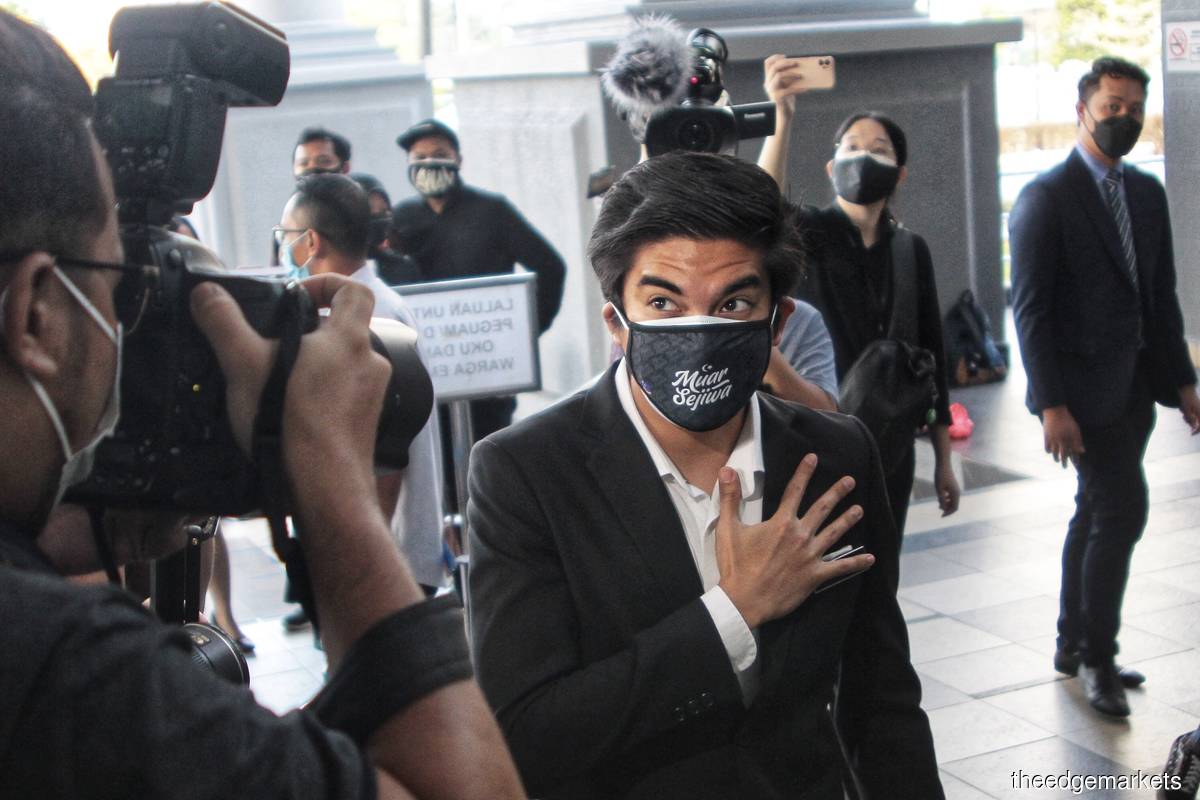 KUALA LUMPUR (July 22): Former youth and sports minister Syed Saddiq Syed Abdul Rahman, who was charged with criminal breach of trust (CBT) and the misappropriation of over RM1.12 million from his former political party Parti Pribumi Bersatu Malaysia (Bersatu) this morning, has pleaded not guilty to both charges.
According to the charges read out to him before Judge Azura Alwi, Syed Saddiq, who was also the Bersatu Youth chief at that time, is accused to have committed CBT by withdrawing the sum of RM1 million on March 6, 2020 from Bersatu's youth wing account, without getting approval from party chiefs.
The incident allegedly took place over a week after the "Sheraton Move", which led to the collapse of the Pakatan Harapan government and Syed Saddiq losing his post as a minister. Subsequently, amid party infighting within Bersatu, Syed Saddiq and four others — including former Prime Minister Tun Dr Mahathir Mohamad and Datuk Seri Mukhriz Mahathir — were sacked from the party.
The second charge was the misappropriation of RM120,000 worth of election funds from Bersatu's youth wing — known as Armada Bersatu — in April 2018, before the last general election.
Investigations against the lawmaker began in June 2020 after a police report was lodged against Syed Saddiq over the loss of RM250,000 worth of Bersatu money. Syed Saddiq, however, told the police that the money — which he claimed had gone missing from his Petaling Jaya home — belonged to him and his parents.
Justice Azura set bail at RM300,000 for the first charge and RM30,000 for the second charge, both with one surety.
She also ordered Syed Saddiq to surrender his passport to the court, and to report to the nearest Malaysian Anti-Corruption Commission (MACC) office in Kuala Lumpur once a month, until the disposal of the case. Azura then set Sept 10 for case mention.
He was charged under Sections 405 and 406 of the Penal Code for CBT, while the charge of misappropriation was framed under Section 403 of the Penal Code.
If found guilty for the first charge, the Muar Member of Parliament (MP) could be jailed for up to 10 years, whipped and/or fined. The second charge, meanwhile, carries a jail term of up to five years, whipping and/or a fine if proven guilty.
Prosecution requests for gag order
During proceedings, Deputy Public Prosecutor (DPP) Datuk Faridz Gohim Abdullah also sought for a gag order to be imposed on Syed Saddiq to prevent him from speaking publicly about the case.
The DPP submitted to the judge that the gag order is important to prevent Syed Saddiq from using his platform to issue public statements that could affect court proceedings.
However, Syed Saddiq's counsel Gobind Singh Deo argued that the gag order should not be implemented because it is his client's right under the Federal Constitution to voice out his facts to the public.
Gobind's co-counsel Datuk Ambiga Sreenevasan said the gag order would set a bad precedent. "This is not done in courts internationally. I urge the court not to encourage this practice and I ask that it be refused resoundingly," she said.
In setting the bail, the judge did not impose the gag order.
Faridz then informed the judge that the prosecution will soon be bringing further charges against Syed Saddiq in Johor Baru.
Earlier, Gobind questioned the prosecution's timing of the charges today, which were made just three days before Parliament reconvenes, and slammed the move as politically motivated as the MACC investigations were completed last year. "There is no basis for these charges. During the case, we will show that this is politically motivated and our defence will go into the details," he told the court.
Speaking to the press later, Syed Saddiq revealed that the order to charge him was actually ready in August last year and questioned why the government is only charging him now, almost a year later.
When asked how he knew about the order to charge him, he said Gobind had been informed of this and told the judge during proceedings this morning. "That shows that this is politically motivated and I will challenge it and I have full faith in the courts to clear my name," he said.
He also said he will be going live on his social media platforms tonight to reveal the facts of this case.
Syed Saddiq is currently serving as an independent MP while awaiting the approval for the registration of the Malaysian United Democratic Alliance (MUDA), a political party he founded in September 2020 and is currently its president.
After a hiatus amid the Emergency Ordinance since January 2021, Parliament is scheduled to have a special sitting for five days from July 26 to debate measures to address the Covid-19 pandemic, followed by an actual sitting for Dewan Rakyat that will take place from Sept 6.
Read also:
Dr M: Money Syed Saddiq charged with could be for GE14 contest, not party funds
Joyce Goh & Tan Choe Choe