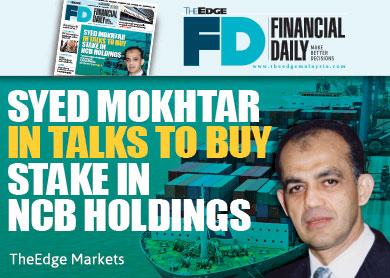 KUALA LUMPUR: MMC Corp Bhd is believed to be in talks with MISC Bhd to buy the latter's 15.73% equity stake in loss-making NCB Holdings Bhd. The negotiation is already at advanced level, according to sources familiar with the matter, and a deal is expected to be sealed soon.  
"MISC wants to exit [the port business], while tycoon Tan Sri Syed Mokhtar Albukhary (through MMC) wants a foothold in Northport," a source said.
The divestment is part of MISC's strategy to hive off non-core and non-performing assets. Already the shipping giant has disposed of its business in late 2011 and its logistic operation in March this year.
Buying into NCB would allow the flagship company of Syed Mokhtar to expand its port business. A source noted that NCB might be used as a listed vehicle for the backdoor listing of Syed Mokhtar's port business. He has Port of Tanjung Pelepas (PTP) in southern Johor and Penang Port under his belt. 
PTP is a joint venture between MMC (70%) and APM Terminals (30%).
NCB's main assets are Northport (M) Bhd and ailing haulage company Kontena Nasional Bhd (KNB).
It is understood that NCB's largest shareholder, Permodalan Nasional Bhd (PNB), isn't keen to see Syed Mokhtar in NCB as this may result in the asset managemen firm losing its grip on the port operator. The tycoon holds some 51.76% of MMC.
Once Syed Mokhtar injects his port assets into NCB, PNB's interest in NCB would be diluted, said a source. PNB holds a 47.71% stake in NCB. Among other substantial shareholders in NCB are Kumpulan Wang Persaraan (Diperbadankan) holding 9.18% and Port Klang Authority 5.32%. 
NCB's share price has taken a beating partly due to the accounting irregularities in KNB. The stock has been on a downhill trend from its peak of RM4.80 in August last year to a four-year-low of RM2.33 yesterday. 
In contrast to its battered down share price, NCB's net asset per share stood at RM2.96 as at end September this year.
Based on yesterday's closing price of RM2.33, MISC's 73.99 million shares in NCB are worth RM184.8 million. Syed Mokhtar may not have to pay much premium for the prized asset.
Some months back, NCB appointed auditors Pricewaterhouse Coopers (PwC) to conduct a special review to identify why it was making losses at KNB and found that revenue was being inflated, while operating expenditure was being suppressed. KNB's adjustments amounted to RM56.6 million, out of which RM32 million was accrual of costs while an additional RM24.6 million was over recognition of revenue spanning from 2010 to 2013.
For its nine months ended September, NCB posted net profits of RM5.27 million on revenue of RM610.91 million amid effects of the accounting glitch still eating into profits. For the corresponding period a year ago, NCB registered net profits of RM56.53 million on RM690.94 million in revenue.
This article first appeared in The Edge Financial Daily, on November 25, 2014.