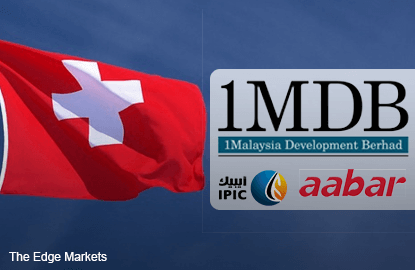 KUALA LUMPUR (April 12): The Office of the Attorney General of Switzerland (OAG) has "elements in hand' to suspect that money paid for the guarantee of bonds issued to fund 1Malaysia Development Bhd's (1MDB) power plants have benefited "two public officials" and "a company related to the motion picture industry."
In a statement, OAG said it has reasons to suspect that the money was not returned to the Abu Dhabi sovereign fund to support "the commercial risk."
"1MDB subsidiaries issued two series of bonds to finance investments in electric power plants," it said.
"This chapter of the proceedings covers the circumstances in which these subsidiaries obtained the guarantee to repay these bonds from an Abu Dhabi sovereign fund.
"To the contrary, these funds would have benefited others, particularly two public officials concerned, as well as a company related to the motion picture industry.
"A former 1MDB body, already indicted in the Swiss proceedings, has also benefited from these amounts," it added.
1MDB had previously stated that it made a total of US$3.5 billion in payments to British Virgin Islands firm Aabar Investments PJS (Aabar BVI), with US$ 1.4 billion — from a privately-placed bond that Goldman Sachs raised in 2012 — as a security deposit in May 2012.
The Public Accounts Committee (PAC), in its report on its investigation into 1MDB, said the state fund's board of directors did not approve the US$1.4 billion security deposit.
The PAC report also noted that 1MDB had also made payments of US$855 million, US$933 million and US$295 million as security deposits and other guarantees for the bond to Aabar BVI.
Yesterday, Abu Dhabi sovereign wealth fund International Petroleum Investment Co (IPIC) and its unit Aabar Investments PJS (Aabar) denied ownership of Aabar BVI. They also denied receiving payments from Aabar BVI or of assuming any liabilities on behalf of the firm.
OAG said it has expended its criminal investigation into 1MDB to include the two former Emirati officials in charge of Abu Dhabi sovereign funds.
It also said it has sent two requests for mutual legal assistance to Luxembourg and Singapore.
"Given the international cooperation, the OAG is thus working to establish the facts," it said.
"As for any defendant, the two Emirati public officials as the other defendants, are presumed innocent," it added.
Reuters reported that Singapore's Attorney General's Chambers confirmed today that it has received a request for mutual legal assistance in criminal matters from the OAG.
The Wall Street Journal, in a series of articles, had alleged that Red Granite Pictures, the production company behind the Oscar-nominated film The Wolf of Wall Street, had obtained the capital to produce the movie, after receiving funds diverted from 1MDB.
The chairman of Red Granite Pictures is Prime Minister Datuk Seri Najib Razak's stepson Riza Aziz.
Red Granite Pictures has repeatedly denied that the movie, which received five nominations at the 2014 Academy Awards, was funded by capital from 1MDB.