This article first appeared in The Edge Financial Daily, on October 14, 2019.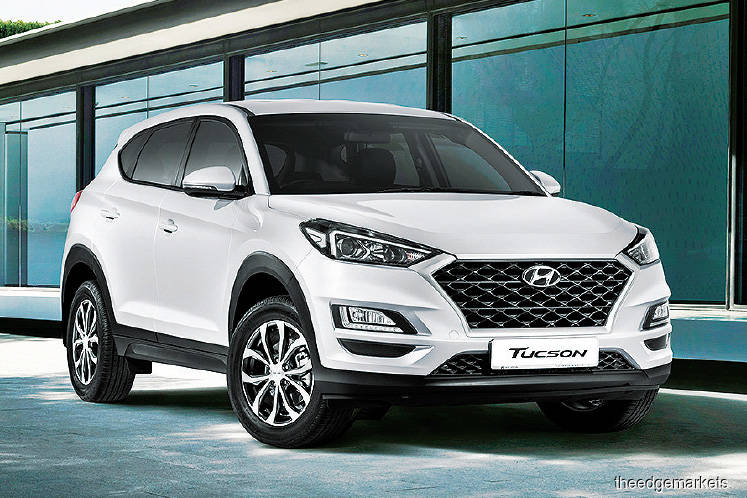 The new Hyundai Tucson includes a new cascade-style grille complete with chrome-look vanes and the new full LED headlight design up front, and updated shapes of daytime running lights.
There is no doubt that our drive in a Hyundai Tucson 1.6L T-GDI from Kuala Lumpur to Raub, Pahang via Kuala Kubu Baru and Fraser's Hill suitably impressed my mother with comfort, who sat at the back (we did stop for a night in Fraser's Hill). As such rear-seat passengers will not be disappointed, with decently cushioned seats and padded support as well. There is plenty of legroom along with enough headroom even for us "taller ones".
And before we go on, let us put this to rest: There is no doubt that Hyundai's update ensures that its new Tucson has the goods to battle its toughest rivals in what is surely the most competitive auto segment on the planet — the medium-sized sport utility vehicle (SUV) market.
This SUV is powered by a 1.6-litre turbocharged and direct-injected T-GDI petrol engine, mated to a seven-speed dual-clutch transmission (DCT). It is good for 175hp at 5,500rpm and 265Nm from 1,500rpm to 4,500rpm.
This update only serves to enhance what has become nothing short of a semi-premium offering in the SUV segment that also includes the equally popular Mazda CX-5 — probably the new Tucson's closest rival, though I would argue that the Hyundai Tucson 1.6L T-GDI feels more spacious inside.
New identity
The new Hyundai Tucson includes a new cascade-style grille (the company's new family identity) complete with chrome-look vanes and the new full LED headlight design up front, and updated shapes of daytime running lights, which strengthen its sporty character.
Redesigned front bumpers as well as the reworked position of the skid plate give the SUV a wider look and dynamic stance which make for a sharp-looking SUV.
The cockpit is redesigned with Hyundai's latest seven-inch (17.78cm) floating display that comes with Android Auto and Apple CarPlay.
But what really separates the new Tucson from the rest of the pack is a new-look cabin treatment which really elevates this SUV towards a semi-premium space more than anything else.
The new Tucson comes with more advanced features — electronic parking brake, electro-chromic mirror, eight-way power seat for the driver with two-way lumbar support, and a 4.2-inch TFT LCD.
Safety features such as the anti-lock brake system, electronic stability control, hill-assist control, downhill brake control, brake assist system and vehicle stability management are standard. It comes with six airbags, a hands-free smart tailgate system, as well as front and rear parking distance warning.
The drive
An impressive feature of this updated Tucson 1.6L T-GDI is the seven-speed DCT unit paired to the punchy Gamma 1.6-litre turbocharged power plant.
Despite its racy power train, the ride in this SUV is silky yet bordering on a certain throatiness with damping on the soft side. The engine has a smooth power delivery that does not scream breathlessly when revved to the top end of its scale.
Its road-handling capabilities were impressive too as it kept body roll to a minimum thanks to its suspension; with MacPherson struts in the front and multi-link in the rear while its vehicle stability management system hugs the turns and corners nicely.
We enjoyed the response of the steering which is sharp and makes it feel like you are driving a small car despite its size. This SUV also soaks up the harshness of certain road surfaces very well, giving you and your occupants a pleasant ride.
Another plus is the addition of the downhill brake control which automatically brakes for you when the car is descending a steep slope.
There is also bit of turbo lag if you step on the accelerator with a wee bit much enthusiasm, so it would be best to step on the power progressively if you want to get the most out of the seven-speed DCT.
Overall, ride comfort is very good — only badly maintained roads with sharp edges can affect the ride, but things like speed bumps are not a problem. This is noticeably better than the previous version.
There is little body roll in corners and suspension efficiently irons out all except the worst road surface imperfections, while highway cruising is relaxed and reasonably refined.
Handling is competent and assured and the well-weighted steering offers good feedback, although it can occasionally feel a little heavy at lower speeds in traffic. It is softer than Mazda CX-5 and is on par to that of the Honda CR-V. Some might argue that it is even better than the Volkswagen Tiguan.
As a passenger, there is almost nothing to complain about, but it has to be pointed out that the audio visual navigation was not so user-friendly. The infotainment system is large, fully featured with everything you could ask for but my front passenger felt that the finish could have been better.
And crucially here in Malaysia, there is a set of rear air conditioners to ensure the temperature remains optimal.
On-the-road price excluding insurance is RM143,888. The SUV is entitled to 50,000km free service valid for three years and a five-year or 300,000km warranty (whichever comes first).