This article first appeared in City & Country, The Edge Malaysia Weekly, on March 8, 2021 - March 14, 2021.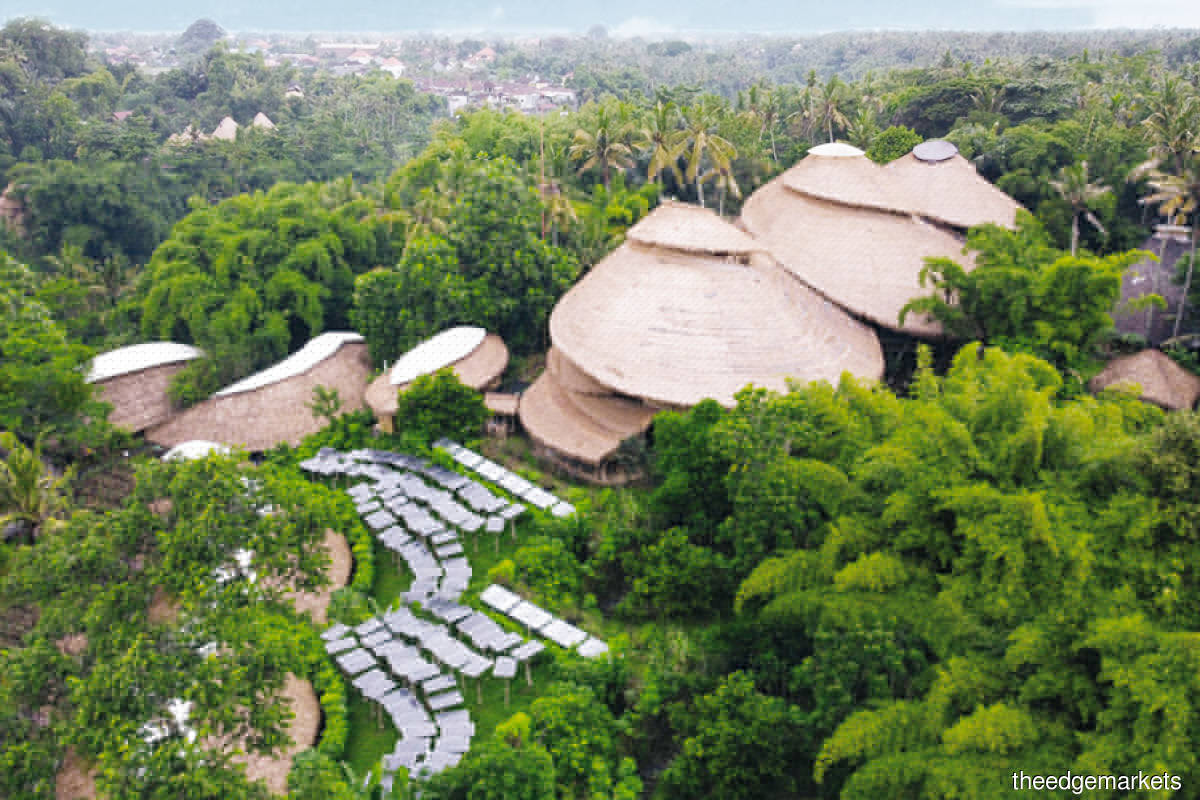 What do you hope to experience when you enter a school campus? Imagine a school without walls, a campus that stimulates the senses and natural curiosity of children, and a place where innovation, creativity and learning is encouraged.
Green School Bali's aim is to help children learn by doing, carry out meaningful student discussions, experience daily growth as a whole person and feel the joy of being part of a vibrant community of learners.
Tucked away in the jungles of Bali, Indonesia, the school is an environmentally friendly building that provides private and international education from pre-kindergarten to high school.
The school's premises comprise a three-storey building — built by German master carpenter Jorg Stamm and the late Swiss sculptor and design director Aldo Landwehr — with a total built-up of 140,092 sq ft. 
Green School Bali, located along the Ayung River, the longest river in Bali,provides a holistic and green education to more than 200 children aged three to 18 from 40 countries, including Indonesia. Besides the teachers, the school is staffed by an administration team.
Students here will learn traditional subjects like mathematics, science and language put in the context of real-life situations, with a curriculum built using the United Nations' sustainable development goals as a guide. Also, less traditional subjects will include river ecology, rice cultivation and building their own bamboo structures.
Founded by John Hardy and his wife, Cynthia, in 2008, Green School Bali's purpose is to form a community of learners that will make the world more sustainable. "We wanted to find new ways of educating children, one that is green and offers possibilities for students and is relevant to the future," says John.
"As with many schools around the world, Green School was built because, at the time, we had two school-age kids. I remember looking at various schools around the world and felt sad about the idea of sending our kids — kids who had been home-schooled in the beautiful jungles of Bali — there. So, our motivation was our kids and other children in Bali who needed a green school."
According to him, the name "Green School" represents simplicity and authenticity. "I asked people why Green School is well recognised and they said [it is] because we are doing what we claim to do. There is also the magic of the name, and the green practice. Kids all over the world are learning and living green; it's not about what you learn or remember but what you do and how it affects who you are as a person."
Learning the green way
John says learning at Green School Bali is based on the principle of REAL — Relationship-centred and holistic, Experiential and evolving, Authentic and interconnected and Local to global learning. "Our curriculum includes everything both inside and outside of the classroom. We believe learning is most effective when it is real, which allows learners to discover real-world ideas and issues with a mission-driven focus and a sustainable framework for progress." 
The school combines hands-on experiential learning in subjects such as nature, sustainability and ecology, as well as traditional academic subjects such as mathematics, science and English in the Cambridge curriculum.
"This is where students will experience opportunities for personal and academic growth through the school's holistic, home-grown curriculum, [while teachers] focus on teaching skills and values that encourage authentic, meaningful actions and interactions. The school has both local and international teachers, and embraces a growth mindset in its pedagogical approach," says John.
Green School Bali believes in letting students take an active role in co-creating their learning with teachers instead of establishing teachers as the complete authority. This means that students are allowed to pursue topics that interest them most.
As each child's learning journey is unique, John says the school does not have high-stakes testing. This turns the model of focusing on students' weaknesses on its head and encourages them to play to their strengths and interests.
In terms of the structure of the building in the campus, he explains that, except for its concrete foundation, it is handcrafted from bamboo, as it is sustainable, versatile and a rapidly replenishing material. The roof is shaped in the form of three nautili spiralling into one another and is supported by three giant bamboo towers. The school also houses a hydro-powered vortex generator, solar panels, assembly spaces, conference rooms, classrooms, cafés, offices as well as a kitchen and gymnasium.
"We worked with local artisans to construct more than 100 bamboo buildings, including the cathedral-like Heart of School that remains the central hub on campus. Our bamboo school is expected to last for 100 years and will be a model for future generations," John notes.
Each classroom in the school comprises a bamboo pavilion with alang alang grass roof and bamboo desks, chairs and compost toilets. Students use bamboo harps to learn music and play sports within bamboo fences.
Teaching is conducted in classrooms/bamboo pavilions with no walls, providing a unique and unusual educational experience for students. "A change of hierarchy is seen in this system of education, whereby students can write graffiti on their desks, followed by the next two courses of sanding and re-waxing. Ultimately, they will learn to control and take care of the surrounding environment," says John.
The classrooms, he adds, are surrounded by permaculture gardens, where students learn first-hand about growing their own food sustainably. "We initially thought of putting bubbles in the classrooms to provide air conditioning from heat and humidity, but it turns out that the fans are enough."
Bamboo U and iHub
Green School Bali has led to the formation of Bamboo U, an architecture and design course founded in 2015 that shares unique design and construction knowledge, as well as discovers alternative ways of construction.
"The 11-day immersive course was designed with more than 15 hours of classroom lectures and hands-on workshops, including bamboo forestry, harvesting, preservation, traditional carpentry and craftsmanship, engineering, model making and full-scale construction, as well as the fundamentals of sustainable bamboo architecture," says John.
Consequently, Bamboo U provides architects, designers, engineers, environmental advocates and enthusiasts with a solid foundation in bamboo construction that they can, in turn, bring to other job sites.
In addition, there is also the Green School Innovation Hub (iHub), formed in 2008, for students to take action through design and rapid prototyping of sustainable products. Known as a zero-waste maker space, iHub brings together waste management (more than 1.2 tonnes of trash per month), the Bio Bus lab (school buses powered by used cooking oil), science, technology, math, design and art into one dynamic multipurpose space.
"We teach hands-on tool skills and digital fabrication techniques. A student who has been through the workshops will have more working knowledge on bamboo carpentry, recycled papermaking, making products from waste such as plastic, fashion design using upcycled clothing, and digital modelling," says John.