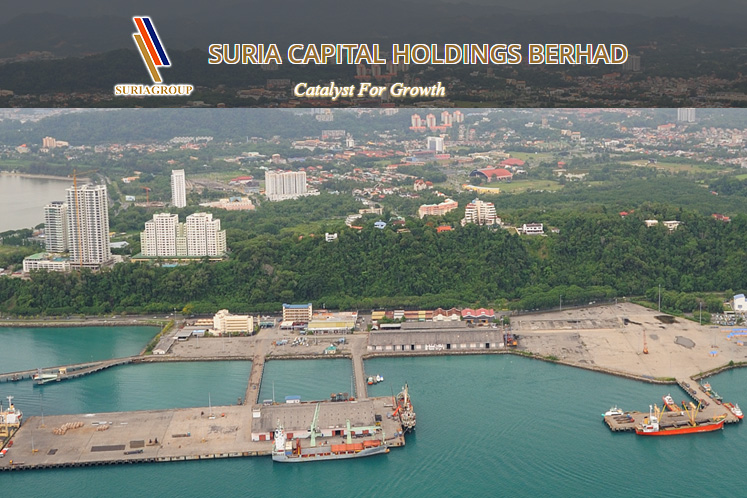 KUALA LUMPUR (Aug 21): Suria Capital Holdings Bhd's net profit rose 2.92% to RM15.21 million for the second financial quarter ended June 30, 2018, from RM14.78 million a year ago, on the back of higher operating revenue.
However, it was partially offset by higher expenses attributed to assets written off, the group said in a filing with Bursa Malaysia.
Earnings per share rose to 5.28 sen from 5.13 sen previously.
Revenue for the quarter increased 32.69% to RM96.19 million, from RM72.5 million previously, with contribution coming mainly from the port operations segment and the contract and engineering business segment.
"The higher ports operating revenue of 9% was due to improvement in cargo throughput and total containers handled during the quarter.
"Whereas for contract and engineering, it registered construction revenue from the railway upgrading project which is currently on-going," said the group.
Last year, Suria Capital accepted a RM49.5 million contract from the government to upgrade Sabah's railway system.
The contract, for the rehabilitation of the rail route between Halogilat station and Tenom station, was awarded to its wholly-owned unit, SCHB Engineering Services Sdn Bhd.
For the cumulative six months ended June 30, 2018, Surya Capital's net profit rose 5.88% to RM29.49 million from RM27.85 million a year earlier, while revenue jumped 70.31% to RM223.46 million from RM131.21 million.
Moving forward, Suria Capital said port operations will continue to be its core business.
The Board added that the port operations will remain resilient and will continue to contribute positive results for the Group for the financial year.
Suria Capital's share price closed higher by two sen or 1.22% at RM 1.66, bringing the group a market capitalisation of RM478.39 million.