This article first appeared in The Edge Financial Daily, on January 17, 2019.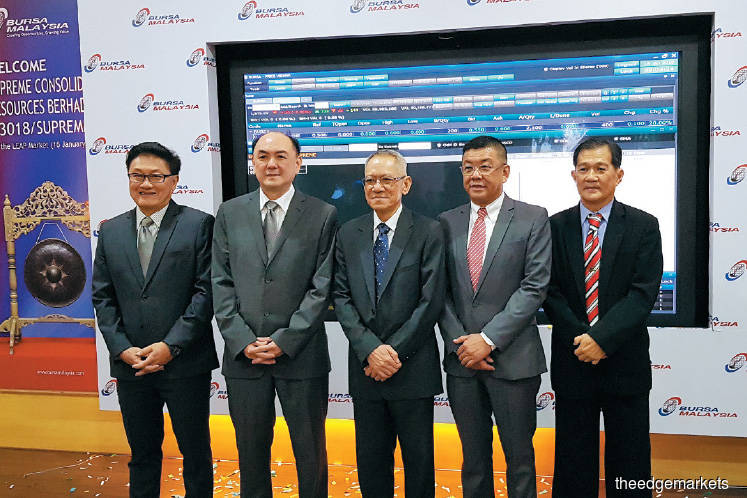 KUALA LUMPUR: Sarawak-based Supreme Consolidated Resources Bhd made an impressive debut on the LEAP Market of Bursa Malaysia yesterday, rising by as much as 30% in early trading.
The counter opened at 60 sen, 10 sen or 20% above the offer price of 50 sen. It hit a high of 65 sen in morning trade before settling at 62 sen at the close, for a 12 sen or 24% first-day gain. A total of 380,100 shares changed hands.
The group, which is involved in importing, trading and distributing frozen, chilled, dairy and dry food products in East Malaysia, is the second LEAP-listing this year.
"We take note that the funds raised will be utilised as working capital and for the construction of a new warehousing and cold storage facility that will serve as a new main distribution centre," said Bursa Malaysia chief executive officer Datuk Seri Tajuddin Atan at the listing ceremony.
According to the group's information memorandum, it was seeking to raise RM6.57 million from the listing, with RM3.5 million or 53.3% going to the construction of warehousing facilities, RM1.97 million or 30% to working capital, and RM1.1 million or 16.7% to listing expenses.
Upon listing, the group has a share capital of 120 million shares, up 13.14 million shares from 106.86 million shares. The 13.14 million newly issued shares represent 11% of the group's enlarged share capital of 120 million shares.
Supreme Consolidated's non-independent deputy vice-chairman Datuk Richard Wee said the group plans to expand its product range.
"We are in the F&B (food and beverage) market and the trading of meat and dairy products. The F&B industry is very much dependent on the overall economy of the country and [we] do see that in the coming years there will be some challenges in Malaysia in the overall economy," he said.
"Going forward our goal is to try and get new agencies, products to be under our group," he added.
Wee said the group's new warehouse is expected to cater to the new products.
"Construction is underway. We expect it to be completed sometime in August 2019, it is according to our schedule," he said.
The group also plans to expand into more major towns in Sarawak, as well as into Sabah. "We would like to establish our presence in Sabah and all the other major towns in Sarawak. Currently, the group's operation in Sabah is carried out through its distributors.
As for Peninsular Malaysia, Wee said an expansion there would be considered if an opportunity arises.