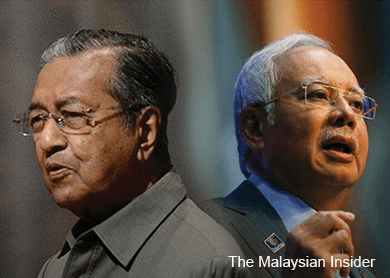 KUALA LUMPUR (Apr 20): Despite the declarations of unwavering support in Umno for Datuk Seri Najib Razak in the face of mounting criticism, party insiders said former prime minister Tun Dr Mahathir Mohamad's substantial influence in the party may decide Najib's fate.
They said the party's support for Najib was not enough to retain him as prime minister, but more worrying, they added, was that Umno and Barisan Nasional (BN) would face greater losses in the next general election.
Kinabatangan MP Datuk Bung Mokhtar Radin said although the majority of Umno members appeared to support Najib as president, many were divided whether to support him or Dr Mahathir.
"I see that Umno's support towards Najib is not only from top leaders but also the grassroots. But there are some in Umno who differ in their opinion.
"Fact is, Tun Dr M is still influential among Umno people," Bung told The Malaysian Insider.
On Saturday, Dr Mahathir explicitly told Umno to remove Najib in order to save the party and the ruling coalition from greater losses in the next general election.
He said Najib was incompetent to lead the nation as prime minister because he has failed to explain the whereabouts of government-owned 1Malaysia Development Bhd's (1MDB) funds.
While many Umno leaders have declared their support for Najib and have publicly defended him, the history and pattern of Malay politics have shown that it is not impossible for them to suddenly change their tune.
"Right now, Umno members are still calculating who will be the winner and the loser. That is why no one is aggressive yet," a party activist from Kedah, who wanted to be known as Ramli Yunus, told The Malaysian Insider.
Yesterday, Dr Mahathir said many people have expressed their support for his criticism of Najib but did not dare to do so openly for fear of arrest.
"I understand their worry. People are getting arrested and then released, things like that. The public now are afraid that police will come and take them.
"So, (although) they agree with me, they will not show it," he said on the sidelines of an international forum on criminalising war in Kuala Lumpur.
Dr Mahathir, however, insisted that he was not the only one asking for Najib's resignation, adding that it was not only for the good of Umno but the nation.
"I think many people want him to resign for the good of Umno and the country."
Negative perceptions
A party insider said that attacks by several Umno leaders against businessman Low Taek Jho, who has been linked to the controversial 1MDB, were a sign of rejection of Najib as it was common knowledge who was behind the young tycoon.
Bung admitted that the negative perceptions arising from the controversies surrounding Low, who is known as Jho Low, were to the detriment of Najib's image.
"I don't know this Jho Low, his personality is way different but there are some who have connected him to the son of Rosmah (Datin Seri Rosmah Mansor). So, when he is linked to Rosmah, the perception among people is that he has something to do with it.
"If there is nothing, then Jho Low has to explain his role in 1MDB," he added.
Observers said that while Najib appeared to enjoy the support of his party, Dr Mahathir was preparing his next move.
When Dr Mahathir said recently that he was alone in his quest to find answers, it proved to be effective as it drew sympathy and support from the public.
Former minister Tan Sri Zainudin Maidin said it was difficult to predict how far the former prime minister would go with his attacks.
"It is hard to stop Tun Dr M's criticism. He has continued criticising Najib and it is clear that people support him although he said he was alone," he told The Malaysian Insider.
Najib's mistake, said observers, was to launch an open attack against Dr Mahathir, assisted by his loyalists who are seen to be attempting to cause a rift between Kedah Menteri Besar Datuk Mukhriz Mahathir and his father.
Kedah Umno leader Datuk Ahmad Lebai Sudin, who challenged Mukhriz to step down, is known to be close to Najib's former adviser, so his vocal support for the prime minister came as no surprise.
A source close to an Umno vice-president revealed that all three vice-presidents were also weighing their respective chances.
Only Datuk Seri Hishammuddin Hussein, who is Najib's cousin, has been fervent in his support for Najib, in contrast to the other two vice-presidents.
"Boss has been quiet, he is also dazed by the current situation," said a source close to both vice-presidents.
Malay pressure groups
Umno blogger Shahbudin Husin predicted that Dr Mahathir would not stop his attacks, and was, in fact, planning his next move.
"From the looks of it, it seems as if Dr Mahathir won't stop," he told The Malaysian Insider.
It is understood that Dr Mahathir will be meeting with several influential Malay pressure groups but it is unclear if the purpose of the meeting is to lobby support or for something else.
Umno leaders now fear whether they still had the support of the party grassroots for although Najib might have secured the allegiance of division chiefs, Dr Mahathir is seen as "Godfather" to many of the members.
Independent pollster Ibrahim Suffian said Dr Mahathir's relentless attacks could destroy the ruling party or worse, lead to massive losses in the next general election.
"If Najib continues to stay on, Dr Mahathir could be seen as unsuccessful but voters' trust in BN will be ruined and that will be hard to revive.
"If there are continuous attacks, they will become the main reason the party loses," said the Merdeka Center director.
That was why, Ibrahim said, Umno has to find a peaceful way to resolve the situation as soon as possible as there were many unexplained issues which the people have expressed dissatisfaction over.
"This has to be resolved immediately so that the party can strengthen its position because of the many, many issues," he said.
Parallels have been drawn between Dr Mahathir's criticism and attacks against Najib's administration and what led to Najib's predecessor Tun Abdullah Ahmad Badawi's fall from grace in 2009.
Observers also said Umno Youth chief Khairy Jamaluddin appears to have realised Dr Mahathir's ability to force his father-in-law to step down, that is why he is seen to be cautious in reacting to the elder statesman's attacks against Najib.