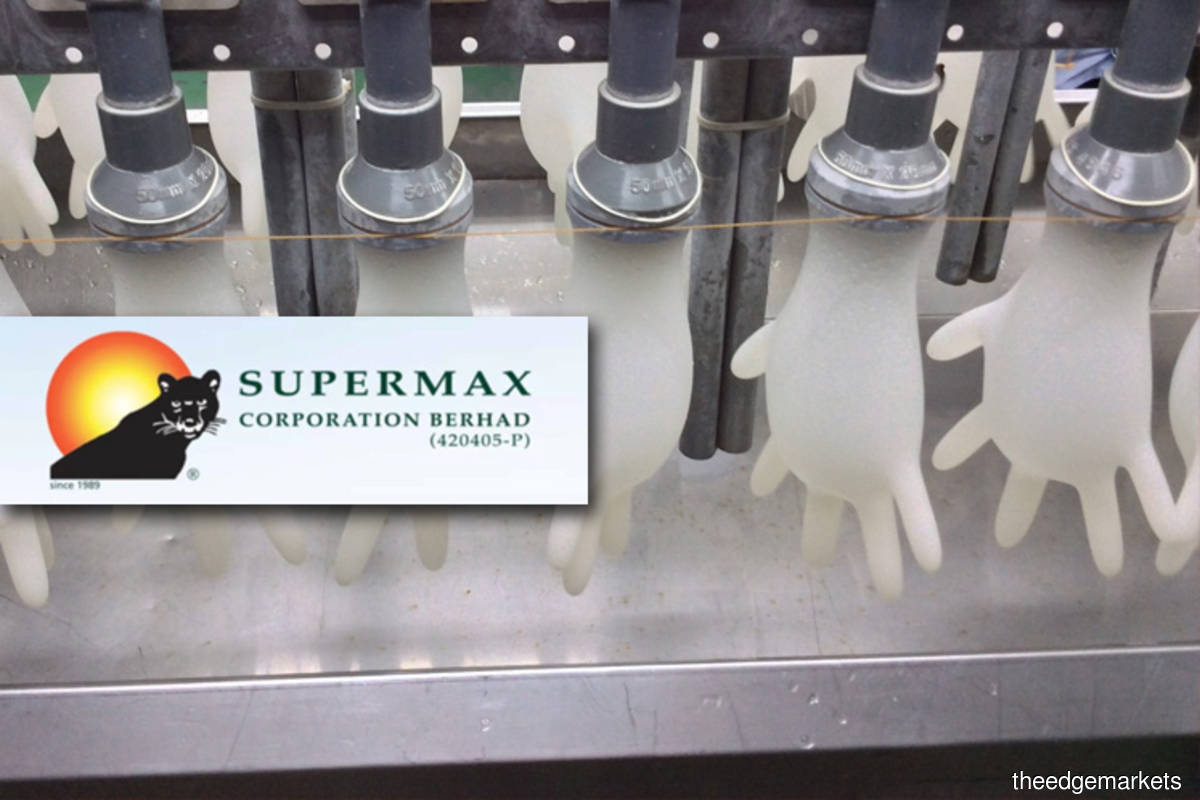 KUALA LUMPUR (Oct 28): Instead of snapping more shares in Supermax Corp Bhd after it posted a stellar set of quarterly earnings, investors are locking in profit from the rubber glove counter. 
As at 10.45am, Supermax had dropped 14 sen or 1.43% to RM9.64. Some 32.58 million shares changed hands this morning, making it the eighth most traded stock across the board. 
Most analysts reiterated their "buy" recommendation for the stock in view of the latest quarterly earnings. The glove maker's net profit shot up almost 32 times to RM789.52 million for the first financial quarter ended Sept 30, 2020 (1QFY21) due to continued booming demand for rubber gloves amid the Covid-19 pandemic.
Supermax's earnings figures beat Affin Hwang Capital analyst Ng Chi Hoong's forecast, noting in his results review that the company's net profit for the first quarter alone constituted 42% of his full-year forecast. 
Against a backdrop of a resurgence of Covid-19 cases in many parts of the world, Ng raised his earnings per share (EPS) estimates for the financial year ending June 30, 2021 (FY21)-FY23 by 50.4%-61.7%, with higher assumptions of average selling prices (ASPs) of rubber gloves.
He expects Supermax's EPS to shoot up to RM1.09 for FY21, but more than halved to 45.9 sen for FY22. The company's EPS stood at 19.3 sen for FY20. 
Despite the earnings upgrade, the analyst is cautiously optimistic. Ng, indeed, trimmed his target price (TP) marginally RM16.40 from RM16.50 previously, the reason being that he foresees weaker sentiments on the sector due to the news flow of availability of Covid-19 vaccines.
The strong earnings growth recently was driven by a hike in ASPs in the quarter, which in turn widened the group's profit before tax margin to 77.6% from 8.8% a year ago.
Ng believes that blended ASPs will continue to increase by 4% to 5% month-on-month (m-o-m) in FY21, before remaining stagnant in FY22.
He noted that as the group's Plant 12B was already near completion, it would have added another 4% to 5% in additional capacity by the end of 1QFY21.
CGS-CIMB analyst Walter Aw reiterated his "add" call for Supermax with an unchanged TP of RM13.20.
"We deem the group's first-quarter net profit of RM789.5 million to be in line with our expectations (24.4% of our full-year forecast) but above the consensus," he said.
According to Aw, with robust global glove demand, Supermax said its current order book visibility had been extended until the end of 2021. In addition, the glove maker's customers have been willing to pay higher prices and deposits of 30% to 50% to secure supply.
"We view this positively as we expect these factors to drive stronger quarter-on-quarter earnings for Supermax for the coming quarters," said Aw.
Aw advocated that investors take a position in Supermax for its stronger earnings prospects due to current solid global glove demand and its proven original brand manufacturer (OBM) business model, which garners better margins than its peers.
Read also:
Glove makers' shares lacklustre despite record high earnings