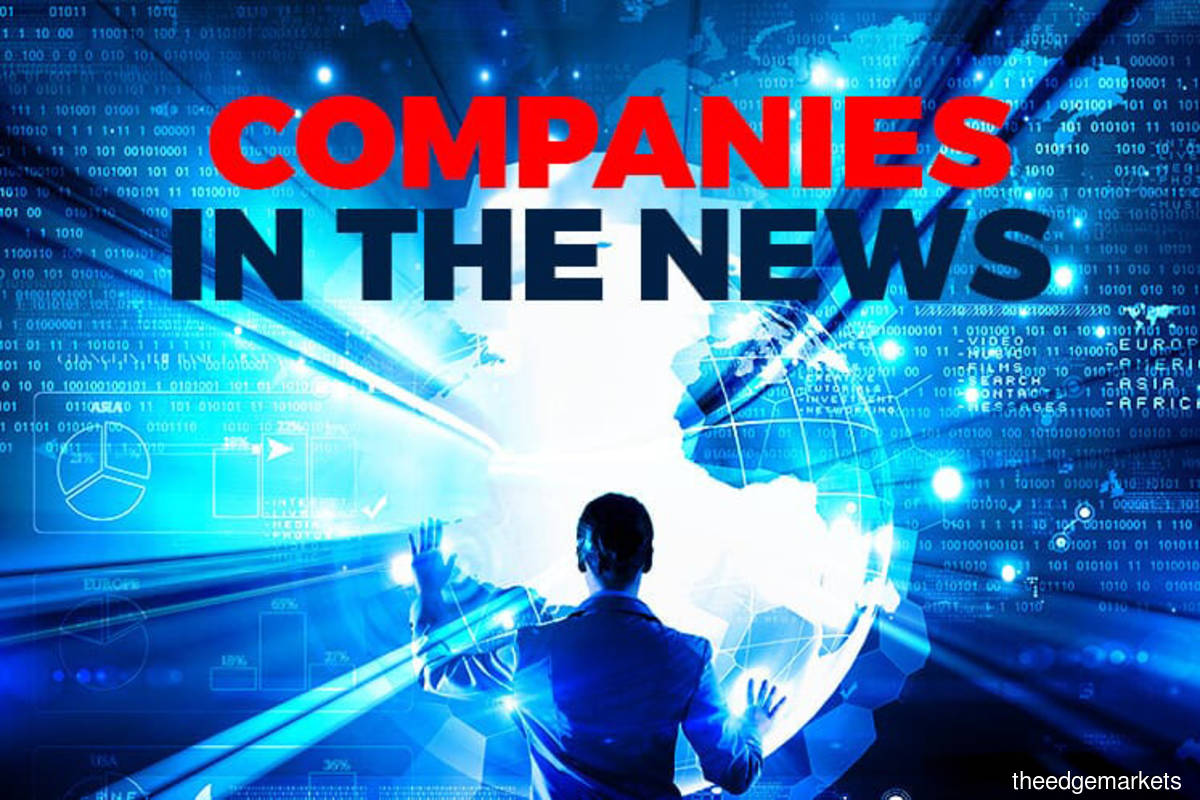 KUALA LUMPUR (Dec 24): Based on corporate announcements and news flow today, companies that may be in focus next Monday (Dec 28) include Supermax Corp Bhd, Yinson Holdings Bhd, MTD ACPI Engineering Bhd, Telekom Malaysia Bhd, KTG Bhd, Komarkcorp Bhd, WCT Holdings Bhd, Johan Holdings Bhd, Wegmans Holdings Bhd, Lambo Group Bhd, and Cymao Holdings Bhd.
Supermax Corp Bhd has issued a scam alert, saying certain unauthorised parties are taking advantage of the global shortage of gloves and Supermax's prominence and good standing to attempt and commit fraud.
It said there are parties who claim to be involved in sales and marketing of nitrile and latex gloves as well as other personal protective equipment produced by Supermax and its subsidiaries Supermax Glove Manufacturing Sdn Bhd, Maxter Glove Manufacturing Sdn Bhd, Maxwell Glove Manufacturing Bhd and SuperVision Optimax Sdn Bhd.
Yinson Holdings Bhd's wholly-owned subsidiary, Yinson Renewables (S) Pte Ltd, has completed its acquisition of an additional 57.5% equity interest in Rising Sun Energy Pvt Ltd (RSE).
Yinson said RSE is an India-incorporated company with two operational solar plants in the Bhadla Solar Park, Rajasthan. It added that the company acquired a 37.5% stake in RSE in March.
Yinson's renewables division chief executive officer David Brunt said the acquisition provides a strong platform to grow the company's renewables business in India.
MTD ACPI Engineering Bhd said its unit MTD Construction Sdn Bhd has won a tender for the proposed pavement rehabilitation and associated works at East Coast Expressway 2. The RM3.85 million contract commences on Dec 29 and is due for completion on March 28, 2021.
Telekom Malaysia Bhd's (TM) TMpoint Taipan outlet in Subang Jaya has reported a new positive case of Covid-19. TM said the case was confirmed on Dec 23, with the employee currently receiving treatment at a government hospital.
TM said it has taken immediate action to close the TMpoint Taipan outlet until Dec 29 for disinfection and sanitisation in accordance with the guidelines set by the Ministry of Health.
Ceramics and pottery products manufacturer KTG Bhd, formerly known as DWL Resources Bhd, is planning to venture into the glove manufacturing business. KTG said its wholly-owned unit APPI Sdn Bhd today entered into a memorandum of understanding with Howellcare Industries Sdn Bhd, a company involved in latex and nitrile examination glove manufacturing.
KTG said the contract price is RM54.8 million, and it will be satisfied in cash.
Komarkcorp Bhd has proposed to undertake a share split involving the subdivision of every 10 existing shares in the company into 18 shares.
Under the maximum scenario, the group would see 461.03 million shares subdivided into 829.85 million split shares.
WCT Holdings Bhd said it has executed an articles of agreement with MRCB George Kent Sdn Bhd (MRCBGK) following the latter's appointment as a turnkey contractor for the Light Rail Transit 3 (LRT3) project, which entails a revision of the scope of works and a new contract price of RM819 million.
WCT said the revision relates to packages GS02 and GS03, which were previously awarded to WCT in 2017 with contract sums of RM840 million and RM640 million respectively.
However, following the changes in design and scope of the LRT3 project, both WCT and MRCBGK agreed to a new revised contract price of RM819 million. The completion date for the LRT3 project has also been revised to Nov 30, 2023, said WCT.
Johan Holdings Bhd is disposing of its loss-making credit card business in Singapore for S$103.59 million (RM313.98 million).
The group said it is selling its 100% stakes in Diners Club (Singapore) Pte Ltd (DCS) and DCS' subsidiary DinersPay Pte Ltd (DPPL) to Ezy Net Pte Ltd, a secure end-to-end electronic payment solutions provider in the Singapore market.
Upon completion of the proposed disposal, Johan said the intention of the group is to carry on with its remaining business segments. It added that it may potentially diversify into the manufacturing of gloves and other healthcare-related products.
Home furniture manufacturer Wegmans Holdings Bhd is acquiring a 90% stake in screws, nuts and spare parts manufacturer Wison Screw Industries Sdn Bhd (WSI) for RM16.2 million, as part of its expansion strategy. The purchase consideration will be settled via issue of new shares.
Wegmans said the products manufactured and traded by WSI are mainly used in furniture industries.
Lambo Group Bhd has proposed to undertake a private placement of up to 775.06 million shares to raise as much as RM24.8 million, which will mainly be used for its wine business.
The proposed private placement is expected to be completed by the first quarter of 2021.
Plywood products maker Cymao Holdings Bhd has proposed to diversify into the construction and project management business. The group said it plans to explore new business opportunities to reduce its reliance on the plywood business.
Loss-making Cymao expects the construction business to contribute to more than 25% of its net profit in the future.