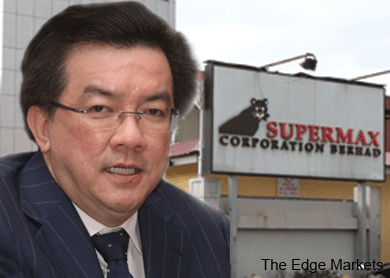 This article first appeared in digitaledge Weekly, on September 14 - 20, 2015.
As stocks of glove makers outperform the wider stock market on the back of currency gains, rising by leaps and bounds in the last year, Supermax Corp Bhd has been the exception, declining 4.17%. The group's earnings have also been declining and an improvement may not be seen any time soon.  
"We cannot expand our top line because factories 10 and 11 have been delayed for reasons outside of our control ... because we cannot get enough water," explains Datuk Seri Stanley Thai, the founder, executive chairman and group managing director of Supermax (fundamental: 1.00; valuation: 0.80).
Without the new factories to increase glove volumes, Supermax's revenue has dipped as the market price of gloves has been pushed down by heightened competition and a flood of new glove capacity.
At the same time, the group has been incurring start-up costs, not only for the new factories, but also for the contact lens business that it plans to diversify into. Supermax is also setting up shop in Hong Kong, where Thai hopes to set up a launch pad to expand its distribution reach into China.
In a nutshell, it doesn't look like Supermax is going to see a drastic improvement in its earnings any time soon and this will not sit well with investors.
In fact, the group's quarterly results saw net profit tumble 7.5% year on year to RM24.74 million, while revenue fell 3.66% to RM229.38 million.
In contrast, Supermax's competitors posted double-digit profit growth. Hartalega Holdings Bhd saw net profit rise by 9.8% to RM62.68 million, while Kossan Rubber Industries Bhd's net profit rose 37.14% to RM47.44 million in the same period.
Top Glove Corp Bhd saw its net profit rise 70.57% from a year ago to RM72.27 million for its third quarter to May 31, 2015.
Not surprisingly, over the past 12 months, counters like Top Glove (fundamental: 2.50; valuation: 1.10) and Kossan (fundamental: 2.10; valuation: 0.70) have seen their share price shoot up over 70% while Hartalega (fundamental: 2.60; valuation: 0.50) is up 23%.
Thai, however, is taking a long-term view by diversifying into the contact lens business, even if it might not be rewarding for Supermax's share price in the short term.
If its contact lens ambitions bear fruit, the company will be able to diversify out of the heavily competitive glove manufacturing industry that is struggling from overcapacity.
"I invested into contact lenses because it is very different from gloves. For gloves, you need lots of land, water, gas and electricity but for contact lenses, all you need is technology," Thai explains.
"We have invested in the latest technology and will be using the same machines and processes that the largest contact lens makers in the world use," he adds.
That said, the contact lens business will not bring quick and easy money, especially since Thai is not content to be a mere original equipment manufacture (OEM) for existing brands. He wants to market Supermax contact lenses under a new brand.
"For the first three years, the contact lenses will not contribute much to the company's bottom line. We plan to reinvest most of the profits back into marketing the new brand," he explains.
Furthermore, the contact lenses will mainly be for export to markets like China. At least, Supermax will be able to leverage on its existing distribution network — to countries like the US, UK, Canada, Germany and Brazil — to help push the contact lenses.
Ireland is currently the world's largest producer of contact lenses. Hence, a manufacturing base in Malaysia with relatively lower costs and close proximity to markets like China might give Supermax the advantage it needs.