This article first appeared in The Edge Financial Daily, on April 27, 2018.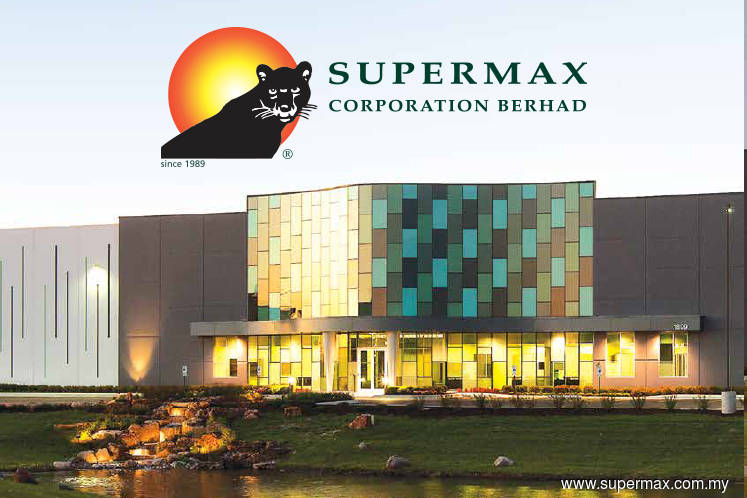 Supermax Corp Bhd
(April 26, RM2.84)
Maintain buy with a higher target price (TP) of RM3.09: We attended Supermax Corp Bhd's analyst briefing on Wednesday with the management and obtained a better view of the company's direction going forward. Management revealed that the company will be undertaking a two-pronged approach to propel Supermax's growth going forward, that is, rebuilding and replacement of old production facilities, and adding new capacity via building new plants.
Supermax is currently upgrading, rebuilding and replacing its old production lines in two of its older plants located in Taiping and Sungai Buloh. Upon completion, the Block G plant located in Kamunting Raya, Taiping, will have six double former lines with an average capacity output of 1.35 billion pieces per annum. Meanwhile, its Sungai Buloh plant will have 10 double former lines with an average capacity output of 2.42 billion pieces per annum. Its Block G plant in Taiping is expected to start contributing to Supermax's revenue from July 2018 onwards whilst its Sungai Buloh plant will start commissioning in the fourth quarter of calendar year 2019 (4Q19). Though we note that these two plants will stop production due to the upgrading works, we opine that the newly commissioned Plant 10 and 11 in Klang with 2.2 billion and 3.4 billion pieces per annum capacity will be able to offset the shortage of capacity coming from the two plants.
Supermax will be adding two new gloves production plants, that is, Block F in Kamunting Raya, Taiping, and Plant 12 in Klang. These two production plants are expected to increase Supermax's production capacity by 4.24 billion pieces per annum and are expected to be completed in the first half of 2019 (1H19) and 2H19 respectively. Capital expenditure of RM205 million is expected to be spent on building these two new plants. At the end of 2019 and post completion of all upgrading works and building of new plants, Supermax is expected to have an annual capacity of 27.2 billion pieces per annum.
Management shared that it is expecting its third quarter of financial year 2018 (3QFY18) earnings to be hit by the 23% hike in natural gas tariff. We understand that the hike in natural gas tariff will cost the company about RM7 million in profit as the company had a lag period of two months in fully transferring the cost increase to their customers. That said, the cost increase was fully transferred to the customers starting from March 2018 onwards. Due to this, we are expecting Supermax's earnings for 3QFY18 to come in between RM28 million and RM30 million.
We are maintaining our FY18 forecast (FY18F) earnings for now despite expecting three new lines to start commissioning in early May 2018; we believe that the impact from the 23% hike in natural gas tariff would offset the revenue coming from the three new lines. That said, we are revising our earnings forecast for FY19F up by 14.1% as we are expecting higher revenue to come in due to the commissioning of newly replaced production lines in its Sungai Buloh and Taiping plants as well as new production lines from Block F in Taiping and Plant 12 in Klang. Key risks to our earnings would most likely be a sudden surge in raw materials price, strong appreciation of the ringgit, and production line breakdowns.
Post earnings revision we are reiterating our "buy" recommendation on Supermax with a revised TP of RM3.09 per share (from RM2.70 previously). Our TP is derived via pegging our FY19F earnings per share of 22 sen at an unchanged price-earnings ratio (PER) for FY19 of 14 times, which is its five-year average PER. — MIDF Research, April 26