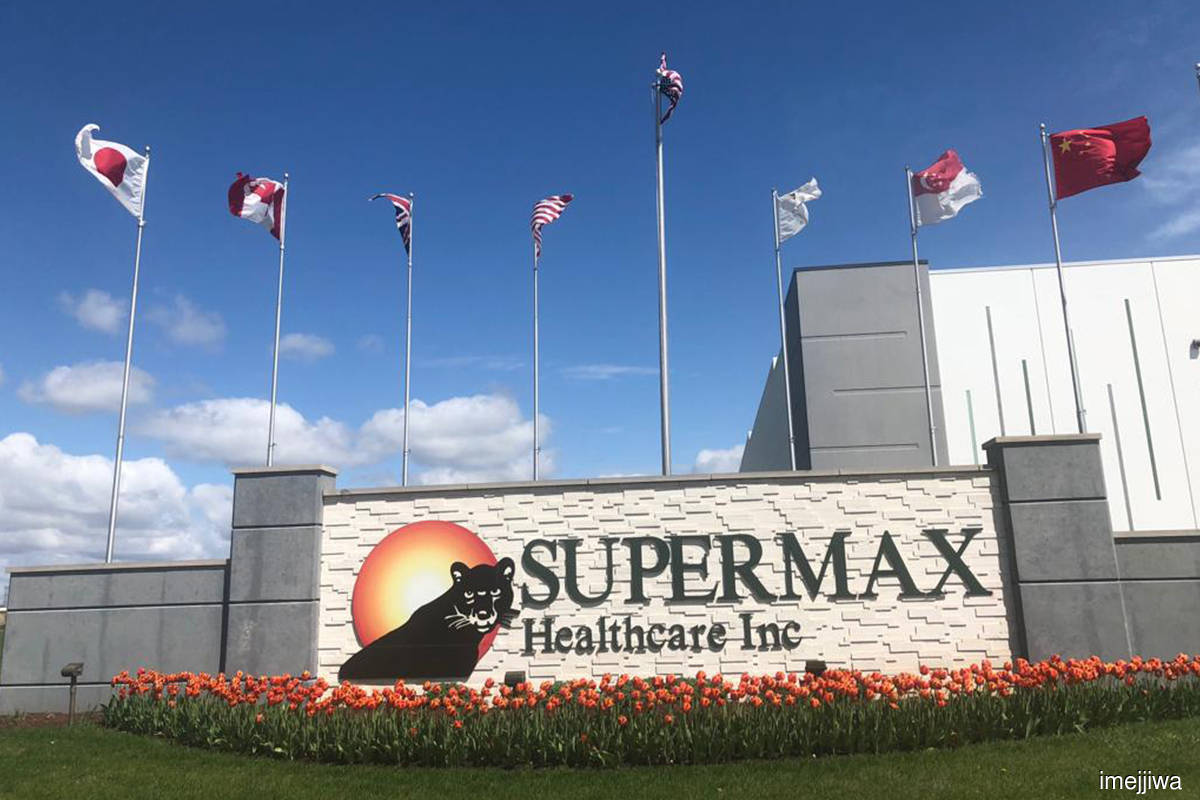 KUALA LUMPUR (May 5): Supermax Corp Bhd's net profit for the third quarter ended March 31, 2021 (3QFY21) came in at RM1 billion, which was 5.2% lower compared with RM1.06 billion recorded in 2QFY21.
The glove maker's quarterly revenue fell 3% quarter-on-quarter (q-o-q) to RM1.94 billion in 3QFY21 compared with RM2 billion.
Supermax, which is currently building five plants to expand capacity, noted that there was temporary closure at the Meru plants to do a complete sanitisation and deep-cleansing exercise following the detection of several Covid-19 cases among the foreign workers.
"There was loss of production output in February at the Meru plants when workers were put into mandatory quarantine for each batch of workers at each of the respective plants," said the glove maker.
On a year-on-year (y-o-y) comparison, the group's net profit surged 14 times from RM71.06 million a year ago. Its quarterly revenue jumped fourfold to RM1.94 billion, from RM447.25 million, its filing with Bursa Malaysia showed.
For the cumulative nine months ended March 31, 2021, the group's net profit soared close to 23 times to RM2.85 billion, from RM125.97 million a year earlier.
Its revenue for the period surged four times to RM5.29 billion, from RM1.2 billion a year earlier.
Supermax declared a special dividend of 13 sen per share. To date, the glove maker has declared dividends of 16.8 sen.
The group said the strong y-o-y earnings performance in 3QFY21 was underpinned by several factors, including the continued exponential growth in global demand for medical gloves and other personal protective equipment due to the Covid-19 pandemic.
The additional production capacity of the new lines at Plant #12 Block A and Block B commissioned helped boost sales, in addition to the increases in average selling prices each month started in March 2020.
The financial performance was also driven by a proven business model through original brand manufacturer (OBM) with two streams of income via manufacturing and distribution, it said.
In terms of capacity expansion, Supermax said it would invest a total capital expenditure of RM1.39 billion for the new plants.
The new plants will add 22.25 billion pieces to production, bringing the group's total capacity to 48.42 billion gloves by end-2022.
"We are currently building five glove manufacturing plants concurrently and scheduled for completion progressively between now and year 2022," it said.
The group highlighted that it completed the commissioning of the remaining production lines in Block B of Plant #12 during the preceding quarter, adding 2.2 billion to the group's annual installed capacity.
"We are seeing a full quarter contribution in the quarter ending March 2021 and going forward," it said.
Supermax's shares encountered some selling pressure in today's afternoon session, pulling the stock to RM5.57, down 25 sen or 4.3%, ahead of the release of the quarterly financial results. Some 21.25 million shares were traded. Its market capitalisation stood at RM14.58 billion.
Nonetheless, the stock has rebounded from the recent low of RM3.81.
Read also:
Supermax: Rubber glove spot prices on downtrend, fall 15% to 25%