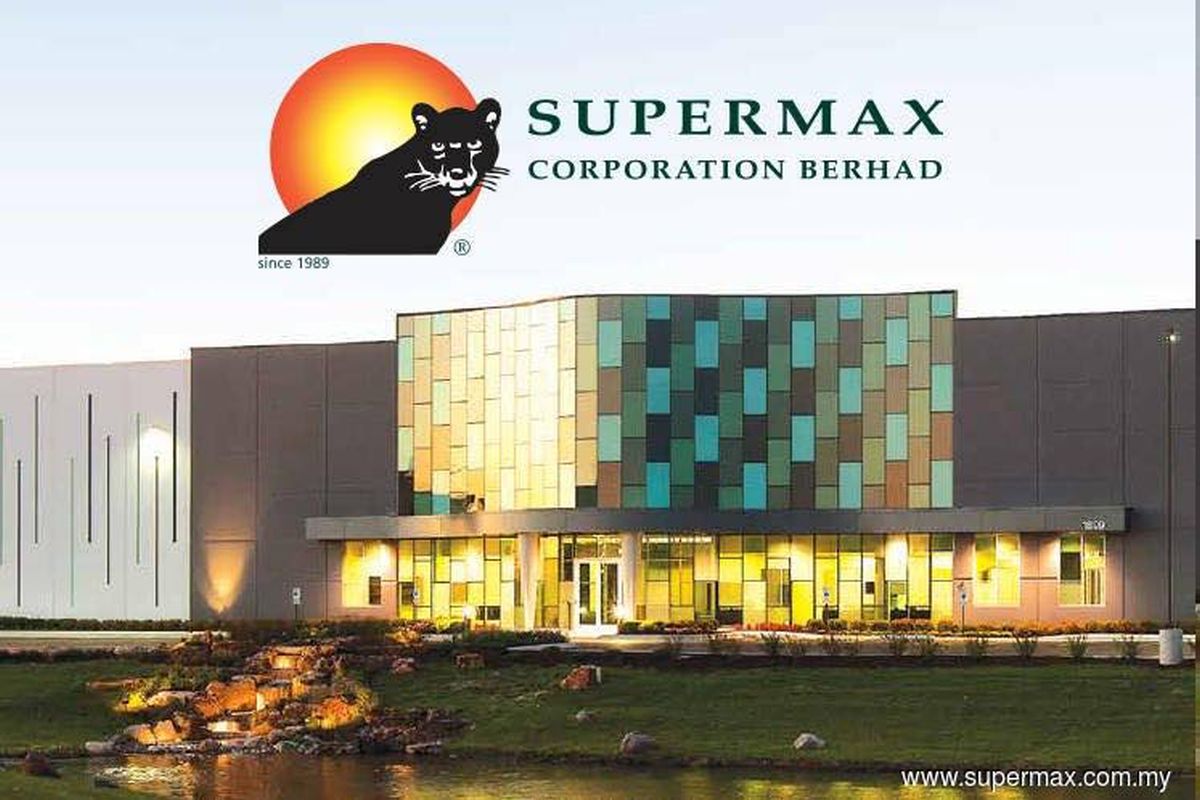 KUALA LUMPUR (Nov 17): Shrinking profit margin as a result of the continued drop in average selling price (ASP) eroded Supermax Corp Bhd's net profit for the first quarter ended Sept 30, 2021 (1QFY22), which plummeted by one third to RM638.52 million compared with RM958.71 million recorded in the preceding quarter (4QFY21).
This is the third consecutive quarter of lower net profit on a quarterly basis.
Supermax said in its financial result release that many new glove players had jumped onto the bandwagon at the height of the global surge in demand.
"Many of the existing players also ramped up their capacities on a large scale especially from players who are public-listed companies based in China, Malaysia and in Thailand.
"With the substantial increase in market supply, ASPs have started declining with spot market prices currently much lower than contracted prices," said the rubber glove maker.
Supermax's quarterly revenue contracted 22.4% to RM1.45 billion quarter-on-quarter (q-o-q) from RM1.88 billion in 4QFY21.
In the bourse filing, Supermax said competition has intensified significantly following a period of substantial capacity expansion across the industry as both existing and new players ramped up their production capacities.
Earnings per share dropped to 24.6 sen compared with 36.93 sen in 4QFY21.
Nonetheless, Supermax declared a single-tier interim dividend of five sen per share which will be paid on Jan 3, 2022.
On a yearly basis, its quarterly net profit was also lower, falling 19% against RM789.52 a year ago. Revenue was 7.62% higher compared with RM1.35 billion in the previous corresponding quarter.
Supermax said it recorded increased sales from the additional capacity generated by its newest plant which was commissioned during the year.
Commenting on its prospects, Supermax said demand for gloves as personal protective equipment remains strong as the world continues to fight the Covid-19 pandemic.
"New waves continue to hit countries around the world, and continue to flare up even as more countries begin opening up their economic sectors and easing their standard operating procedures (SOPs).
"Since the start of the pandemic, we have seen and continue to see the emergence of new consumers and new consumption not previously seen before prior to Covid-19," said the glove maker.
Supermax noted the surge in demand since March 2020 had resulted in a rapid rise in ASPs, with governments all over the world having increased healthcare spending budgets to contain the effects of the pandemic and in preparation of possible more waves.
"In light of this, we expect the demand to remain buoyant beyond 2021. [Meanwhile], the Covid-19 vaccines are being rolled out in an increasing number of countries. This is widely expected to cause some moderation in terms of glove demand and consumption.
"Nevertheless, the company believes that it will likely be gradual and not drop sharply due to the structural change in consumption, such as new consumption, new customers and greatly heightened healthcare and hygiene awareness," it said.
According to Supermax, it completed the commissioning of the remaining production lines in Block B of Plant #12 in the fourth quarter of 2020, adding 2.2 billion to its annual installed capacity.
"We are seeing full quarter contributions since the first quarter of 2021 and going forward. The company is currently building five glove manufacturing plants concurrently and scheduled for completion progressively," it added.
Supermax is investing RM1.39 billion in new manufacturing plants that will add 22.25 billion new capacity bringing the group's total capacity to 48.42 billion gloves when they are fully commissioned.
Supermax's share price has declined 67% year to date to RM1.82, giving it market capitalisation of RM4.76 billion.