This article first appeared in City & Country, The Edge Malaysia Weekly, on November 11, 2019 - November 17, 2019.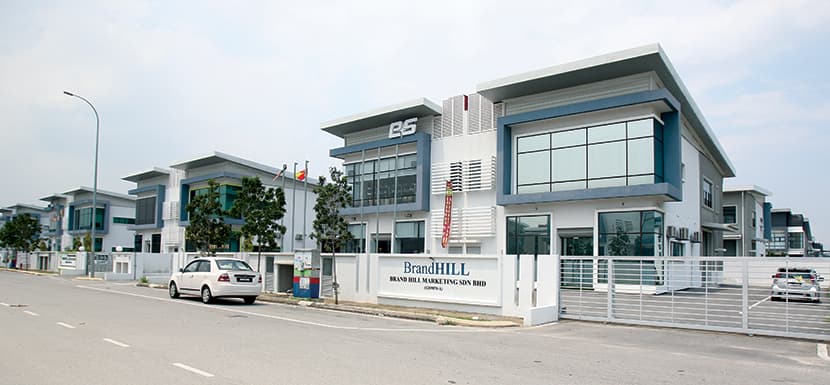 The actual semi-detached factories at Gateway 16 @ Bandar Bukit Raja Mohd Izwan Mohd Nazam / The Edge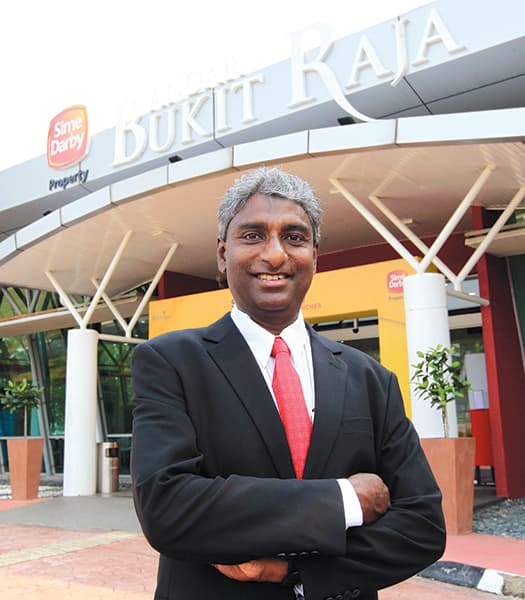 This is the only township we have that is near the port, so this was an opportunity we did not want to miss." — Mohd Idris Abdul Ghani Ismail / The Edge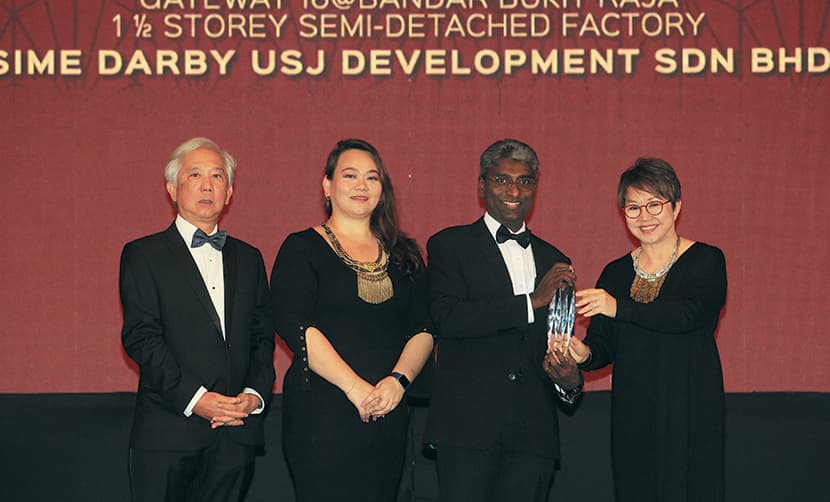 Mohd Idris with (from left) The Edge Media Group publisher and group CEO Datuk Ho Kay Tat, City & Country editor Rosalynn Poh and EdgeProp.my managing director and editor-in-chief Au Foong Yee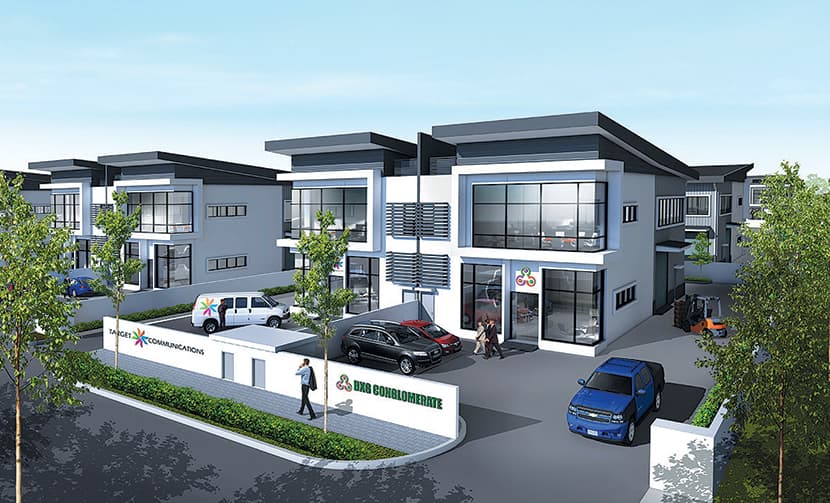 An artist's impression of the same factories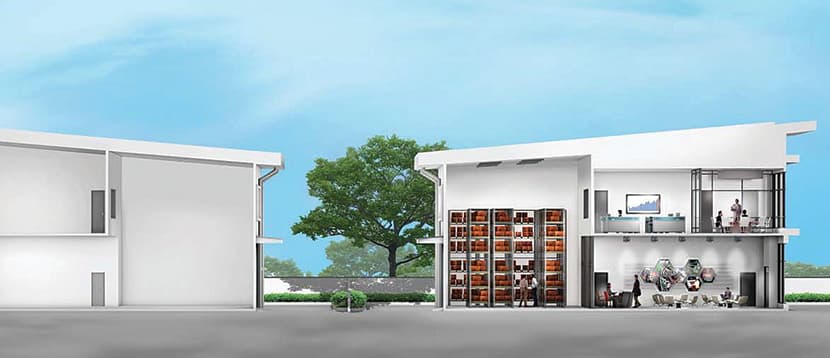 An artist's impression of the cross-section of the semi-detached factories Picture By Sime Darby
WINNER | Gateway [email protected] Bukit Raja  | SIME DARBY USJ DEVELOPMENT SDN BHD
For Sime Darby USJ Development Sdn Bhd, winning The Edge Malaysia-PEPS Value Creation Excellence Award 2019 (Non-Residential Category) for its 1½-storey semi-
detached factories at Gateway [email protected] Bukit Raja is proof that the company was right in seizing an opportunity it discerned.
Bandar Bukit Raja is a large township in Klang that spans 4,333 acres. Most of it was slated for residential development but master developer Sime Darby USJ Development saw an opportunity in the newly opened West Coast Highway (WCE), which cut the township down the middle.
According to Sime Darby Property Bhd general manager (business unit 2) Mohd Idris Abdullah, the developer spotted the potential for an industrial component, given the proximity to Port Klang and the accessibility to various highways, such as the New Klang Valley Expressway, Federal Highway, Shapadu Highway, Shah Alam Highway, North-South Expressway Central Link and WCE.
"This is the only township we have that is near the port, so this was an opportunity we did not want to miss … The land was initially zoned for residential, so we went to the authorities and we proved to them that the industrial component was necessary in this area and the land was rezoned," he tells City & Country.
Natural buffer
Sime Darby USJ Development has used WCE as a natural buffer and turned the right side of the township into a commercial enclave. This has resulted in Bandar Bukit Raja having a 47% industrial component, with the rest being residential and commercial components.
"It is a unique feature because only Bandar Bukit Raja has such a high percentage of industrial component. Hence, we must make sure that it is planned in a way that the residents do not feel that they are living in an industrial area … we want to make sure harmonious living is embedded in the ecosystem," Mohd Idris says.
Changing the development type did not come without challenges. Mohd Idris says there were no mechanisms to improve the supply-demand match of the land as none of the standard development checklists could be applied to each industry segment in terms of size and infrastructure requirement, which would impact development readiness.
In 2014, the developer launched Gateway [email protected] Bukit Raja, which comprises 80 units of 1½-storey, semi-detached factories with built-ups of 3,620 sq ft on 60ft by 132ft plots; and thirty-six 1½-storey detached factories with built-ups of 8,388 sq ft on 100ft by 200ft plots.
The design of the units offered a 3.6m curtain glass wall frontage for product displays and showrooms. Other features included high-floor loading on the ground floor area, fire and lightning protection systems as well as three-phase power supply.
Mohd Idris says at the time, the units were sold only to those who had a registered company to ensure they were genuine buyers. The current occupancy rate is more than 80%.
The five units Sime Darby USJ Development submitted for the award have seen a capital appreciation of 37% to 53.3% from 2014 to 2017.
"The annual growth is around 15%, which is great. Prices at most developments do not appreciate as much. We have been doing things differently here ... we have the advantage of great accessibility and proximity to the port," he says.
"Another major advantage we have in Bandar Bukit Raja is that it is not only an industrial area — it has the whole ecosystem. You can work here, you have amenities like shopping malls nearby and it offers a sustainable lifestyle. When you have the complete ecosystem, it automatically becomes a sustainable development. We concentrate not only on the industrial aspect, but the whole township."
In the long term, he says, the township's connectivity will continue to be a major draw for industrial players. The developer had earlier partnered with Japan's Mitsui & Co Ltd and Mitsubishi Estate Co Ltd to develop a 39-acre industrial site in the township, and it expects to enter into more strategic partnerships to develop industrial and logistics properties.
Various options
Bandar Bukit Raja, which was first developed in  in 2002, has 869 acres of planned industrial projects that will be ongoing until 2035. Today, 304 acres of industrial land have been developed and are occupied. Industrial players there include Fiamma Logistics Sdn Bhd, Big Dutchman, MODU System, Luxe Motorhomes & Caravans as well as Sime Kansai Paints.
At full capacity, the industrial enclave is expected to have a total working population of 82,000, thereby increasing the pool of skilled workers in Klang. The higher working population will also boost economic activity in the surrounding areas, acting as a catalyst for growth.
The township is close to shopping and retail centres (Setia City Mall, Tesco Setia Alam, AEON Bukit Raja Shopping Centre), education institutions (Sekolah Menengah Kebangsaan Convent Klang, Universiti Teknologi MARA) and public transport (Klang Sentral Bus Terminal and Klang KTM station).
Before Gateway [email protected] Bukit Raja, Sime Darby USJ Development launched several plots of vacant industrial land nearby that were targeted at the bigger players. Mohd Idris believes that when these big players move into the township, other supporting players will move in with them.
With his vast property development experience, he reckons that it is important that the developer offers various types of industrial offerings — just as it offers various types of residential offerings such as vacant land, bungalows and link houses.
"We create the industrial area and the ecosystem; at least in that area, we are the only one offering this kind of ecosystem. I am proud to say that no other developers there — or even further afield — have this kind of capability and the variety of products for industrial use. We have vacant lots, semi-detached factories, detached factories, built-to-sell properties and built-to-suit properties," he says.
"Even for built-to-suit properties, there are two options. The first is that we build according to the requirements of the industrial players before we lease the properties to them. Another option is that we build according to requirements and lease the properties out with the option for industrial players to buy them after a period of time ... We are sort of a supermarket for industrial properties because we have all the types of properties the industry needs."
He says similar to buyers at [email protected] Bukit Raja, the buyers of the land should have a registered company or be a registered company, as the developer is targeting clean industries such as small-scale manufacturing, warehousing and logistics facilities.
"We are particular about whom we sell the land to, especially the bigger plots, so that we know what industry is coming in. We are taking care of our residents as well, so we want clean industries and modern technology industries. Also, we don't want to just sell a plot only for the buyer to keep it vacant."