This article first appeared in The Edge Malaysia Weekly, on June 26, 2017 - July 02, 2017.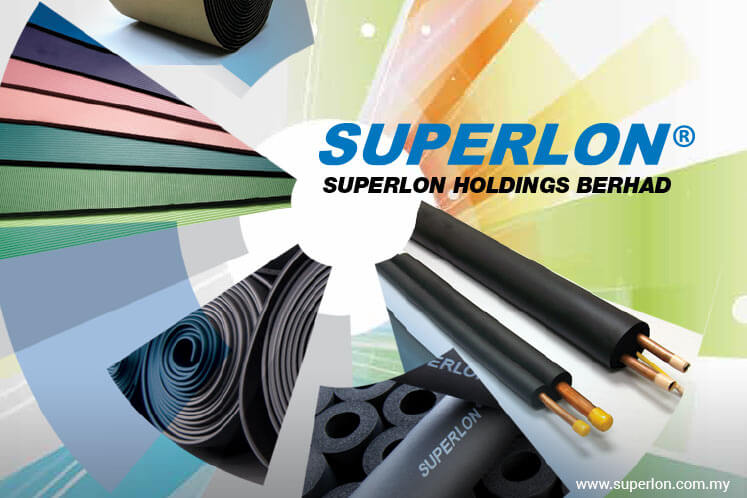 SHAREHOLDERS of Superlon Holdings Bhd have plenty of reasons to be happy right now. The low-profile thermal insulator manufacturer has delivered yet another record profit and its share price closed at an all-time high of RM2.03 last Wednesday.
Apart from that, early this month, it completed a one-for-two share split exercise in a move to enhance its share liquidity. Year to date, Superlon's share price has risen 63%, giving the company a market capitalisation of RM322 million.
And it just keeps getting better and better.
Last Tuesday, Superlon announced that it will adopt a dividend policy with a payout ratio of at least 30% of its net profit, starting from financial year ending April 30, 2018 (FY2018). It has been paying dividends in the last five years with a payout ratio of up to 50%.
It is worth noting that Superlon finished its FY2017 with record-breaking revenue, profit and dividend, mainly driven by sales volume growth, production capacity expansion and better margins.
However, executive director Liu Han-Chao is not complacent. According to him, Superlon now aims to set a new record for both its revenue and profit in FY2018.
"Every year, we target top-line growth of 10%. If everything goes well, we should expect another record year," the 35-year-old Australian tells The Edge in an interview.
Superlon's revenue and profit have been on an upward trend in the past five years. Its top line almost doubled from RM58.9 million in FY2013 to RM106.2 million in FY2017, while net profit rose almost sixfold from RM4.1 million to RM23.7 million.
Suffice to say Superlon's growth target of 10% is rather conservative, considering the fact that its net profit jumped 42.4% year on year in FY2017, while its revenue also grew 17.5%, surpassing the RM100 million mark for the first time.
"Our sales volume grew 15.8% to over 6,100 tonnes in FY2017. This underpinned our growth and performance. In fact, we didn't think our revenue would surpass RM100 million so quickly, so my immediate target is to at least sustain that level," says Liu.
Superlon was co-founded by Liu's mother, Jessica Lee Hsiu-Lin, a Taiwanese Australian. She is the group's managing director and CEO, with more than 33 years of experience in the rubber thermal insulation industry.
The mother and son own the lion's share of the company with a collective 31.57% stake.
Based in Klang, Superlon produces 8,500 tonnes of thermal insulation material a year. The material is a major component of heating, ventilation, air conditioning and refrigeration systems for residential, commercial and industrial buildings.
Thermal insulation products can be used as a vapour barrier to prevent condensation or frost formation in cooling systems and chilled water and refrigeration lines as well as heat loss reduction in hot water plumbing, heating and dual temperature piping.
Today, Superlon, through its wholesalers and distributors, exports its products to more than 70 countries in Southeast Asia, the Middle East, Oceania, Africa, Europe and the Americas.
In Malaysia, Superlon has the largest market share for rubber thermal insulation products at 55% to 60%. Its major rivals include Italian firm L'Isolante K-Flex and local company Insulflex Corp Sdn Bhd.
In FY2017, revenue from Malaysia grew 31% to RM26.5 million, or a quarter of the group's total revenue. The remaining three quarters of its revenue were from export markets.
Vietnam foray
With the completion of its new 70,000 sq ft warehouse next to its factory, says Liu, Superlon will embark on its next growth plan — making its first overseas foray to Vietnam.
"We plan to strengthen our position in Vietnam, which is a key market for us. On the back of encouraging demand, we are looking to expand our capacity by setting up a new plant in Ho Chi Minh City," he says.
Liu reveals that Superlon plans to invest about US$4 million (RM17 million) in the new 10,000 sq m factory, which is expected to produce 1,500 tonnes of insulation products per year.
"The Vietnam factory will enable us to expand our production capacity and take on new customers with our extended reach," he explains. The construction of the factory is expected to commence in the first half of FY2018 and slated for completion by the first half of FY2019. The plant is targeted to commence production in FY2019.
"This plant will also allow us to better serve our customers in terms of delivery time and available sizes in Vietnam and the neighbouring countries," says Liu.
Currently, Vietnam is one of the largest revenue contributors to Superlon and account for about 25% of its export sales. The group also exports its products to India, Myanmar, Thailand and Cambodia.
"At the moment, many of these emerging countries do not have that many big buildings and good infrastructure, and their people do not have the disposable income to buy air conditioners. So, for the residential and commercial settings, there is a big opportunity for us," says Liu.
In a June 21 report, MIDF Research raised its FY2018 profit forecast for Superlon by 24% to RM27.56 million, taking into consideration the higher volumes sold and better profit margins.
"We expect operating margins to improve further as a result of better economies of scale. We have also increased our dividend per share forecast from 5.5 sen to 6 sen," says its analyst, Ng Bei Shan.
MIDF Research maintains a "buy" call on Superlon with a higher target price of RM2.26, based on a price-earnings ratio of 13 times in FY2018.
"We have increased our FY2018 earnings per share forecast to 17.35 sen from 14 sen. We continue to like Superlon for its high cash position, superior profitability and capacity expansion plans," says Ng.
Even after its dividend payment and investment in the warehouse, Superlon's cash position increased to RM32 million in FY2017, up RM2 million from FY2016.
It is worth noting that Superlon is one of MIDF Research's top 10 picks for mid and small cap stocks.