This article first appeared in The Edge Malaysia Weekly, on May 18, 2020 - May 24, 2020.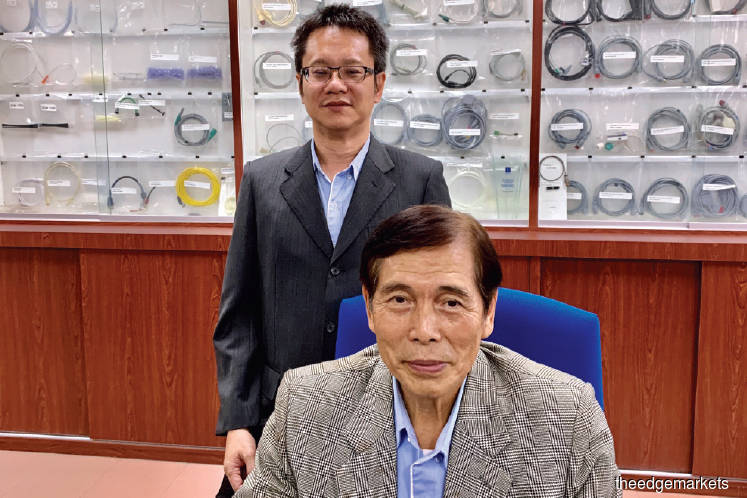 Shiue (In front, with Hsueh): This year is definitely an exciting one for us because the medical device industry will continue to exhibit good growth
Photo by Supercomnet Technologies
WHILE the Covid-19 pandemic is forcing many companies to adapt their revenue models to new conditions, with some diversifying their businesses to include producing outbreak-related products or distributing Covid-19 test kits, it has put Supercomnet Technologies Bhd's (Scomnet) business in a good position.
The group is involved in the medical industry — which has been left largely unscathed by the pandemic — making wires and cables for medical devices, electrical appliances, consumer electronics and automotive components.
Thus, while several of its segments such as electrical appliances, consumer electronics and automotive components are experiencing lower sales volumes due to the temporary halt in the economy, this has been more than offset by high volume growth in the medical device segment.
Scomnet managing director James Shiue Jong-Zone says it has been business as usual for the ACE Market-listed group, which was allowed to operate during the Movement Control Order.
"Demand for medical cables has always been strong, but recent orders from our clients indicate that demand is picking up even further," the 73-year-old Taiwanese tells The Edge in an email interview.
He attributes this to the pandemic, as well as other lifestyle diseases. "Lifestyle diseases are on the rise, especially in the West, and there is no seasonality in our products. Health is a constant need and priority."
Its wholly-owned subsidiary Supercomal Medical Products Sdn Bhd (SMP), which manufactures cables used to connect various medical devices, has seen order volume double since the outbreak began.
"The main products that we are currently developing include disposable medical consumables for Class 1, Class 2 and ICU (intensive care unit) usage," says Shiue.
Scomnet recorded a 55% year-on-year jump in net profit to RM18.82 million for the financial year ended Dec 31, 2019 (FY2019), mostly driven by SMP, which is deemed the jewel in the group's crown. Revenue grew 39% y-o-y to RM122.97 million. It will report its March quarter results for financial year 2020 in June.
The group has been posting record revenues and earnings since FY2018 after the acquisition of the remaining 80% stake in SMP in April 2018, as part of efforts to diversify its revenue streams in the competitive wire and cable industry. "With this acquisition, we were able to fully consolidate the earnings of SMP," says Shiue.
The medical device segment has been the driver of the group's growth over the last three years, a situation Shiue does not see changing anytime soon.
Revenue contribution from the medical device segment is predicted to surpass that of the automotive segment for the first time this year, from a 50:50 share in FY2019.
"With increased demand, the medical device segment is expected to contribute 65% of the group's revenue and the remaining 35% will come from the automotive segment," he says.
While Shiue declines to provide guidance on expected earnings for FY2020, he says: "This year is definitely an exciting one for us because the medical device industry will continue to exhibit good growth. While our clients, especially on SMP's side, have been gradually increasing orders every year, 2020 has been especially busy for us."
"Besides our existing order book, we also received new orders related to Covid-19. These orders need to be fulfilled before the year-end," he adds.
Scomnet counts New York Stock Exchange-listed Edwards Lifesciences Corp and Denmark-based Ambu as its two main customers, both of which have signed long-term agreements with the company. Shiue says the group has been in business with them for more than 10 years and, on average, the orders have been increasing by 5% to 10% every year, whether or not there is a recession.
"We have also received interest and gained other new clients over the last two years. Based on the products that we are jointly developing with our clients, we can comfortably say that we see growth and visibility over the next 10 years," he adds.
Rakuten Trade Research head Kenny Yee Shen Pin expects Scomnet to achieve record earnings of RM25 million and RM30 million for FY2020 and FY2021 respectively, saying that prospects for the group's earnings growth from its manufacture of medical cables used in Covid-19-related treatments is encouraging. The group has seen a surge in orders from Europe and the US.
"Scomnet is also set to benefit from the stronger US dollar as it exports over 70% of its products. In addition, copper, which accounts for over 50% of its raw materials, has seen [a] price decline to a four-year low," he says in a report on April 13. Yee has a "buy" call on Scomnet, with a target price of 98 sen.
Year to date, Scomnet is up 12%. The stock hit a 52-week low of 32 sen on March 19 in tandem with the selldown in global equity markets as fears deepened in the wake of the spread of Covid-19. Since then, Scomnet has surged by 2.5 times to close at 82 sen last Wednesday, giving it a market capitalisation of RM527.26 million.
Still, the stock's illiquidity is a challenge for some investors. Scomnet is tightly held by Shiue and his family with a 67.66% shareholding as at April 1, 2019.
Scomnet to roll out new medical products in 2H
The group's immediate plan is to put all its efforts into delivering orders to its clients, says Shiue. The group has allocated capital expenditure of about RM7 million to RM8 million for FY2020.
Scomnet's manufacturing operations are located in Sungai Petani, Kedah. SMP's utilisation rate is about 70% while that of its other wire and cable manufacturing activities for various original equipment manufacturers (OEMs), automotive, electrical products and other general consumer electronics components is about 60%.
"There is an expansion plan going forward, driven by higher demand for our products, but we have not decided on the scale of the investment yet.
"We have a few new medical products in the pipeline. We aim to start production of these products by the second half of the year. So yes, our product offerings will increase. We have already received orders for these new products," he says.
Shiue's son, Hsueh Chih-Yu, says the group is producing the Class 2 catheter and will introduce it this year.
Hsueh, 47, who is executive director of Scomnet and head of production at SMP, believes it is the group's focus of providing innovative and customised solutions that sets it apart from its competitors.
"Our differentiation is that we are not typical OEM manufacturers. Our cables and devices are approved by the European Medical Agency and the US Food and Drug Administration (FDA).
"Over the years, SMP has developed strong research and development (R&D) capabilities and achieved client specification in designing and customising highly sophisticated prototypes that meet the demands of industry leaders in North America and Europe. For example, the new products that are in the works have an R&D period of three to five years and a lifespan of more than 10 years," he says.
"We are also the sole supplier for most of the products that we produce for our customers, and we share the FDA 510K filing (an FDA approval).
"Because of these reasons, clients tend to stick with us. Most of our clients have been with us for 10 to 15 years," adds Hsueh.
According to Fortune Business Insights, the global cardiovascular devices market size is expected to reach US$82.2 billion (RM356 billion) by 2026 on account of the increasing cases of cardiovascular diseases.
Hsueh says the global cardiovascular device market is presently dominated by five key global players, one of which is Scomnet's client.
"The single-use devices market is another significant market within the cardiovascular market, where its market size is anticipated to be more than US$2.5 billion by 2024. The top global player in this segment is also our client," he adds, suggesting ample potential for the group's growth in the sector.
As at Dec 31, 2019, Scomnet had net cash of RM46.14 million and zero borrowings. Shiue says the group is not in need of fundraising. "Our existing orders, along with our new products, are already keeping us very busy."