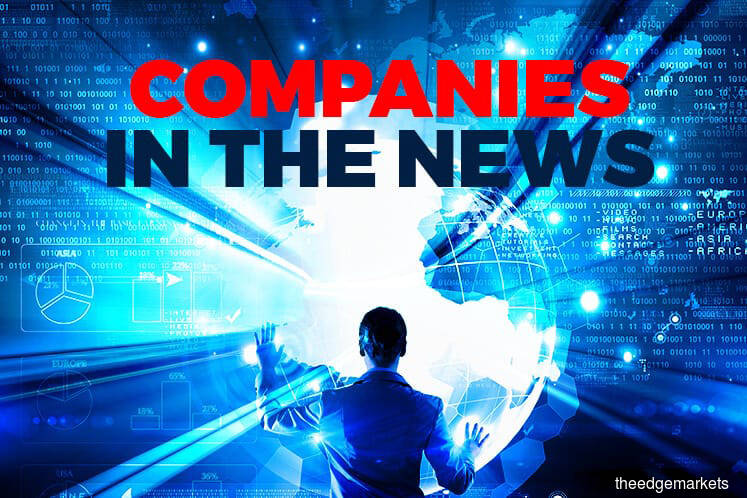 KUALA LUMPUR (May 27): Based on corporate announcements and news flow today, companies in focus tomorrow (May 28) may include: Sunway Bhd, Southern Steel Bhd, Ann Joo Resources Bhd, Tan Chong Motor Holdings Bhd, Boustead Holdings Bhd, IOI Corp Bhd, Kuala Lumpur Kepong Bhd (KLK), Batu Kawan Bhd, MSM Holdings Bhd, GHL Systems Bhd, GD Express Carrier Bhd (GDeX), Padini Holdings Bhd, Ho Hup Construction Company Bhd, Berjaya Land Bhd (BLand) and Lambo Group Bhd.
Sunway Bhd's net profit for the first quarter ended March 31, 2020 (1QFY20) fell 42.6% to RM78.29 million from RM136.41 million in the previous corresponding quarter. All its business segments, except for property development and quarry, had lower contributions in the financial quarter under review. Quarterly revenue dropped 13.5% to RM971.44 million, from RM1.12 billion last year.
Sunway also plans to raise up to RM1.11 billion from the issuance of irredeemable convertible preference shares (ICPS) to repay its borrowings and to finance its hospital expansion and property development expenditure.
After nearly eight months, Southern Steel Bhd and Ann Joo Resources Bhd have mutually agreed to terminate their planned partnership to synergise opportunities in the long steel product manufacturing business.
Both companies agreed to terminate their Memorandum of Understanding (MoU) with immediate effect "due to uncertain market conditions caused by the Covid-19 pandemic".
The Royal Malaysian Customs Department (RMCD) has slapped Tan Chong Motor Holdings Bhd's manufacturing unit — Tan Chong Motor Assemblies Sdn Bhd (TCMA) — with a RM180.11 million bill for excise duties from Nov 1, 2016 to Oct 31, 2019.
Malaysia's armed forces pension fund — Lembaga Tabung Angkatan Tentera (LTAT) — is weighing options for its controlling stake in Boustead Holdings Bhd, including taking the conglomerate private, people with knowledge of the matter said, according to a Bloomberg report.
LTAT, which holds a 59% stake in Boustead, has received approval for a loan to finance the deal, one of the people said.
IOI Corp Bhd posted a sharply lower net profit of RM100,000 for 3QFY20 from RM245.8 million last year, following a foreign currency translation loss due mainly to a RM236.4 million foreign exchange (forex) loss on borrowings and deposits during the quarter, versus a gain of RM57.2 million previously.
Quarterly revenue, however, was up 7.55% to RM2.03 billion from RM1.89 billion.
Kuala Lumpur Kepong Bhd (KLK) also saw forex losses of RM178 million, reducing its 2QFY20 net profit by 80.5% to RM27.89 million from RM142.96 million a year ago. Quarterly revenue slipped 3.5% to RM3.8 billion from RM3.94 billion.
KLK has declared a first interim dividend of 15 sen per share, payable on Aug 4, 2020.
Likewise, KLK's parent Batu Kawan Bhd reported a sharp 80% drop in its 2QFY20 net profit to RM16.02 million, from RM79.28 million a year ago.
This was mainly due to a sizeable RM201.3 million of unrealised foreign currency exchange translation losses on bank and inter-company loans. This arose from a significant depreciation of Indonesian rupiah against the US dollar and ringgit during the period. Quarterly revenue slid 3.43% to RM3.93 billion from RM4.07 billion previously.
Batu Kawan, nonetheless, declared an interim dividend of 15 sen per share, payable on Aug 6.
MSM Holdings Bhd's net loss widened to RM34.71 million in the first quarter ended March 31, 2020, from RM7.06 million a year ago, due to lower gross margin, higher finance cost and higher depreciation, as a result of the commercialisation of its Johor plant (MSM Johor).
The weaker quarterly earnings came despite a 5.23% rise in revenue to RM510.84 million from RM485.44 million last year, following a steady improvement in average selling price (ASP) and total sales volume.
Additionally, MSM announced its recently-appointed independent and non-executive director Datuk Syed Hisham Syed Wazir will become its new chairman from June 1.
Payment systems provider GHL Systems Bhd's net profit in 1QFY20 declined 79% to RM1.31 million from RM6.35 million last year, due to higher operating expenses and a non-cash RM3.8 million fair value loss on contingent consideration.
Its revenue, however, only slipped a marginal 2% to RM85.1 million from RM86.54 million.
GD Express Carrier Bhd (GDeX) reported a 96% fall in its net profit to RM210,000 for 3QFY20 from RM5.43 million last year, due to supply chain disruptions that started since January as a result of the Covid-19 outbreak.
The weaker quarterly earnings were also due to the effects of assessments and adjustments it had to make under the MFRS 16 accounting standard. Quarterly revenue, however, was 13% higher at RM88.24 million versus RM77.97 million previously, partly contributed by its newly-acquired Vietnamese subsidiary.
Padini Holdings Bhd's net profit more than halved to RM16.61 million in 3QFY20 from RM34.65 million last year, as its sales dropped due to the movement control order (MCO). Quarterly revenue fell 26.76% to RM347.32 million from RM474.19 million.
The earnings contraction was also partly due to accounting adjustments made from the adoption of the Malaysian Financial Reporting Standards 16 (MFRS 16), in relation to leases.
Ho Hup Construction Company Bhd has bagged two contracts worth a total of RM102.49 million from China Communications Construction (ECRL) Sdn Bhd for two work packages under Section 6 of the East Coast Rail Link (ECRL).
A Berjaya Land Bhd (BLand) unit has won an arbitration award of 947.07 million renminbi (RM595.45 million), plus costs, against the buyer and guarantors of a mall under construction in Sanhe city, Hebei province, China.
The amount is the balance purchase consideration due to BLand's 51%-owned subsidiary, Berjaya (China) Great Mall Co Ltd (GMOC), from the buyer, Beijing SkyOcean International Holdings Ltd.
Lambo Group Bhd's subsidiary Lambomove Sdn Bhd has been engaged as a fulfillment agent for last mile delivery by online shopping platform operator Presto Mall Sdn Bhd (previously known as 11street Malaysia).
Under the deal, LamboMove will daily assign drivers and riders to dedicated warehouses, to facilitate last mile delivery jobs. It will also provide event tracking of parcels during deliveries.