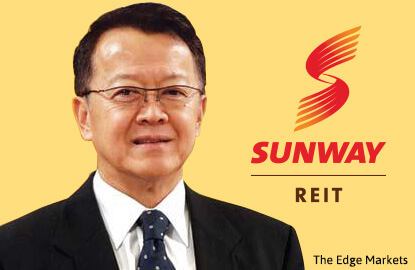 KUALA LUMPUR (Sept 29): Sunway REIT Management Sdn Bhd non-independent non-executive chairman Tan Sri Dr Jeffrey Cheah Fook Ling will relinquish his position effective tomorrow, as part of efforts to enhance board independence.
Cheah, 71, who is founder and executive chairman of Sunway Group, was appointed to the board of directors of Sunway REIT Management on March 24, 2010.
In a statement today, the manager of Sunway Real Estate Investment Trust (Sunway REIT) said its senior independent non-executive director Tan Sri Ahmad Mohd Don will replace Cheah as independent non-executive chairman, starting Oct 1.  
"The change from a non-independent chairman to an independent chairman is in line with the REIT manager's endeavour to continuously enhance its corporate governance best practices, which are consistent with the principles and recommendations of the Malaysian Corporate Governance Code 2012," said Sunway REIT Management.
Following Cheah's resignation, the board of directors will comprise seven directors of which the ratio of independent directors to non-independent directors is 3:4.
"The composition of the board is optimal in capacity and well-equipped, with diverse expertise and experience," it added.
Sunway REIT Management said Cheah will also retire from the company's remuneration and nomination committees as of tomorrow. Sarena Cheah Yean Tih will replace Cheah as a member of the two committees, effective Oct 1.
"I would like to thank all the stakeholders for your continuous support during my tenure as chairman of Sunway REIT Management. Sunway REIT and Sunway REIT Management are in good standing, as the company is well-managed by a team of professionals, since the listing of Sunway REIT in 2010," said Cheah in the statement.
"I believe in giving to society and nurturing new generations of leaders. It is my wish to contribute to Malaysia by dedicating my time, through greater involvement in the areas of philanthropy, education and sustainability," he added.
Sunway REIT units closed up two sen or 1.17% at RM1.73 today, bringing it to a market value of RM5.1 billion.