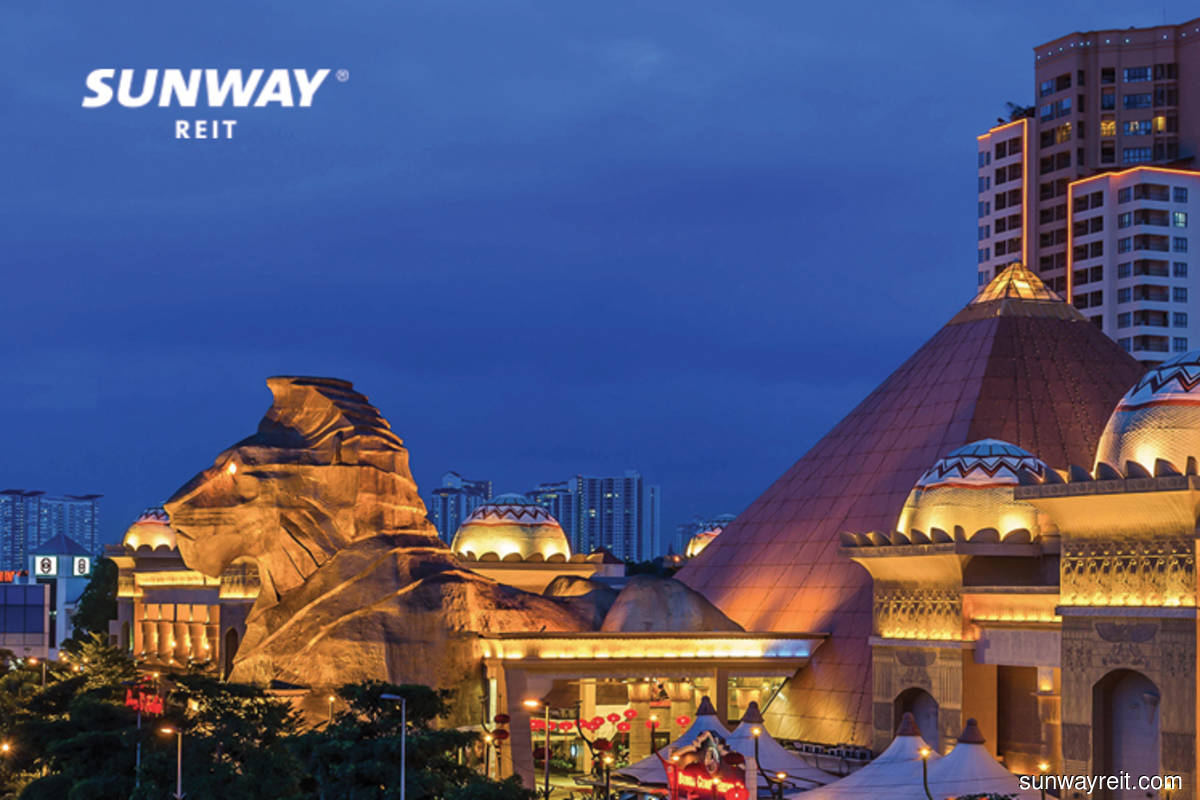 KUALA LUMPUR (Nov 9): Sunway Real Estate Investment Trust (Sunway REIT) booked a net property income of RM70.51 million for the quarter ended Sept 30, 2021, up 3.6% from RM68.1 million in the same quarter last year, on the back of lower property operating expenses.
The REIT is not distributing any income in the quarter, following the change in income distribution frequency to semi-annual since 2020. It paid 0.9 sen per unit in the same quarter last year.
Property operating expenses fell 7.6% from a year ago to RM36.38 million. This more than offset the 0.52% decline in revenue to RM106.89 million, from RM107.44 million, mainly due to a weaker retail segment amid the Enhanced Movement Control Order in the quarter.
This was however partially mitigated by income from The Pinnacle Sunway commercial property acquired in late 2020, and guaranteed rent from Sunway Putra Hotel, the REIT said.
Only the retail segment posted weaker performance year-on-year due to the EMCO. However, contributions from the office, hotel and services segments showed improvements, while the industrial segment contribution remained stable.
Sunway REIT has changed its financial year-end to Dec 31. In its 15-month period ended Sept 30, 2021, it booked an NPI of RM333.98 million on revenue of RM517.76 million, with 3.3 sen per unit paid out as distribution to unitholders.
In a statement, Sunway REIT Management Sdn Bhd chief executive officer Datuk Jeffrey Ng said the REIT is actively exploring acquisition opportunities presented following the fallout of the pandemic.
"Sunway REIT is in a favourable position to capitalise on yield-accretive acquisition opportunities, given its healthy balance sheet and debt headroom," Ng said in the statement.
He also expressed confidence that the  REIT is in a "position of strength" to ride on the economic recovery.  
"Taking cues from the recent surge in domestic flights and hotel reservations in key tourist destinations, strong demand for domestic tourism activities is expected to persist until the international border restriction is fully lifted," Ng added.
Sunway REIT settled unchanged at RM1.46 per unit on Tuesday (Nov 9), valuing the REIT at a market capitalisation of RM5 billion.