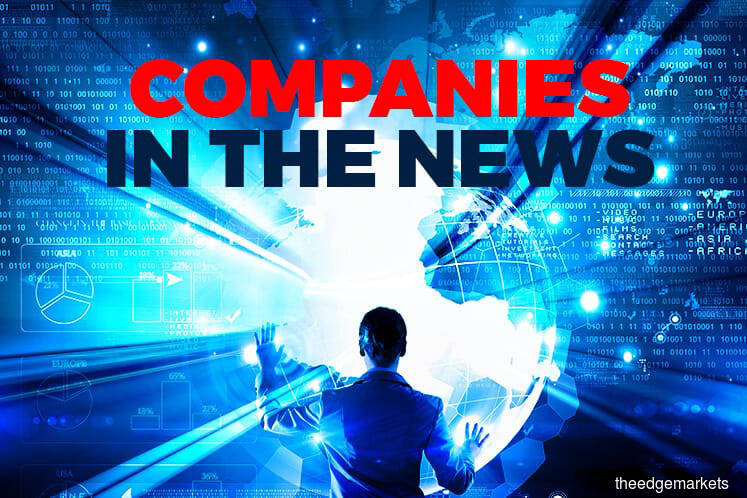 KUALA LUMPUR (April 10): Based on corporate announcements and news flow today, companies that in focus on Monday (April 13) may include: Sunway Bhd, MMC Corp Bhd, HeveaBoard Bhd, Malaysia Airports Holdings Bhd (MAHB), Aemulus Holdings Bhd, Xinghe Holdings Bhd, plantation stocks with assets in Sabah like FGV Holdings Bhd, Sime Darby Plantations Bhd, Kuala Lumpur Kepong Bhd (KLK), Genting Plantations Bhd; and Tenaga Nasional Bhd (TNB).
Sunway Bhd has established a commercial paper/medium-term note programme (CP/MTN Programme) of RM2 billion in nominal value, with proceeds raised to be used to finance the group and its subsidiaries' investment activities, capital expenditure, working capital and borrowings.
The CP/MTN Programme shall have a tenure of seven years from the date of the first issuance, and the CP/MTN to be issued under the CP/MTN Programme are unsecured and shall be transferable and tradable in the secondary market. The proposed papers have been assigned an indicative rating of MARC-1 / AA- by Malaysian Rating Corporation Bhd.
MMC Corp Bhd has proposed a final dividend of 4.5 sen a share for the financial year ended Dec 31, 2019 (FY19). The payout amounts to RM137.03 million. The entitlement dates and payment dates for the dividend fall on June 3 and June 26 respectively.
Particle board and ready-to-assemble furniture maker HeveaBoard Bhd has also proposed a single-tier final dividend of 1 sen per share, in respect of its financial year ended Dec 31, 2019. The dividend is subject to the approval of shareholders at its forthcoming annual general meeting.
Passenger volume at the 39 airports that Malaysia Airports Holdings Bhd (MAHB) operates in Malaysia plunged 63.6% annually to 3.24 million in March, due to the unprecedented travel restrictions imposed by the government since March to curb the spread of the Covid-19 pandemic.  
This is the second straight month the airport operator recorded contraction in terms of passenger traffic. In February, MAHB reported a 23.4% year-on-year (y-o-y) slump in passenger numbers to 6.24 million passengers from 8.15 million passengers last year.
Aemulus Holdings Bhd is going to form a joint venture company in China with a local partner there through which it will monetise the intellectual property rights of its radio frequency tester and make its maiden step into the China market.
The JVco, which will be 60% owned by Tangren Microtelligence and 40% by Aemulus' subsidiary Aemulus Corporation Sdn Bhd, will be involved in research and development as well as the sale of semiconductor test euqipment and their related products and services. ACSB shall transfer the use and intellectual property (IP) rights of its radio frequency tester for RMB5.67 million, or about RM3.4 million. Aemulus plans to use proceeds from the IP transfer for working capital and to pay suppliers.
Xinghe Holdings Bhd, which is planning to change its name to MAG Holdings Bhd, has proposed to issue up to 460.89 million free warrants on the basis of one warrant for every two existing shares held by its shareholders. It could raise up to RM82.96 million when the warrants are exercised, based on an illustrated exercise price of 18 sen per warrant.
Plantation stocks which have plantation assets in Sabah like FGV Holdings Bhd, Sime Darby Plantations Bhd, Kuala Lumpur Kepong Bhd (KLK), Genting Plantations Bhd, will be watched as the state government has agreed to reopen plantations and mills that do not have any coronavirus infections.
So, plantations and mills in six districts — Tawau, Lahad Datu, Kinabatangan, Semporna, Kunak and Kalabakan — will be allowed to resume operations at half-capacity in accordance with guidelines to avoid an outbreak of the disease. Sabah is Malaysia's biggest palm oil producing state, accounting for about a quarter of its total output. The news will also impact PPB Group Bhd's biggest contributing associate, Wilmar International Ltd.
Tenaga Nasional Bhd (TNB) president and chief executive officer Datuk Seri Amir Hamzah Azizan says in the group's annual report published today that growth prospects for Malaysia's electricity industry look uncertain this year, given the pandemic outbreak, and will depend on the country's economic recovery post Covid-19.
Meanwhile, Tenaga's 51%-owned subsidiary Southern Power Generation Sdn Bhd (SPG) has made a force majeure declaration due to Malaysia's Movement Control Order (MCO) and restrictions in countries where the engineering, procurement and construction (EPC) specialists supporting the project reside. A force majeure is an unforeseen situation which prevents someone from fulfilling a contract.