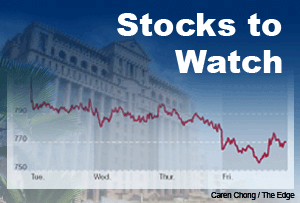 KUALA LUMPUR (Sept 19): Based on news flow and corporate announcements today, the stocks that may be in focus on Monday (Sept 22) could include: Sunway Bhd, Eastern & Oriental Bhd, Astro Malaysia Holdings Bhd, Land & General Bhd, Konsortium Transnasional Bhd, and Kossan Rubber Industries Bhd, and Matrix Concepts Holdings Bhd.
Sunway Bhd has proposed the listing of Sunway Construction Sdn Bhd (SunCon), its indirect wholly-owned construction unit, on the Main Market of Bursa Malaysia by the second quarter of 2015.
The group will be injecting SunCon into a new vehicle, Sunway Construction Group Bhd (SCG), for the purpose of the listing.
Sunway has proposed a 1-for-10 distribution-in-specie of free SCG shares to shareholders of Sunway, as well as a special cash dividend, from the proceeds of the proposed offer for sale of SCG shares.
Sunway was up 6 sen or 1.82% at RM3.36 today, giving it a market capitalisation of RM5.79 billion.
Eastern & Oriental Bhd (E&O) plans to start the tender awarding process for reclamation works for its Seri Tanjung Pinang 2 (STP2) development project by year-end.
The developer, which is currently in the process of securing approval from the Penang state government to carry out the reclamation project offshore Tanjung Tokong in Penang, has already obtained endorsement for its STP2 masterplan on June 10 this year.
Speaking after the company's AGM today, E&O deputy managing director Eric Chan said the tenders would be attached with the conditions set by the Environment Department in accordance with the Detailed Environment Impact Assessment (DEIA) report approved on April 10.
Chan said the group is targeting a cumulative profit after tax (PAT) of RM450 million within a three-year timeframe. It reported a PAT of RM119.97 million for the financial year ended March 2014.
E&O was up 12 sen or 4.27% today at RM2.93, giving it a market capitalisation of RM3.2 billion.
Astro Malaysia Holdings Bhd's net profit for the second quarter ended July 31, 2014, jumped 39.3% to RM137.66 million, due to better operating performance and a decrease in net finance costs.
Revenue for the quarter expanded 13.5% to RM1.35 billion, resulted from increase in subscription, advertising and other activities.
The group declared a second interim single-tier dividend of 2.25 sen per share payable on Oct 20 this year.
Astro closed up 8 sen or 2.42% at RM3.38, giving it a market capitalisation of RM17.5 billion.
Land & General Bhd (L&G)'s major shareholder Mayland Parkview Sdn Bhd has converted 140 million irredeemable convertible unsecured loan stocks (ICULS) into 140 million new ordinary shares in the latter.
Following the conversion, Mayland Parview increased its holdings in L&G to 243.42 million shares or a 25.9% stake. L&G closed up 1 sen or 1.54% at 66 sen, giving it a market capitalisation of RM519.9 million.
Konsortium Transnasional Bhd (KTB) plans to raise RM60.42 million by issuing 604.2 million renounceable rights shares of three rights shares for every two existing shares.
The bus operator will also undertake a capital reduction exercise, trimming its shares' par value of 50 sen to 10 sen, to wipe out its accumulated losses of RM148.63 million as at Dec 31 last year.
Almost all the proceeds from the rights shares will be used for KTB's working capital. KTB hopes to complete the cash call and capital reduction exercise in the first quarter of next year.
KTB closed 2 sen lower or 3.64% down at 53 sen, giving it a market capitalisation of RM221.54 million.
Kossan Rubber Industries Bhd has announced the signing of a memorandum of understanding (MOU) with the Institute of Rail Transit (IRT) of Tongji University in China.
The MOU is to initiate a strategic alliance between the parties to design, manufacture and market rubber pads for "floating tracks".
Under the MOU, Kossan's 70%-owned subsidiary Doshin Rubber Products Sdn Bhd will manufacture the rubber pads based on designs supplied by IRT. IRT will also promote other relevant products manufactured by Doshin for China's urban rail projects, as well as provide technical support to any projects outside China, upon request.
Kossan closed up 5 sen or 1.15% higher at RM4.39, giving it a market capitalisation of RM2.8 billion.
Matrix Concepts Holdings Bhd is acquiring 164 acres of industrial land in Seremban for RM71.5 million, which it expects to generate a gross development value of at least RM170 million from end-2015.
The land is near the company's existing 1,000-acre Sendayan TechValley (STV) industrial park in Seremban.
The counter closed unchanged at RM3.25, giving it a market capitalisation of RM1.49 billion.