This article first appeared in The Edge Malaysia Weekly, on January 11, 2021 - January 17, 2021.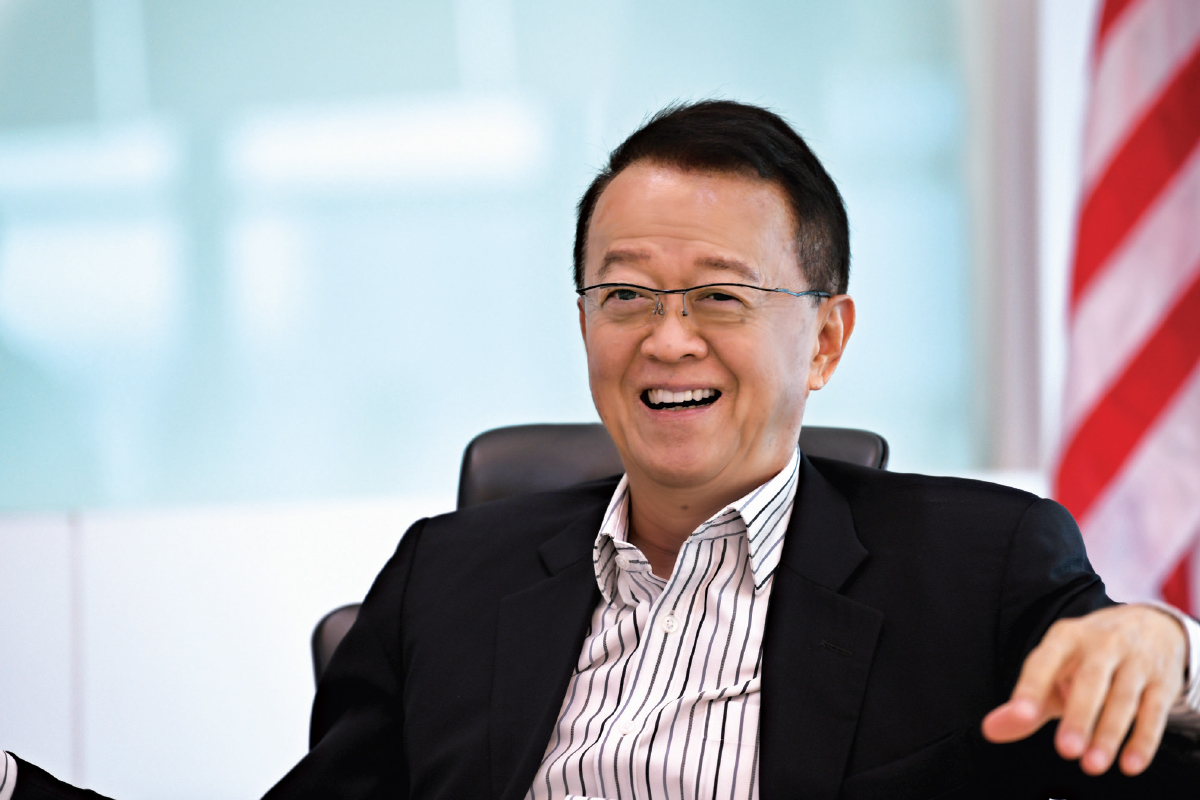 THE Jeffrey Cheah Foundation (JCF) has made sustainable development (SD) a core part of its vision and mission, giving it momentum by setting up the Jeffrey Sachs Center on Sustainable Development (JSC) in 2016. Tan Sri Jeffrey Cheah answers questions from The Edge about the steps taken to make the SD agenda the basis for the Sunway Group's contributions to society. The following are excerpts from the interview.
The Edge: How is the JCF catalysing a shift in the national outlook towards a borderless, cooperative and inclusive society and economy?
Tan Sri Jeffrey Cheah: For a country to prosper, it is not enough just to have education. It should also be of high quality, and made affordable and accessible.
The fundamental building blocks of nation-building are to first develop our people — building a progressive future together. Which is why I do this through quality education and research — without knowledge there will be no progress.
As Sunway is deeply committed to advancing the 17 United Nations Sustainable Development Goals (SDGs), we have incorporated these practices in all that we do.
At the forefront of this global effort is the JCF — we endowed US$10 million to the United Nations Sustainable Development Solutions Network (UN-SDSN) to set up the JSC at Sunway University five years ago. This year, we have committed another US$10 million for the next five years.
Headed by world-renowned economist Prof Jeffrey Sachs, the JSC aims to enhance and advance the SD agenda through education, policies and research.
Sachs is a personal friend and I am impressed by his contributions. As far as I know, he has dedicated his adult life to developing SDGs and advancing the SD agenda, and designed the 17 SDGs adopted by the United Nations in 2015.
Sachs is special advisor to the UN secretary-general — he has served in that role with three of them to date. He has been ranked among the three most influential living economists by The Economist, and called "the world's best-known economist" by Time magazine.
The JSC at Sunway University is the only one of its type in the region and is now one of the world's three SDG Centers of Excellence.
We recognise that realising the 17 SDGs is not the responsibility of governments alone. It requires the commitment of all sectors of society — the private sector, academia, civil society and, of course, every single individual.
I hope what we are doing at Sunway will inspire society to do more. We can all do well by doing good.
Which projects of the UN-SDSN Asia and JSC at Sunway University can be seen as flagship initiatives that define the SD approach?
The JSC has launched its Master in Sustainable Development Management programme, which was specially designed and authored by Sachs and his team.
It is our hope that this programme will produce a new generation of leaders who are equipped with the knowledge, science and analytical and critical thinking skills to make real, positive changes for our country, region and world.
I am particularly proud that Sunway City Kuala Lumpur has been selected as one of the three overarching UN-SDSN centres alongside New York City and Paris to coordinate continent-wide sustainability initiatives for Asia, the Americas and Europe/Africa respectively.
This is a reflection of Sunway's full embrace of the SD  agenda and our commitment to advancing the SDGs in the Asian region.
The new UN-SDSN centre for Asia housed at Sunway University will also host the head office of the SDG Academy, which is the education arm for the UN-SDSN, and lead flagship programmes of the SDSN in the region.
Recognised globally as the hub of high-quality SDG education, the SDG Academy is an online knowledge network that reaches more than 300,000 learners in 193 countries.
Currently, the SDG Academy at Sunway University has been tasked with drawing up a curriculum on SD to be introduced as a compulsory subject from kindergarten to Year 12 (K-12 levels) around the world.
The SDG Academy will play a fundamental role in Mission 4.7, which aims to accelerate the implementation of SDG Target 4.7.
SDG Target 4.7 calls on all governments to ensure all learners acquire the knowledge and skills needed to promote SD, through the education for SD and sustainable lifestyles, human rights, gender equality, promoting peace and non-violence, global citizenship and the appreciation of cultural diversity.
Sunway University is proud to be part of this new global initiative alongside the Global Schools and SDG Academy in partnership with Unesco, the Ban Ki-moon Centre for Global Citizens and the Center for Sustainable Development at Columbia University, New York City.
I am delighted to co-chair Mission 4.7 alongside world leaders UN-SDSN president Jeffrey Sachs, Unesco assistant director-general for education Stefania Giannini and Marcelo Sánchez Sorondo, chancellor of the Pontifical Academies of Sciences and Social Sciences, representing Pope Francis, who launched this Mission at the Vatican on Dec 16, 2020.
All of us at Sunway regard this responsibility not only as an honour but an obligation. We are determined to do our part towards advancing the SD agenda.
How has the Sunway Group changed its operations in line with SD principles based on the inputs of SDSN and JSC?
At Sunway, we embrace the principles of sustainability in all of our decision-making processes and business practices.
Everything that we do now is about the future generations. That means acting as responsible stewards of the planet and promoting socio-economic goals.
We pursue this mission through various avenues at Sunway Group and all of our affiliated entities, be it commercial enterprises, philanthropic endeavours and collaborative partnerships with world-renowned institutions.
In fact, the very birth of Sunway was founded on the concept of sustainability with the rehabilitation of our flagship Sunway City Kuala Lumpur, a wasteland turned wonderland.
We rehabilitated abandoned mining pools, and built an integrated township that houses educational institutions, commercial entities, a medical centre, retail and leisure outlets and residential neighbourhoods that serve a vibrant community of more than 200,000 people living, studying, working and playing in a safe, connected and healthy environment.
Our smart sustainable township is now set to be the test bed for Sunway Living Laboratory (Living Lab), bringing in experts to generate sustainable, real-world solutions for future urban spaces towards the betterment of the environment and humankind.
We recently entered into a tripartite collaboration with Celcom and Huawei for the development of smart solutions via 5G technology in the areas of public safety and security, telehealth, e-learning, hospitality, and leisure and retail experience, with Sunway City Kuala Lumpur as the launch pad.
We also partnered with Ecole 42, a French tech school that breaks new ground in education by offering peer-to-peer learning with zero tuition fees. Ecole 42 KL is set to play a major role in equipping our young people with the skills and aptitude to thrive in a digital economy whose default setting is a 'new normal'.
And soon, we will be launching the innovative Sunway FutureX, which is Malaysia's first-ever skills building hub for urban farming innovations. FutureX represents our first venture into the agrifood-tech sector and marks our contribution to Malaysia's food security.
We aim to replicate these initiatives across all our other townships, namely Sunway City Ipoh and Sunway City Iskandar Puteri in Johor.