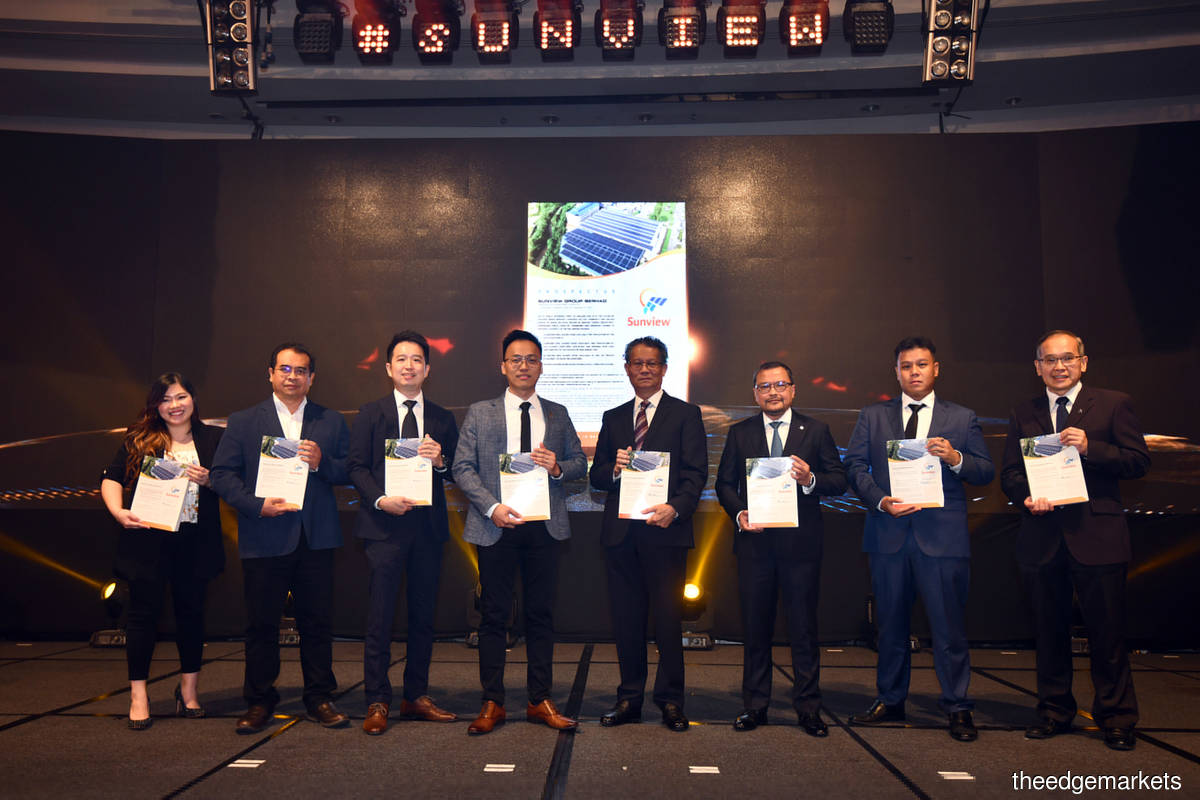 KUALA LUMPUR (Sept 23): Sunview Group Bhd, which is en route to list on the ACE Market of Bursa Malaysia on Oct 17, is seeking to raise RM34.22 million in its initial public offering (IPO).
The end-to-end solar photovoltaic (PV) system construction player said the IPO involved the issuance of 118 million new shares at an IPO price of 29 sen per share.
Of the total proceeds raised from IPO, RM20.1 million or 58.72% will be used to fund the group's working capital requirements.
Another RM7 million or 20.46% will be for repayment of bank borrowings, RM1.86 million or 5.42% for capital expenditure and RM1.67 million 4.88% for business expansion.
The remaining RM3.6 million or 10.52% will be used to defray listing expenses.
Upon listing, the group will have a market capitalisation of RM135.72 million, based on its enlarged share capital of 468 million shares and IPO price of 29 sen per share.
Speaking at the IPO prospectus launch on Friday (Sept 23), Sunview chief executive officer Ong Hang Ping said, "Despite the group only being in existence for less than 10 years, our growth story is a testament of the hard work and effort we poured into the company. In a short span of time, we have grown leaps and bounds from being a small engineering, procurement, and commission contractor, mainly for rooftop solar PV facilities, to where we are today, that is an integrated renewable energy player specialised in EPCC (engineering, procurement, construction and commissioning) and construction and installation services for solar PV facilities, provision of solar power generation and supply as well as associated services and products."
To sustain its growth momentum, Ong said the group has set its sights on expanding its existing businesses.
"We intend to strengthen our solar PV business by leveraging on our track record to secure new contracts to boost our order book. We also plan to expand solar power generation and supply business to build a strong recurring income stream for the group.
"Moreover, we are looking to expand into EPCC of biogas plants and complementary products. We are able to capitalise on our current expertise and experience to address potential opportunities in this segment and provide complementary products, including Internet of Things solar energy system and current limiting reactor system for solar PV power applications," Ong added.
Ong shared that the group has planned to set up a new office to facilitate business expansion in Johor to enhance its market position in the southern region.
Sunview is a renewable energy player principally involved in EPCC as well as construction and installation services of solar PV facilities, solar power generation and supply as well as associated services and products.
Alliance Islamic Bank Bhd is the principal adviser, sponsor, sole underwriter and placement agent for this IPO exercise.
Read also:
Mercury sets 60 sen TP for ACE-bound Sunview on strong growth prospects