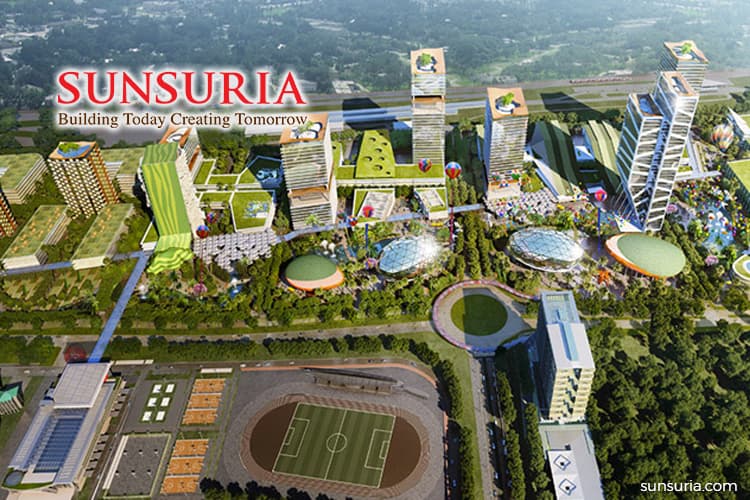 KUALA LUMPUR (April 28): Sunsuria Bhd is planning to work with two Chinese firms to explore business opportunities in smart logistics park, and to set up an automotive design and innovation centre that will undertake product research and design, talent development, and more to improve operational efficiency for the automotive industry in Malaysia and Southeast Asia.
It has inked two separate agreements, namely a memorandum of understanding (MoU) with Chinese logistics provider Sinotrans Ltd, and a strategic cooperation agreement (SCA) with Chinese automotive design and engineering firm IAT Automobile Technology Co Ltd (IAT), for the proposed tie-ups. 
The agreements were signed by Sunsuria executive chairman Tan Sri Ter Leong Yap at the sidelines of the Second Belt and Road Forum for International Cooperation in Beijing, China.  
Under the MoU signed with Sinotrans' managing director Li Guan Peng, Sunsuria will collaborate with Sinotrans to establish and operate a logistics-related business in Malaysia, in line with China's Belt and Road Initiative. "The proposed joint venture (JV) stands to benefit from Malaysia's strategic geographical location as a regional logistics hub, as well as upcoming projects such as the Malaysian-China Kuantan Industrial Park, Regional Logistic Hub, East-Coast Rail Link Project Logistic and E-Commerce Business," Sunsuria said in a statement.
According to Sunsuria, Sinotrans, which is listed on the Hong Kong Stock Exchange and the Shanghai A-Share Market, is one of China's largest third party logistics providers that is primarily engaged in freight forwarding. 
As for the SCA signed with IAT's managing director Dr Xuan Qi Wu, Sunsuria aims to form a JV company together with IAT -- one of China's leading independent automotive design and engineering entities that has designed and developed cars for almost every major Chinese automaker -- to establish the ASEAN Automotive Design and Innovation Center (AADIC).
"The AADIC [that will be set up] is to be the main operation centre to import electric vehicles that have been legally modified in China, and to obtain a car-sharing operations license in Malaysia. Sunsuria's flagship integrated development, Sunsuria City, will be the launchpad of the first fleet of 100 imported electric vehicles," Sunsuria's statement read.
IAT, meanwhile, will look into prospective partnerships with schools and enterprises to cultivate local Malaysian talent and services in the automotive sector.
"We are looking forward to participating in the AADIC, as the initiative will make Malaysia the central focus of Asean in cutting-edge automotive research, talent development in the automotive industry, as well as improving the quality of the students through advanced technology, management processes and engineering research and development. Besides, this will provide more practical training for the students in improving their capability in design and development," said Ter.
Ter said by tapping into Sinotrans' vast experience, Sunsuria is confident it will be able to capitalise on the Smart Logistics Park and Business at the opportune time with the strong growth of cross-border e-commerce, while the Belt and Road Initiative goes into full swing with major infrastructural projects underway. "Through a diversified portfolio of innovative business ventures, we look forward to delivering even more value to our stakeholders," he said.
Meanwhile, by leveraging on IAT's technical expertise and international network, electric car-sharing will soon be a reality in Sunsuria City, Ter said, living up to the township's 'Smart, Livable and Sustainable' concept of integrated connectivity and intelligent convenience.