This article first appeared in The Edge Malaysia Weekly, on July 12, 2021 - July 18, 2021.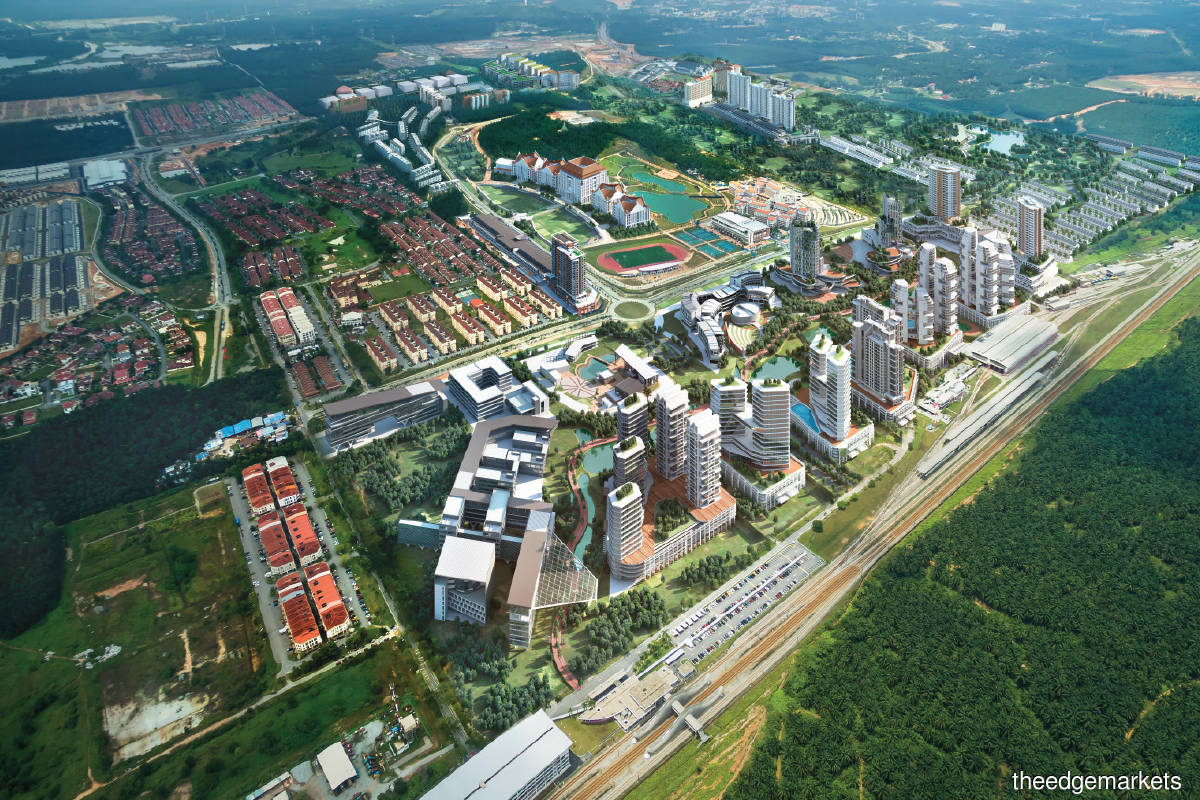 THE prolonged slowdown in the local property market, made worse by the Covid-19 pandemic, has forced many developers to innovate or to diversify. Sunsuria Bhd is no exception. Widely known as a property developer, its diversification over the years is less well known. Other segments to its business — albeit in a moderate manner — now include construction, landscape and nursery, food and beverage (F&B), digital development, education, integrated healthcare, retail and other complementary businesses.
Recently, Sunsuria decided to turn it up a notch by going into two joint ventures (JVs): a 51:49 partnership with IAT Automobile Technology Co Ltd to mark its foray into the automotive sector, and a 30:70 JV with Victoria Education Sdn Bhd to strengthen its business presence in the education sector.
Sunsuria founder and executive chairman Tan Sri Ter Leong Yap says the JVs with IAT and Victoria Education are part of the group's strategy to enhance the value and vibrancy of Sunsuria City, its 525-acre integrated township development in Salak Tinggi, Putrajaya South.
"Sunsuria City is designed with the three guiding principles of being smart, livable and sustainable. We try to put in as many smart and digital elements as possible. And then, obviously, we also have this education element. The JV with IAT is not just about car manufacturing and car design; it's also about developing and growing talent for the automotive industry in our place," he tells The Edge in a virtual interview.
Ter, 57, is the controlling shareholder of Sunsuria, owning 60% of the company. He is also the president of The National Chamber of Commerce and Industry of Malaysia and the Associated Chinese Chambers of Commerce and Industry of Malaysia.
According to him, both automotive and education ventures are expected to complement Sunsuria's property development business.
"We believe the automotive element will elevate Sunsuria City to become a global hub that could attract multinational corporations to locate their offices here. Meanwhile, our collaboration with Victoria Education to set up a MindChamps preschool would also complete our education ecosystem at Sunsuria City, which already comprises primary- and secondary-level schools, Concord College Malaysia and Xiamen University Malaysia," Ter elaborates.
IAT, listed on the Shenzhen Stock Exchange, is one of a number of independent automotive design and engineering companies in China. It has a market capitalisation of RMB9.09 billion (RM5.87 billion).
Ter points out that the JV with IAT is to establish an Asean Automotive Design and Innovation Center with the objective of improving operational efficiencies in the automotive industry in Malaysia and Southeast Asia. The centre will serve as a research, development and innovation hub to undertake automotive product design, industry talent development through training and learning, car sharing, test track and cutting-edge technology services.
"We are exploring a lot of possibilities and opportunities from this collaboration. I believe the automotive landscape in Malaysia is going to change gradually and steadily. It is too early for me to divulge the details of what we are planning to do, but you can imagine that one day, hopefully in the next couple of years, we will see some electric vehicles (EVs), smart-driving cars, or drones delivering goods to our residents' homes in Sunsuria City, which will become a smart city of sorts in the future," he remarks.
Ter recalls that the JV with IAT came about after the Second Belt and Road Forum for International Cooperation in April 2019.
"Today, about 70% to 75% of the cars in China have certain parts designed by IAT at some point. It is practically capable of designing the whole car, or even manufacturing the car, if it wants to. In fact, it could also make military vehicles, EVs and autonomous cars," he asserts.
For a start, the JV will set up a multi-purpose office and workshop at Sunsuria City for training and experiment purposes, as IAT will be sending its experts here to develop the local talent.
"Don't forget, we have Xiamen University Malaysia in Sunsuria City, so we can offer relevant courses and programmes. We don't expect to pour in a lot of money into this JV. If we are able to clinch some big projects, then we might have to. But at this juncture, the investments will be minimal."
He says although the financial contribution from the JV with IAT will not be significant in the initial years, it is expected to be a catalyst for Sunsuria in the longer term.
"As far as we know, we are the first and only developer in Malaysia that is adding automotive elements into a property project. IAT has no business exposure in Malaysia and Southeast Asia at the moment. If our JV is successful, there will be plenty of opportunities for us in the region," Ter explains.
As a group, he says Sunsuria will continue to focus on the property development business, but in a careful manner.
"We have not been generating handsome profits in recent years as we have been slowing down our new launches. We knew that bad times were coming, so we tried to keep our overhead costs low. We need to make sure that our cash flow remains healthy."
Noting that it is more important for Sunsuria to sail through the storm rather than look at short-term growth, Ter stresses that it is wiser to remain conservative.
"To be honest, I am not sure if this decision was the best decision, but I am really looking at the sustainability of our company, not just our profitability. In my opinion, we can grow later after we sail through this crisis. If we had launched many projects three years ago, we might have a cash-flow problem today."
Year to date, shares in Main Market-listed Sunsuria are down 6%. The counter closed at 45 sen last Thursday, giving the company a market capitalisation of RM403.16 million. The stock is currently trading at a historical price-earnings ratio of 18 times.
"I can't comment much on our share price. All I can say is that Sunsuria is a very cash-flow-mindful and cost-mindful company. Currently, Sunsuria City itself still has 180 to 200 acres of land to be developed. Excluding the 150-acre occupied by Xiamen University, our total development area there is 375 acres. In other words, in terms of land size, there is still more than half of our area at Sunsuria City yet to be developed. There is more to come from us."
Education aligned with sustainability theme
Commenting on the education business, Sunsuria chief operating officer Datuk Simon Kwan says the group is undertaking the JV with Victoria Education, whose parent company Paragon Education Group is the master franchisee of MindChamps preschools in Malaysia.
"The MindChamps preschool will be occupying 7,861 sq ft of our area, and it will be located in a completed building facing a beautiful lake. We just need to do some renovation work. Hopefully, by year-end or early next year, we can start to operate," he tells The Edge.
With the MindChamps preschool, Sunsuria City will have a rather holistic education ecosystem, Kwan observes.
"The education business is not totally new to us, as we had previously brought in Xiamen University Malaysia. [Our involvement in the education business, however, ] was not meant for us to generate profits. We have a team that is specialising in the education business, because it is in line with our sustainability theme. But of course, we are also looking at profitability this time around (with MindChamps)."
Kwan says there is no stopping the JV from building MindChamps preschools in other areas, even if they are not Sunsuria projects. But for now, its focus will be Sunsuria City and other Sunsuria projects.
"For the first year, we are not too ambitious and are targeting to enrol about 50 to 100 students at our MindChamps preschool at Sunsuria City. But we believe the student enrolment will grow steadily in the coming years. The return on investment will probably come in about two to three years later," he says.
"When we start student enrolment would also depend on the pandemic situation. But the investment will not be big. We believe this is going to be the first of many MindChamps preschools in our Sunsuria projects, as the demand for preschools will be quite strong."
Sunsuria's net profit tumbled 78% to RM29.1 million in the financial year ended Sept 30, 2020 (FY2020) from RM135.5 million a year ago.