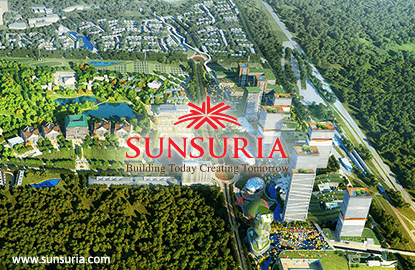 KUALA LUMPUR (March 25): Sunsuria Bhd is now a majority shareholder of The Forum @ Sunsuria Seventh Avenue, an ongoing integrated mixed development with a gross development value of RM1.07 billion located at Setia Alam, Selangor.
This follows the completion of its acquisition of a 32% stake in Sunsuria Forum Sdn Bhd (SFSB) from Sunsuria Development Sdn Bhd (SDSB) for RM4.5 million cash today.
Sunsuria had earlier acquired a 19% equity interest in SFSB from Carefeel Cotton Industries (M) Sdn Bhd and Peekay Global Sdn Bhd for RM2.81 million.
Subsequent to the acquisitions, Sunsuria now owns a 51% stake in SFSB, while the remaining 49% is held by SDSB.
SDSB is a wholly-owned subsidiary of Sunsuria Holdings Sdn Bhd (SHSB), which in turn is controlled by Sunsuria executive chairman and major shareholder Datuk Ter Leong Yap and his family members. Ter is also a director of SHSB, SDSB and SFSB.
In a filing with Bursa Malaysia today, Sunsuria said it has entered into and completed a shares sale and purchase agreement with SDSB for the acquisition of 16,000 shares in SFSB, which is developing The Forum @ Sunsuria Seventh Avenue.
"The acquisitions would enable Sunsuria to consolidate the future earnings to be generated from the project and augment the Sunsuria group's presence in Setia Alam, complementing its ongoing and future projects at Setia Alam.
"As the project is already income-generating, the acquisitions are expected to be income accretive, and is envisaged to increase the overall business profitability of the Sunsuria group," it said.
The Forum @ Sunsuria Seventh Avenue is the second phase of the Sunsuria Seventh Avenue project. Phase 1 of the project was completed in 2014 and fully sold.
Sunsuria said The Forum @ Sunsuria Seventh Avenue comprises two phases. Phase 1 features 264 units of retail lots and offices, while Phase 2 will entail a proposed retail mall, serviced apartments and offices, details of which shall be finalised at a later stage.
Sunsuria said it intends to finance the remaining unpaid land purchase consideration and the associated development costs to be incurred for the project through a combination of internal funds and/or external bank borrowings.
Sunsuria shares fell 2.5 sen or 2.82% to close at 86 sen today, giving it a market capitalisation of RM639.87 million.