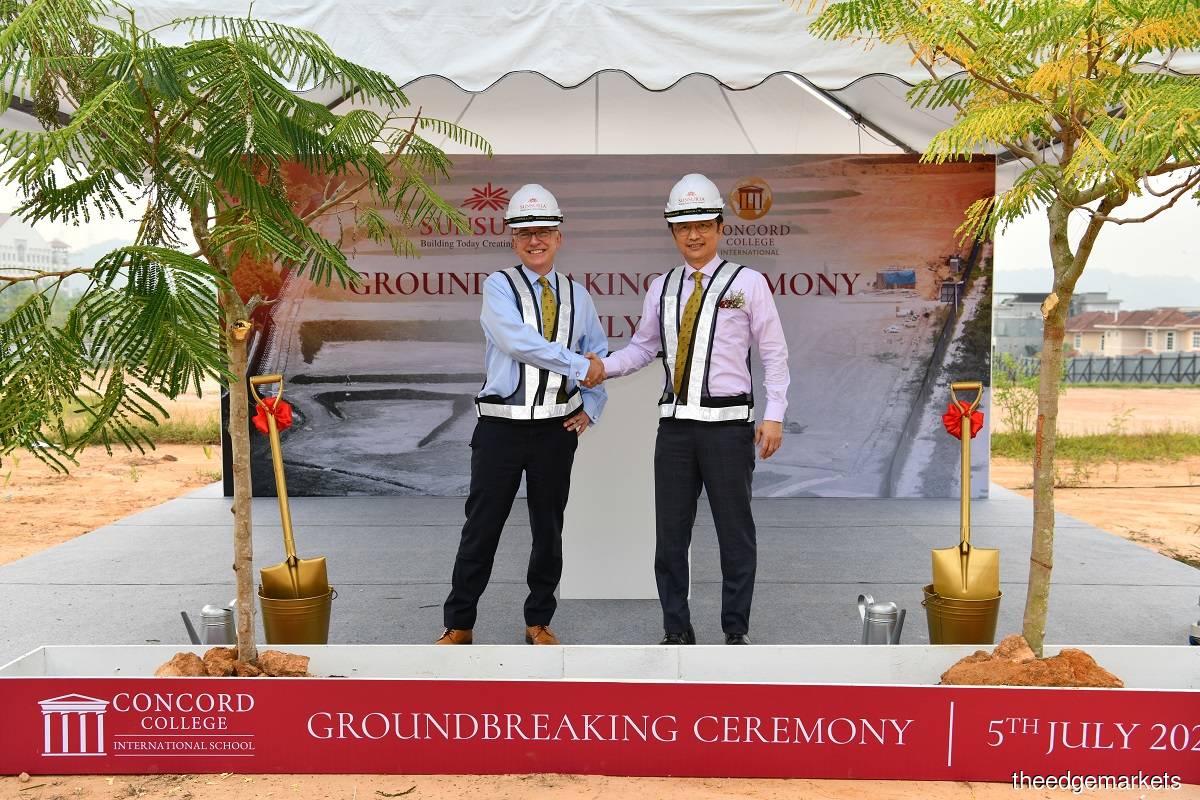 SEPANG (July 5): Sunsuria Bhd and Concord College International Ltd have entered into a strategic partnership to establish and operate Concord College International, a British international school in Sunsuria City, Sepang, Selangor.
Concord College International is a wholly-owned subsidiary of UK-based The Bell Concord Educational Trust Ltd. It owns and operates one of the UK's top ranked independent co-educational international schools — Concord College. 
Under the partnership between Concord College International and Sunsuria Education Sdn Bhd, the wholly-owned subsidiary of Sunsuria, the two parties will establish and operate Concord College International in Sunsuria City.
"The entire development will cost below RM100 million, inclusive of 10 acres of land. Sunsuria will be taking care of the hardware, while Concord College International will be taking care of the academy. We will be having a local team to run the day-to-day operations under the guidance of Concord College International," Sunsuria executive chairman Tan Sri Ter Leong Yap shared at a press conference after the campus's ground-breaking ceremony on Tuesday (July 5).
Concord College International will sit on a 10-acre tract of land opposite the Xiamen University Malaysia campus in Sunsuria City. To be developed over two phases, the campus will consist of 10 buildings that house the main hall, academics, creative arts and science, library, dining hall, student residences, auditorium as well as sports and recreational hall. 
"The first phase will be ready by the end of next year, with first intake commencing in September 2024," Ter said.
He elaborated that the first phase will consist of all the facilities including a lawn amphitheatre, swimming pool, tennis courts, sports track and field, drama studios, music and art rooms, classrooms, hostels and labs. The second phase will add more classrooms and hostels. 
"The commencement of Phase 2 will be depending on the need for extra classrooms and hostels. However, we expect the entire campus to be completed before 2028," he said.
With a student capacity of 1,250 aged from five to 18 years old, the school will offer the UK National Curriculum from Primary (Years 1 to 6), Senior (Years 7 to 11) and Sixth Form (A-level). There will be both day and boarding options to attract students from Malaysia and around Asia.
In his welcome address, Concord College International global principal Neil Grant Hawkins said, "I am truly delighted to have the honour of working with Sunsuria to open the new Concord College International School in Sunsuria City. From the start of our collaboration, we have felt a shared commitment to ensuring that our school will be a high-quality institution that embodies the ethos and values of Concord College in the UK. It will also reflect and celebrate the wonderful context that Malaysia offers. I feel uniquely privileged to be supporting the project. 
Meanwhile, Sunsuria City will be soft-launching its latest residential development in Sunsuria City this month. With a gross development value of RM119 million, the new project is located right next to Concord College International. It comprises 131 units of two- and three-storey terraced houses with selling prices from RM833,300. 
The development will have facilities such as a playground, basketball court, park, yoga lawn, community garden, and jogging and cycling paths.